After selling a couple of pedals and buying a couple of pedals, I think I've got a good group together to play with and use with my band.
Last week, I neatened up my board with a George L kit and thought that'd be it for a while.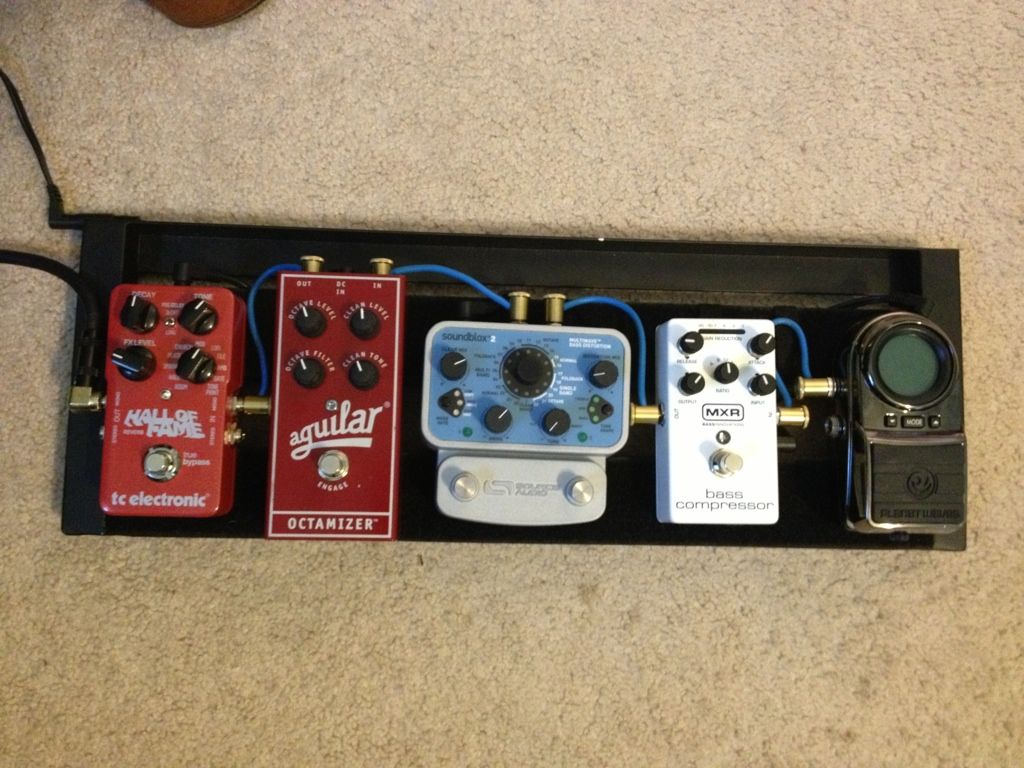 SmallEQ pointed out that I would probably be happier with the Octamizer in front of the MWBD, and he was right.
I was able to grab the Polytune mini out of the classifieds for a great price and that opened up the option of adding an additional pedal. My Mother in Law gave me a $100 Amazon gift card for my 40th birthday, so I thought I'd use it for a new toy.
I've really enjoyed the toneprint aspect of the Hall of Fame reverb, so I was looking at the othe TonePrint pedals.
The Shaker Vibrato arrived today, and the artist toneprints that are available are a lot of fun. Originally, I was looking at the Corona chorus pedal, but this Vibrato has some chorus and flanger toneprints available, and some LFO options that will come in handy for some craziness when needed at the drop of the phone. After watching pretty much every example video at the TC Electronic website, I went with the Shaker. I haven't found much on it here at Talkbass, so I don't know if I'm a blazing pioneer, or a fool who will soon regret his decision.
But, so far, I'm enjoying it.
I'm really looking forward to TC Electronic releasing the Toneprint editor in the near future, too.
With the Octamizer, MWBD, vibrato and reverb all engaged, I can get some pretty wacky sounds going. And, luckily, the guys in my trio let me pretty much get away with murder live, so I'm sure I'll find some ways to work them into gigs.