Any Radial Loopbone users out there?
I am typically a big Radial fan based on my purchases of their J48 D.I. and Big Shot EFX Loop. Since their stuff has always seemed virtually indestructable, I never thought twice about buying a used Loopbone (
http://www.tonebone.com/tb-loopbone.htm
).
I have a Way Huge Swollen Pickle and EHX Micro POG in Loop 1; MXR Bass Chorus Deluxe, EHX Polyphase and MXR Carbon Copy in Loop 2.
Naturally, I leave either the Swollen Pickle or POG on in Loop 1 even when not using, otherwise what's the point if I need to hit the pedal first and then activate the loop?
If I have ONLY Loop 2 activated though, the pedals in Loop 1 bleed though ... muted, but very noticeable and obvious.
There is no bleed-through when both loops are off. Just bleed from Loop 1, when Loop 1 is off but Loop 2 is on.
I'm obviously disappointed since I thought I was upgrading substantially from the passive Big Shot EFX, with the Loopbone's "Class-A Circuitry", "opto-coupler switching", and high end buffers. I have never experienced bleed-through with the Big Shot EFX though.
I will contact Radial directly. Just trying to establish from other Loopboone users if this is "normal" Loopbone behaviour, whether the seller unloaded a broken unit, and whether this sounds like a possibly easy fix (i.e. inexpensive)? Maybe a new switch/buffer/thingamabob in Loop 1?
Block Diagram:
http://www.tonebone.com/tb-loopbone-using.htm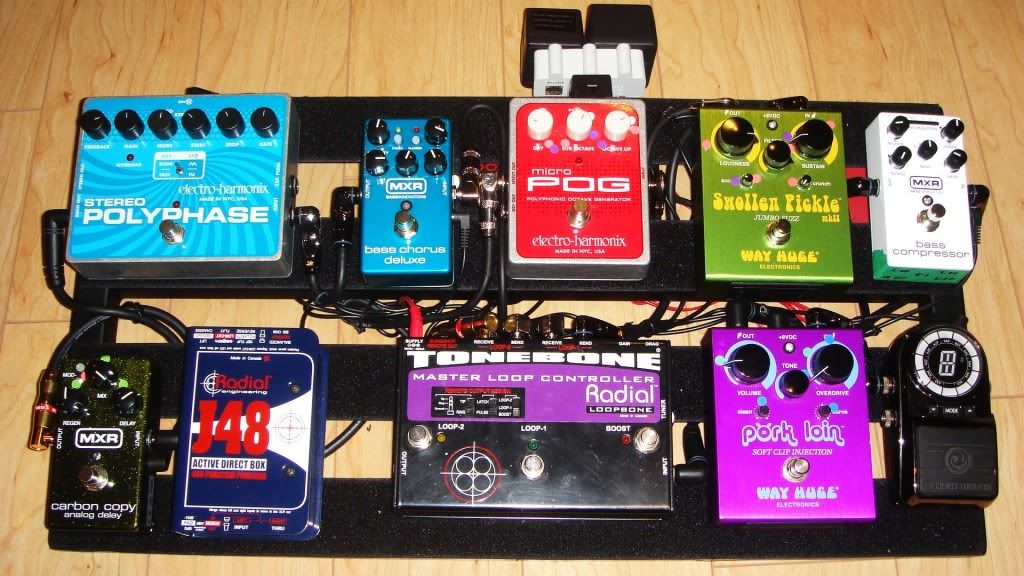 In the meantime, the BigShot EFX is back on my board operating perfectly. Should have left well enough alone!
Cheers!! :)