So I haven't been posting much... at all, really... but I'm looking for bass/effect advice and this is literally the only place to get it from multiple sources. So here I am, lol.
For the last couple of years I've been very happy with my effects. I play in a modern rock cover band, with a few older tunes and a few originals. Been with them for a long time, and over the years I've settled down to one bass, one amp, one cab, and a very stable pedalboard.
(Warwick Corvette $$5 -> MarkBass LMT800 -> Avatar B410 Neo)
The last few years, the pedalboard has been:
Boss TU-2 -> Boss ODB-3 -> Boss BF-2 -> Digitech Bass MultiChorus -> Garagetone Axle Grease Delay
Now, I've been pretty happy with it, but from time to time my guitarist and I will get into a debate about who's playing what. We're a three piece with singer, and there are times he wants me to play the rhythm guitar part so he can do "signature" guitar lines. Finally, a few weeks ago, I stumbled across this (via TB, of course):
Simulate rhythm guitar playing along with your bass
via bassfxpedals.com.
So now I have a Mooer Pure Octave coming, and have decided to change things up.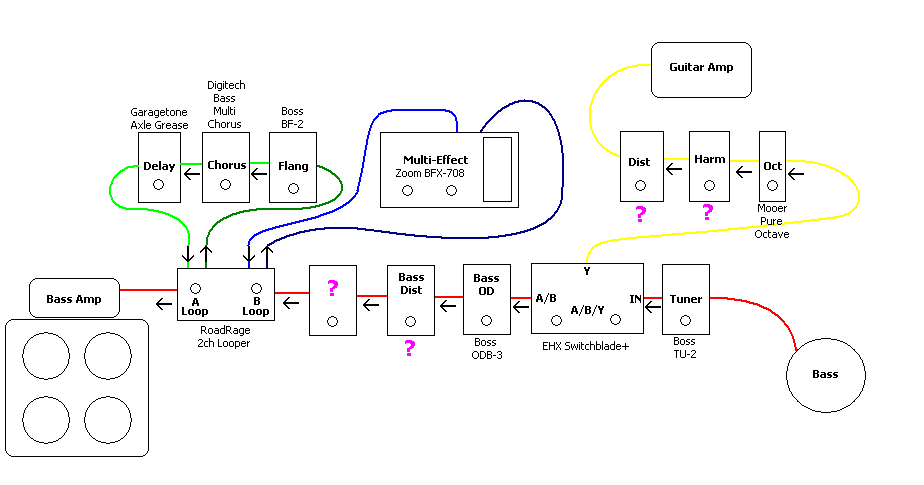 So I have the Switchblade+ to split the signal - for the times when we want backup "rhythm guitar". I figure a harmonizer will help add depth to the sound, and my guitarist will pick out a suitable guitar distortion pedal.
I like a few of the effects on my trusty old BFX-708, but the thing is a tone suck when bypassed, so I'll run that through a true-bypass looper. Alternatively, I have another Zoom multi - the 506-II Bass - which may supplant the 708, depending on what I find more useful for the two or three songs that would benefit from something unique.
Similarly, I tend to use my chorus and delay together, far more than separately, and I'd like to be able to shut them both off with one switch, thus the other channel of the looper. I've been meaning to do that for a while, anyway.
I like the ODB-3, but it's kind of a one-trick pony that I use exclusively for our blues stuff, and I'd like to find a bass OD/distortion that will give me a little more grit on the lower end, for more modern stuff.
I will have room for another pedal, but I'm literally clueless as to what I should get, what I would find useful. I'm initially thinking a compressor, but an EQ or noise gate could be equally useful, right?
So essentially I'm asking for opinions of the setup - suggestions for improvement, etc.
I'm primarily looking for a second overdrive/distortion that won't break the bank (say <$100), and suggestions for what I should put in the blank spot - are there any effects that I, playing modern rock covers, really should have but don't?
Would I be better served with a compressor or noise gate? I'm pretty happy with my tonal flexibility, between my bass and my amp, so would an EQ be a beneficial addition?