Ok, all set. Before I get too far into this and forget to post a frame of reference, here's what this ~removing of poles~ idea is all tied to.
http://www.talkbass.com/forum/f8/x-b...p-bass-948548/
http://www.talkbass.com/forum/f36/ex...ss-rig-902681/
So ok. That said, below is a picture I just took of the bass being used as a research tool. I recently got a pair of Duncan design pickups that I intend on adding to this bass for various testing reasons. Each pickup will have it's own output (just as it does now). And each pickup will be subjected to individual processing. It's all part of a test rig used to construct that last bass amp I will ever need, and also the last bass guitar I will ever assemble (Warmoth stuff). What I learn from these tests will be applied to creating that ~last bass~ I will ever buy. I've been through twenty eight basses in the last 23 years, and I've never really had "the one" that satisfied my whims. I've learned something new with each new bass and on this next Warmoth construct (my eleventh Warmoth) I plan on using everything I've learned from the last 28 basses as well as what I learn from these tests.
Ok, that's the premise.
Anyhow, back to topic here (refer to picture below). This is where I plan on routing cavities for new J-bass packaged pickups. R-neck and R-bridge. They are placed in stock Rickenbacker positions (which happen to be located where "Fret 24" and "Fret 36" would be located had a bass been equipped with such things. I'm not totally sure but I think the guitar-educated refer to those points as the 2nd and 3rd harmonic positions. I just call them F24 and F36).
Soooo .. since I'll have J-bass pickup routs in those locations, I got to wondering if I could create two-pole pickups for those spots (any of the four spots). That way I may be able to experiment (~learn~) what having just the bass trings picked up at F24 combined with the treble strings pickup up at J-Bridge might do for tone when mixed with either/both of the remaining four-string pickups. Or any other combination of 2-string/4-string pickups (or ta hell with it .... try all four locations with various 2-string pickups using various mixes). I may even put each pickup's wire on a switching jack so that I may easily repatch the wiring routings from any type of series/parallel arrangements using small 3.5mm patchcords. Patchcords are something I am comfortable around (see link to "Experimental Fully Modular Bass Rig" above, or just look at my avatar).
My ultimate setup for testing/learning/data-farming would, of course, be individual string coils that could be placed anywhere and sent to individual outputs. And that might even happen at some point. But for the purposes of satisfying my present curiousity, I'm wondering about this two-string pickup thing that fits in J-bass routs.
I suppose it might be easier to simply rout-out everything to be able to accept nearly any type of pickup in nearly any position. I huge bathtub "universal" pickup routing. Or even do something like Leo Fender did and simply mount various pickups to little boards with I/O jacks on them that fit into a test bass like "modules" ("modular pickups" have been an idea I have entertained for a long time, well before I was exposed to this video, which was just a week ago).
http://www.youtube.com/watch?v=o1uba...1BcH0A&index=8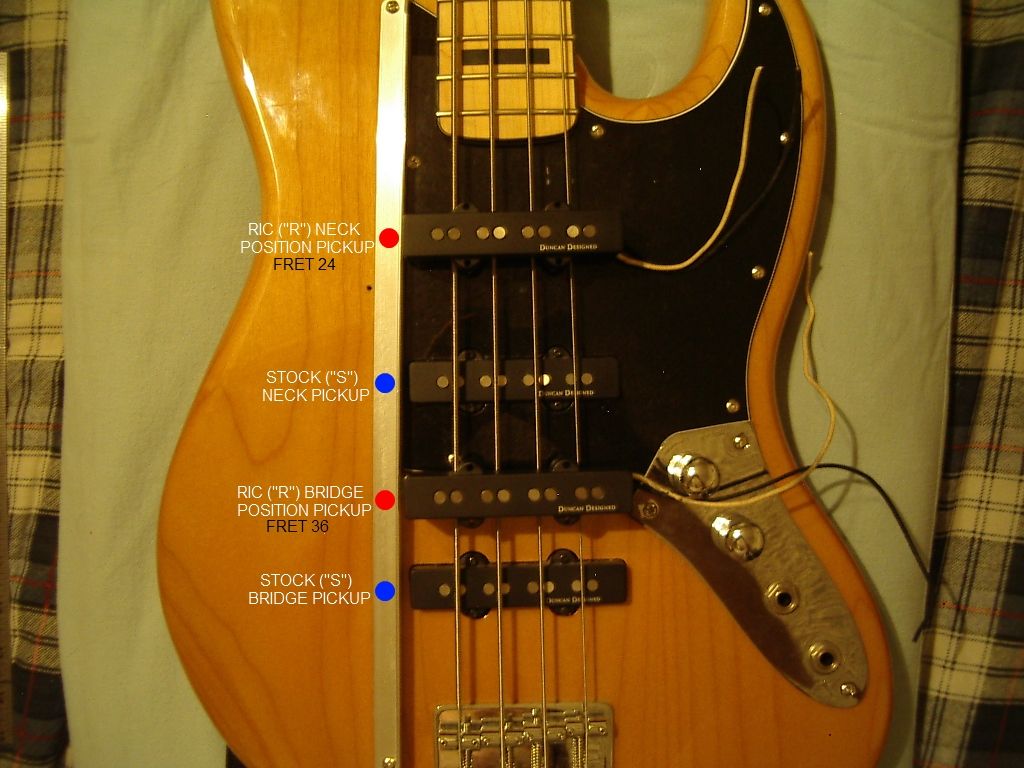 Of course if I do this pole-removal thing I'll most likely use some ebay-pickups that only have four poles to make things easier to do (unless otherwise advised).
Ok, so there's my current insanity.
Thanks.