| | |
| --- | --- |
| FunkyMan | 01-22-2014 07:28 PM |
---
How to identify the wires from a pickup with 4 conductors?

Hey folks i got an Aria ProII RSB Deluxe bass for repair and one of the pickups has 4 conductors but it's a single coil, i don't know if i'm missing something but this is the first time a see something like this: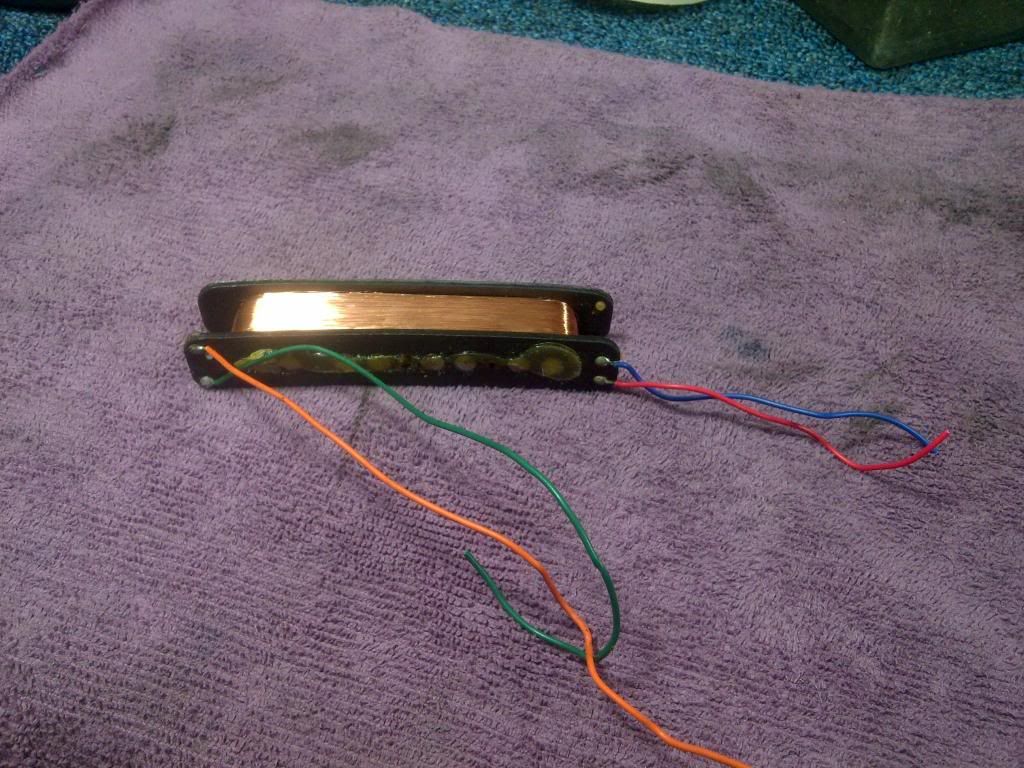 one side: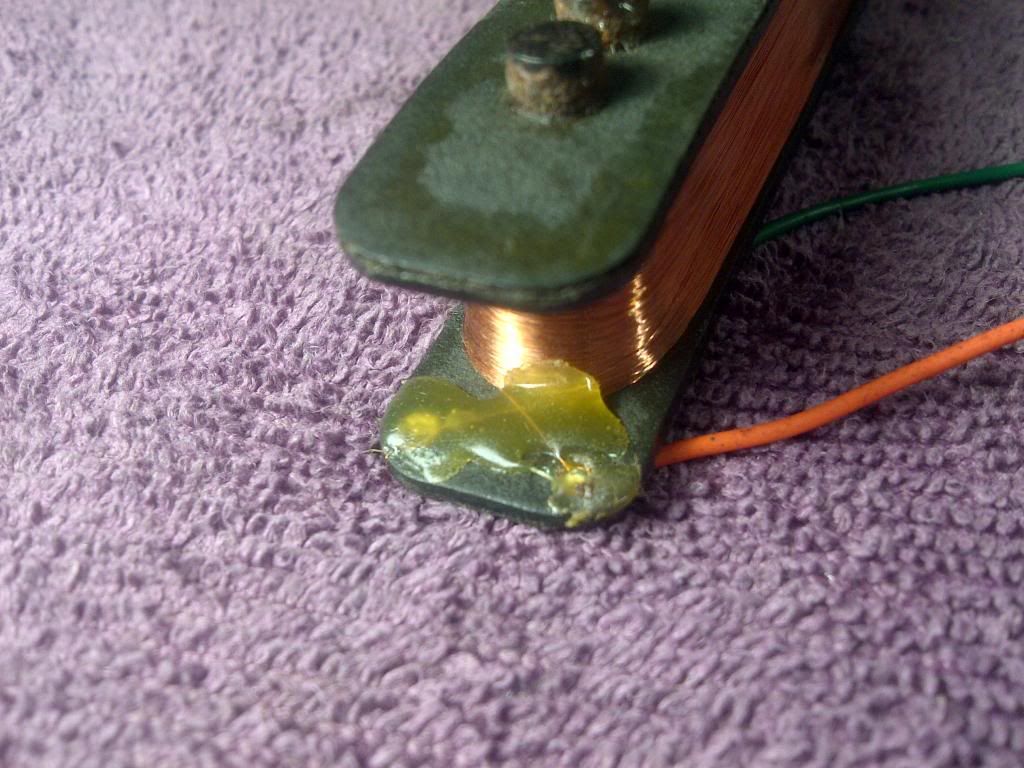 and the other: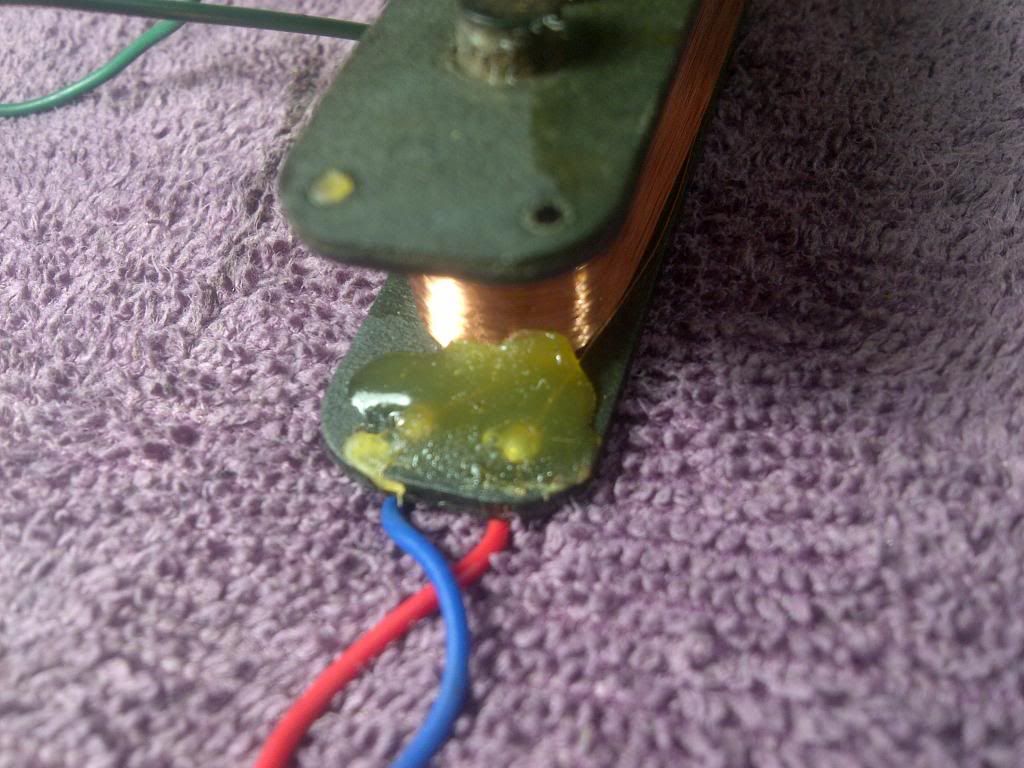 This bass is crazy, it has 2 stacked vol/tone knobs, 2 dpdt switches for (maybe series/parallel??) and a pickup selector switch... but any way
i don't know how to recognize which are the start and finish leads, and which ones are ground, any help on how to identify will be very appreciated
| | |
| --- | --- |
| RobbieK | 01-22-2014 09:15 PM |
---
Strange. I've never seen these either. I can only think a coil over a coil is to have a coil tap, but why you need the fourth wire is beyond me. A coil tap would be a single wire run off midway through winding like a multi-tap transformer. Perhaps it was easier to manufacture them in two winding processes. The way to tell the start and finish is simply measure the DC resistance. You should see which pairs of wires are which. As for the starts and finishes, well it doesn't really matter, as long as they are in phase, and this pickup is in phase with the other. Does the other pickup have reversed magnets? Having said that, it's not a bad idea to have the inner windings at earth though, with exposed polepiece pickups, so they don't hum when you touch them. If the earth is at the inner windings, then the coil tap should be switched to hot for the brighter sound. Of course, this could be done with SPST switches, so don't ask me why there's DPDT switches in there.

Anyway, once you know which coils are which, you should set your meter to mV then tap the mags to determine the phase. (Pos or neg on pull-off etc etc.) Make a note of these then make sure the other pickup has the same wiring - just in case.

These might be fun to play around with. Try the inner coil from say the neck pickup and the outer from the bridge pickup. Then try these two coils in series. You might find some pretty cool tones that hum-cancel to a degree.
| | |
| --- | --- |
| Alembic83 | 01-22-2014 10:56 PM |
---
Not sure if this helps, but here is the wiring cavity of an RSB Deluxe II bass, which your pickup came from. I don't have this bass anymore so I can't get any additional pics, unfortunately.
Here is a link to the specs, too:
http://www.matsumoku.org/models/aria...s/rsb/rsb.html
| | |
| --- | --- |
| Canadian APII | 02-19-2014 10:45 AM |
---
I am pretty sure this is an MBJ-2. I think it is a double coil somehow. My only one still works perfectly so i wont dissassemble it to see how they are separated. Probably with tape.
| | |
| --- | --- |
| JustForSport | 02-19-2014 07:55 PM |
---
Also, one winding is reverse-wound from the other.
| | |
| --- | --- |
| jamminology101 | 02-19-2014 08:02 PM |
---
Most likely the red and blue are the regular wires that get wired standard(to the pots) and the other two which I think were orange and green one goes to ground which the pickup selector can turn off and on and the the last one is a series/parallel option.
| | |
| --- | --- |
| rojo412 | 02-20-2014 01:05 AM |
---
It looks like a series/parallel switch.

If you can get a closeup pic of that switch (top one in the pic), and maybe a drawing of what color wire goes to what lug, I think we could figure this out.

It's hard to tell, but my guess is Red and Green are NEGATIVE (-) leads, leaving Blue and Orange as POSITIVE (+).
Do you have a multimeter? If you can get readings from the lugs, you should be able to see what's paired up.
---
Looks like a double tap to me.

You can use that either as a normal tap or to switch between series and parallel.

The other part of the coil cannot be reverse wound. You can't get humbucking here since you can't get a reverse polarity magnetic field.
| | |
| --- | --- |
| JustForSport | 02-20-2014 05:58 PM |
---
Look at the wires from/to the coil in the last two pickup px.
What is and what (maybe) should be?
---
Quote:
---
Originally Posted by JustForSport (Post 15550092)
Look at the wires from/to the coil in the last two pickup px.
What is and what (maybe) should be?
---
Taps.
All times are GMT -6. The time now is

08:12 AM

.
Powered by vBulletin® Version 3.6.12
Copyright ©2000 - 2014, Jelsoft Enterprises Ltd.