| | |
| --- | --- |
| StuartV | 09-05-2013 03:54 PM |
---
Is my wiring diagram correct?

My G&L SB-2 is stock, which means P/J with Vol/Vol and no Tone. I want to add Tone. But, I'm anal and don't want to have 1 regular pot and one stacked pot. I also want a Master Vol.
So, I want to do 2 stacked pots. One stack will be Master Vol and Tone. The other stack will be individual Vol for each pickup.
Of course, with Master and Tone both wide open, I want the bass to sound the same as it does now, using just the other 2 individual Vol pots.
So, can any of you tell me if the wiring diagram I've done up will work like I want? I've never done this before, so I am very skeptical that I've gotten it right on the first try.
One obvious thing to ask about is, on the J bass wiring diagrams I looked at for reference, they had the pickup white wires connecting to the middle lug on the Vol pot and I've drawn this with the pickup lead connecting to the outside lug instead. Is that okay, or do I need to reverse those?
I have A500K/A500K stacked pots to use for both. And I got a Orange Drop cap for the tone pot. Don't remember off the top of my head what value. .047uF, I think.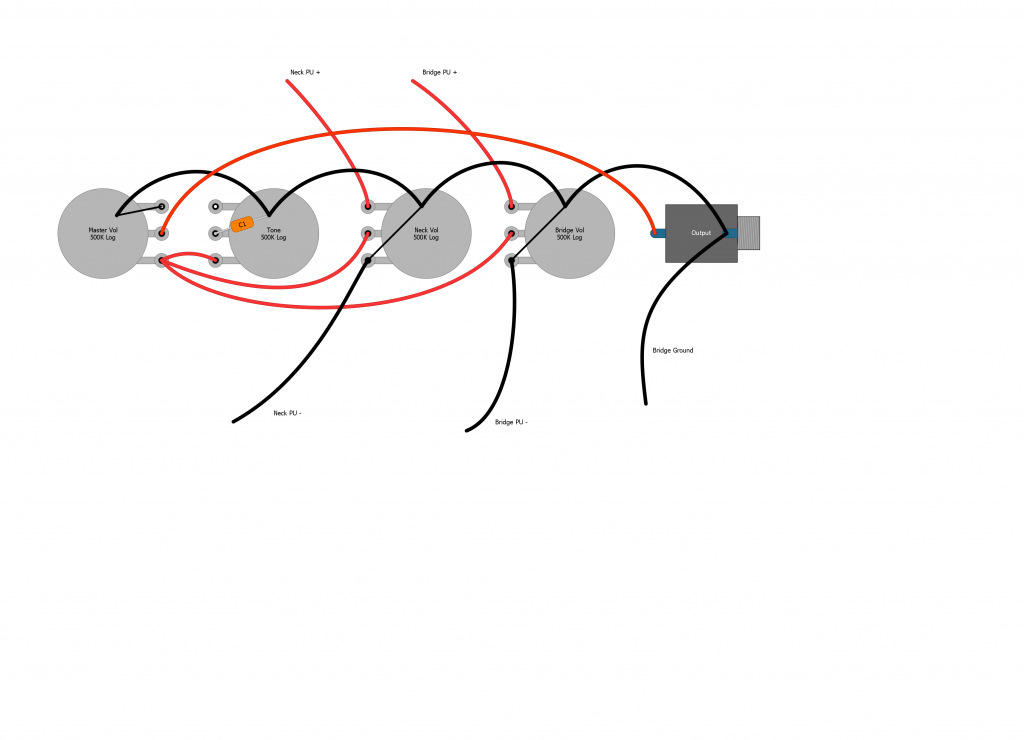 If this drawing doesn't show as large enough, somebody please tell me and I'll see if I can export a bigger one from DIYLC (the open source app I used to create the diagram).