Quote:
---
Originally Posted by soundmasterg (Post 14069274)
Its the overwinding, and its also the use of the modern molded bobbins, instead of the older style bobbins with a separate top and bottom piece. The molded bobbins move the wire out further from the polepieces which raises the AC resistance and contributes to the muddy sounds.

Greg
---
Sorry, but this incorrect. Didn't we have this discussion at the pickup makers forum?
The neck pickups
always
used plastic bobbins. The bobbins are the same as in the toaster pickups. The toaster was introduced in
1956.
Before the toaster they had another "intermediate" single coil pickup. The main pickup used in Rickenbckers going back to when they were Ro-Pat-In (in 1931), and then Electro-string, was the horseshoe pickup. Generally Rickenbackers only had a horseshoe pickup, and no neck pickup. George Beauchamp invented and patented the horseshoe pickup. Even though the company was named after Adolph Rickenbacker, Beauchamp started it.
Here's the evolution of Rickenbacker pickups: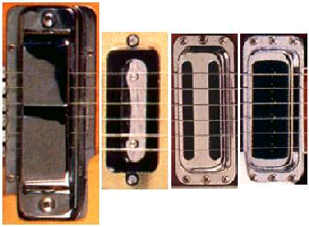 Left to right it the horseshoe, intermediate single-coil, classic "Toaster" and modern hi-gain. The toaster and hi-gain use the same bobbin and bezel size.
They have used the same molded plastic bobbin since then. When they switched to the Hi-Gain pickups they used the same bobbin, but drill it out for the four rivets and stuck a rubber magnet on the bottom. The toasters had six long (or short) alnico rod magnets).
Here's a modern high-gain showing the toaster bobbin with the two toaster "slots" molded into the plastic bobbin. Same as they were in 1956.
The problem with the Hi-Gain neck pickup is the magnet is too weak, and the coil is over wound. This makes the pickup sound dark. Just sicking a stronger magnet will brighten up, as will winding it with less wire.
The bridge pickups, which replaced the toaster, used FR-4 for flatwork, with rivets as pole pieces. But even then, the wire does not touch the poles. if it did, it would probably short out on them, since the poles have a spiral thread on them. So they wrap the poles with foam rubber and then masking tape, and then wind the coil. So they are spaced about as far as on the plastic bobbin.
Moving the wire farther from the poles or magnets does not increase the AC resistance. It will probably lower the inductance, and decrease some capacitance of the poles are grounded.