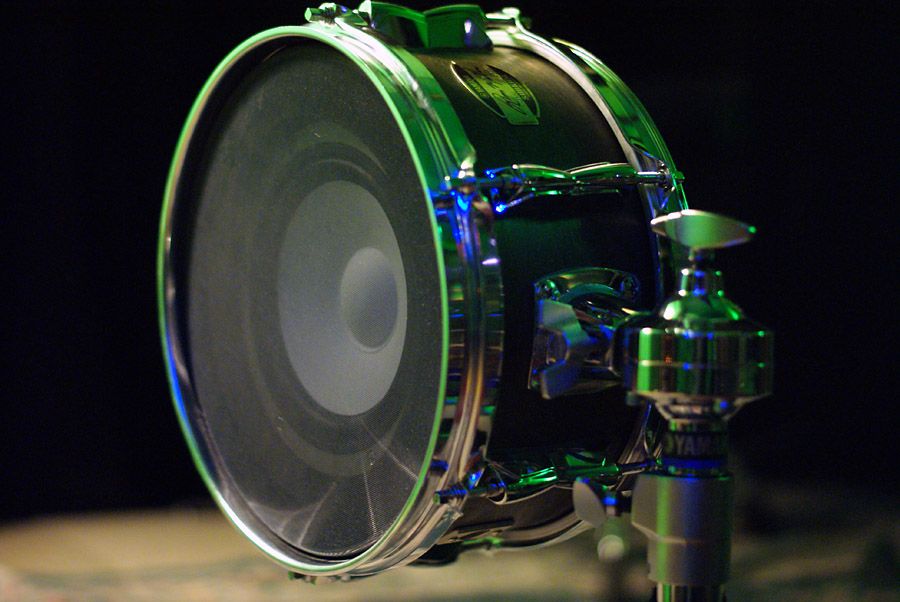 Returning to the studio for mixing last Friday, I took this photo of the Yamaha SubKick we used on the kick drum.
I got down close and personal in trying to uncover it's secrets.
However, a new question or seven occurred to me just now: Is the clear "drumhead" porous and only for the diaphragm's physical protection, or is it solid in an attempt to tame the blast of air hitting it?
Are the "heads" tunable, and if so, why? (Or why not?)
Is there any circuitry inside? A good clue would be if phantom power is required.
Would you describe the driver as being a long-excusion bass driver, or a more generic type?
Reason I ask is that I am modifying an old car subwoofer tube to serve the same purpose for live shows, and want to be as well-informed as possible.
(Does anyone use these things live? If so, things to watch out for? If not, why?)
As a pro sound engineer you'd think I would know this stuff, but honestly it's the first exposure I've had.
Ulterior motive: Getting the most out of a two-source kick mic arrangement will mean having a small mixer onstage, because it's rare to find a FOH in clubs that will have any interest in losing an extra snake channel (or can be trusted with getting the low/high balance and EQ just right--remember, I'm a longtime FOH mixer), and the bonus is that if we've got a mixer onstage for the kick already, it makes it that much easier to sell the idea of bi-amping my bass signal.
Could have asked the engineer, but Joey was up to his armpits in dozens of channels of ProTools files from the original session and our later home overdubs, and doing an amazing job I must say. Didn't want to distract him.
During 12 hours straight of mixing I learned a lot and was very impressed, because unlike some people he's all business. Didn't have to hear repeats of the history when he was patching the mid/high channel of my bass thru compressor X which came out of studio Y in London and was used on such and such Led Zep or WHO album blah blah...
I loved those tales the first time, except for how much $$ we were paying per minute to listen to them.
Thanks for any info or links that will help with my questions.