Hello all! It has been awhile since i have posted in this forum, so i figured i would show my recently completed work.
here are a few guitars i built earlier this year.
this one is a 6 string with a mahogany/purpleheart body, a 5 piece padouk.mahogany/purpleheart neck. a single Duncan JB humbucker.
This one is also a 6 string guitar. it has a poplar/walnut/poplar body and a birdseye maple neck. Duncan JB and Jazz pickups.
this is a 4 string bass with a walnut body and cherry neck. the fretboard is wenge. 32" scale length with 2 EMG Hz pickups and Hipshot hardware.
This is a 5 string that is in the works. It's woods are all contrasting with each other. The body is curly maple, the neck is walnut, the fretboard will be maple, the headstock is maple with a walnut veneer. The pickups will be Nordstrand Big Singles. this bass is also FOR SALE! If you have interest in it, please hit me up.
This is also a work in progress for a client. It will be a seven string, tuned with a low F#, multiscale bass. 37"-34" scale lengths. The body is redwood burl/wenge/red oak/padouk, the neck is flamed maple/purpleheart/padouk. the cats eye is wenge/maple veneer/purpleheart. The fretboard is cocobolo.
This one is also a work in progress. it is a 9 string beast that is a fanned fret, 37"-32" scale lengths. walnut/curly maple/walnut body, curly cherry/flamed maple/walnut/padouk neck, birdseye maple fretboard.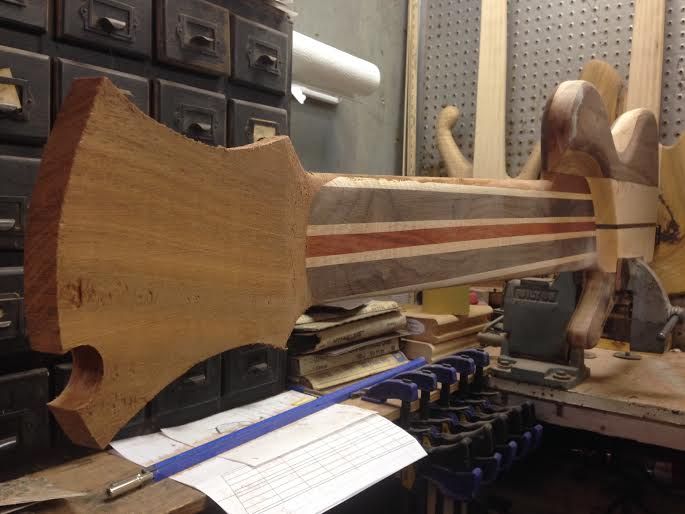 I am on Instagram, @beardlycustoms and I am on facebook,
www.facebook.com/beardlycustoms
.
Thanks for having a look, and if anyone is interested in that 5 string, let me know.