While my project thread (check it out!)- "Coming soon; Steinbacker fretless" is awaiting a pro finish, I will be starting this new and exciting build/project.
I really love the mid 80's Fender Performer bass, and for many reasons. It was a moment in time when Fender actually attempted to do something new and different before they locked into retro-rehashing. It was designed by John Page to be top of the line above the venerable Jazz bass, a mighty task indeed. In that respect, it seems a bit much to think that it could be considered above the J, but on the other hand it was a fearless idea. A 24 fret / 34" scale neck (and a very narrow, un-Fender like one at that!), relatively new for the time active electronics, and a super-hip Jetson's-like design. Cueing the back of a Stratocaster, it has a "Jazz bass in space" moderna look that was fresh and new, yet distinctively Fender. Colour options included classic sunburst, black, pearl white, a dark teal-ish blue, a dark magenta red, and a bright gremlin green metallic. It also sported a pointy headstock - another very un-Fender-like design choice. I personally think the pointy headstock was less a specific design choice for the Performer than it was a cost-cutting move dictated by the Fender money watchers. At the same time the Performer was released, they also released the very pointy Katana. Thought process probably was "two different headstock designs? - no way! use the pointy one on both". Check it out- the pointy headstock works well with the Katana's body - much better than w/the Performer. Regardless, give Fender credit for that bass also, as it was attempting to align w/the pointy guitar trend that was all around them.
So where was I.., I never have even had a Performer in my hands, and considered trying to buy one - but stopped short due the going cost of one and feeling hesitant for a couple of reasons. The thin neck, and from what I've heard an equally thin sound and that clash of design integrity (pointy headstock vs curvaceous body) left me with only one alternative... pick up the design task of a super J starting w/the Performer and finish it properly. In the spirit of the Stratocaster, I will be naming this bass the Supersonic. (I also like Supernova... opinions?)
I decided to use a 1 piece alder blank for the body (ordered), and keep it pretty much the same because Page nailed it there. (if it ain't broke...) I also wanted a 34", 24 fret neck, but not as narrow as the Performers. And I wanted to re-design the headstock to flow w/the sexy space-curves of the body. Aside from that, I will use standard J style pu's and individual string bridges (ordered) and will also make it string-thru. I have yet to determine which J-style pu's to install or which active electronics I will end up using, but that's a ways off and your recommendations on those choices will be welcomed. I have an alder J w/Fraylin split-pole J pu's and an Audere preamp and love the tone I get from that combo - but will consider other options.
So here we go - I enlarged the (blurry) Performer technical drawing found in "The Fender Bass" by Klaus Blasquiz as close to scale as I could w/o having an actual Performer to measure. (anyone who has one that can send me basic length/width/depth numbers will help very much here) Shown is the enlargement with my redesigned headstock and a ruler to visually gauge the design balance overall.
I'm considering installing a Stratocaster-type chrome jack-port (faintly seen) and want to finish it in Firemist Gold, one of my all-time favorite Fender colours. Pickguard colour yet to be determined, but I'm initially leaning toward aged white/mint green. Then there's the control knobs... later, later grasshopper.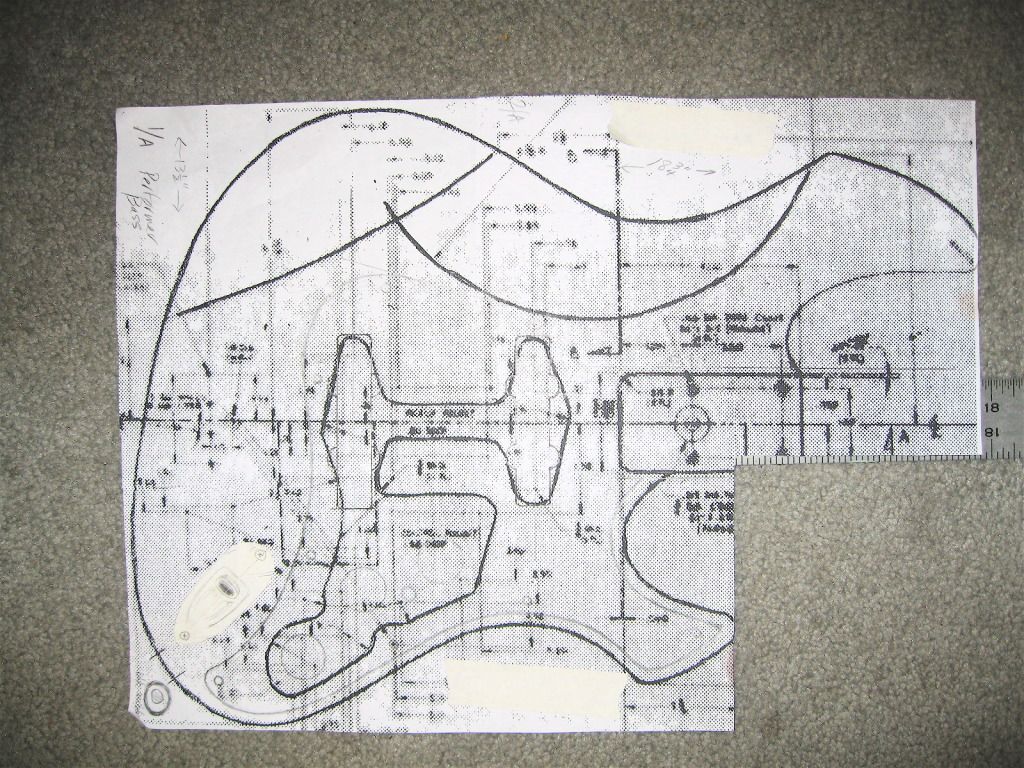 Here's where the rubber meets the road design-wise. I scaled the headstock after a stock Jazz/P-bass and modified from there. The lower bout is identical to a J/P and the upper section design relates to the body horns. I ordered Gotoh open-gear clover-leaf tuners specifically for their size and design compatibility. (pics will be shot once they get here) The neck is being made by local SF luthier Dan Ransome. It will be maple w/an ebony board devoid of face markers (side only), and the headstock will be a 2 piece tilt-back (Gibson-style). I decided not to reproduce the string-tree burdened flat Fender-style, which was a manufacturing over best function design choice. As I initially stated, I want to make an improved J-style bass here. It will have a 9.0 fingerboard radius, 24 med jumbo frets, 1.5" nut - 2 3/8" butt, .80-.925 jazz feel 34" scale neck, and a MM spoke-wheel trust-rod adjuster (at the butt). The overall length of the bass will be approximately 46", consistent w/most Fender Jazz basses.
Stay tuned in the weeks ahead for the Supersonic/Supernova (cast you vote now!) to evolve! :bassist: