| | |
| --- | --- |
| akori | 09-10-2013 04:52 PM |
---
Do manufacturers typically use fillers on Wenge?

Hello:
Anybody know if Warwick, etc., uses fillers of any sort when finishing up the sanding of wenge?
I've heard here you can sand it to a nearly mirror smoothness, but many techs I've spoken to disagree. Not to argue with the poster here who said it can be done.He's talking about his own bass.
Could be the quality of wenge I've gotten from Gilmer and Warmoth is lesser...but it seems there are a lot of long, deep channels in the grain. I'd imagine Warwick rejects tons of the stuff to avoid such features in the grain, unless they fill it a bit.
| | |
| --- | --- |
| Chris_H | 09-10-2013 04:56 PM |
---
Yes, Wenge can be sanded to where the dark grain is literally almost as smooth as glass, window glass, not optical. That does not change the fact that Wenge is (very) open pored. If you want a typical lacquer glassy smooth finish on Wenge, gotta fill the grain. If you got the wood from Gilmer, it should be very good.
| | |
| --- | --- |
| line6man | 09-10-2013 05:05 PM |
---
It depends. In my opinion, open-grained woods with any hint of glossiness look awful, but the open grain vibe looks great with matte finishes. I would imagine that most luthiers usually have their own preferences on open grain versus grainfilling, when finishing.
| | |
| --- | --- |
| Chris_H | 09-10-2013 05:15 PM |
---
open grained woods that are not filled, and lacquered, look awful. I think Wenge can look great when it is filled, and lacquered.

Wenge looks fantastic when it is just highly polished and oiled.
| | |
| --- | --- |
| akori | 09-10-2013 10:03 PM |
---
Looks to me like (MAYBE?) my manufacturer didn't do the smoothest job of sanding it before fretting it... if so, this would royally suck. Or (PERHAPS) the raw wood from Gilmer wasn't the best quality...which would also suck, because the fretting is a done deal.
(I can not sleight Gilmer here...I liked interacting with them; lots of knowledge and passion at that company. I assume they do a great job. I'm looking at uncolored wenge for the first time. In this state, the "pores" or long channels really stand out). It's the most open- grained Wenge I've ever observed on a fretboard...a bit more so than a wenge neck I got from Warmoth, and a S***T-ton more so than anything I've EVER seen from Warwick. Now I'm beginning to wonder if that's because with commercial builds, like with Warwick, the Wenge is sanded really fine, stained, and then probably waxed. I'd love it if my build was sanded as far as it should have been, leaving it up to me to merely stain it...and hopefully not fill it or apply an actual finish. Again, around frets, it doesn't sound fun.
| | |
| --- | --- |
| akori | 09-10-2013 10:15 PM |
---
I've got to stain both the the wenge fretboard on this one, and both ovangkol necks I ordered, because the color of all the woods is barfalicous. The Ovangkol is a dirty gray, and the Wenge is a dried-out light chocolate hue. Obviously Warwick stains both woods. Staining the necks and around frets is no problem, but FILLING, I assume that is. MAYBE IT'S POSSIBLE?
| | |
| --- | --- |
| akori | 09-10-2013 10:36 PM |
---
On second look at my old Warwick FNA Jazzman 5, I can see that there are in fact a lot of long channels in the fretboard. It's just that the wenge board is stained to a nice chocolate color, so they don't show up as readily as they do on this unstained wenge board I just got. (HOPEFULLY) after staining it, the "pores," or deep channels won't be too conspicuous.
I can't help but feel that it could have been sanded finer, but that, too, may be because on all the 'Wicks I've had, there was stain, and at least a preliminary coating of oil (in the stain), and their wax on top of that. They thus may simply appear smoother. I'll know in a couple of weeks when the manufacturer re-ships the two necks back to me. I had to send them back b/c the pegheads arrived as giant uncut paddles.
I'm not a fan of filler or finish in this case, but it would be nice to know if I have to fill before I stain the wenge.
| | |
| --- | --- |
| Chris_H | 09-10-2013 11:59 PM |
---
can you post some pics of what you are looking at? you have me curious.. the whole piece, and a close up..

when the Wenge is oiled it will darken considerably. Often, some Wenge will look light tan color when freshly sawn, and will darken quickly. I work with a lot of Wenge, I do not recall any pieces that have made it to finish that have been too light in color. Still.. post some pics of what you are talking about..
| | |
| --- | --- |
| pilotjones | 09-11-2013 12:02 AM |
---
I've never heard of wenge being stained by Warwick or anyone else, though it may be possible. I know the epoxy on mine darkens it tremendously, even though the epoxy itself is dead clear. It's far more likely that the finishes you see, even if it's only wax, is darkening it. Have you tried it out? If you test the intended wax on a hidden part, such as the neck heel mounting surface, you may be very surprised.

Also, that ovangkol may surprise you with darkening and a color change with some wax on it.
| | |
| --- | --- |
| akori | 09-11-2013 01:12 AM |
---
CHRIS:
Yeah, I will post, when the neck comes back...if I can use the tools on TalkBass... last few times I tried, I could not post a pic.
Thx.
| | |
| --- | --- |
| akori | 09-11-2013 01:16 AM |
---
Pilot: I'd bet the last five bucks in your wallet Warwick stains ovangkol necks...some are so brown. But You may well be right. I wish I had some scrap from the neck blank of wenge to test. I will certainly test some oil and stain separately on the neck heel of both ovangkol necks before proceeding; good suggestion. I love these woods so much, and I'm delighted to finally use them on P & J basses. One neck is an Ovangkol/ unlined ebony fretless; the other is the ovangkol/ wenge fretted. My opinion of ovangkol is as a neck wood, no matter how good you are, it makes you sound better than you are. Unstoppable.
THX.
| | |
| --- | --- |
| lbridenstine | 09-11-2013 07:43 AM |
---
i agree with PJ. Try oil or wax before trying stain. I bet it will darken significantly and you won't need stain. I have some wenge from gilmer, they shipped it to me covered in wax and it's almost black, with dark grey in the streaks/grain.
| | |
| --- | --- |
| akori | 09-11-2013 09:25 PM |
---
THX, Ibridenstine: I will definitely try some oil and/ or wax on the neck heel first. I didn't know Gilmer would send you wood that was oiled or waxed...Was this a fretboard blank? Just curious...
| | |
| --- | --- |
| HaMMerHeD | 09-11-2013 10:08 PM |
---
My understanding is that wood is shipped waxed to prevent it from taking on or losing too much moisture too quickly as it travels through various climates. Allegedly helps reduce splitting and checking. You are supposed to scrape it off and clean it out.
| | |
| --- | --- |
| pilotjones | 09-11-2013 10:41 PM |
---
Take a look at my test carve piece in
this post in my current build thread
for the difference between wenge raw and with some (dried) shellac. It actually got that dark - it's not just the lighting - in fact in the second pic of the test piece, the tabletop difference shows that that pic is actually brightened up half a shade.
| | |
| --- | --- |
| HaMMerHeD | 09-12-2013 06:58 AM |
---
This is a wenge neck with lemon oil: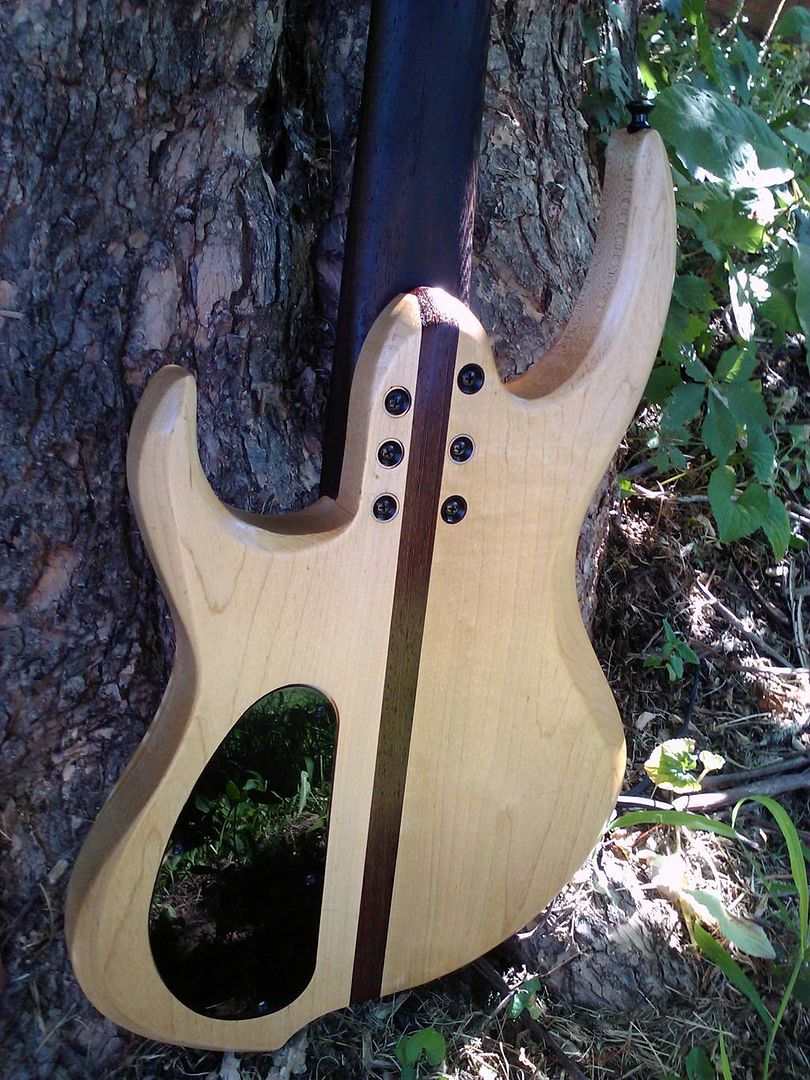 You can see the "before" here: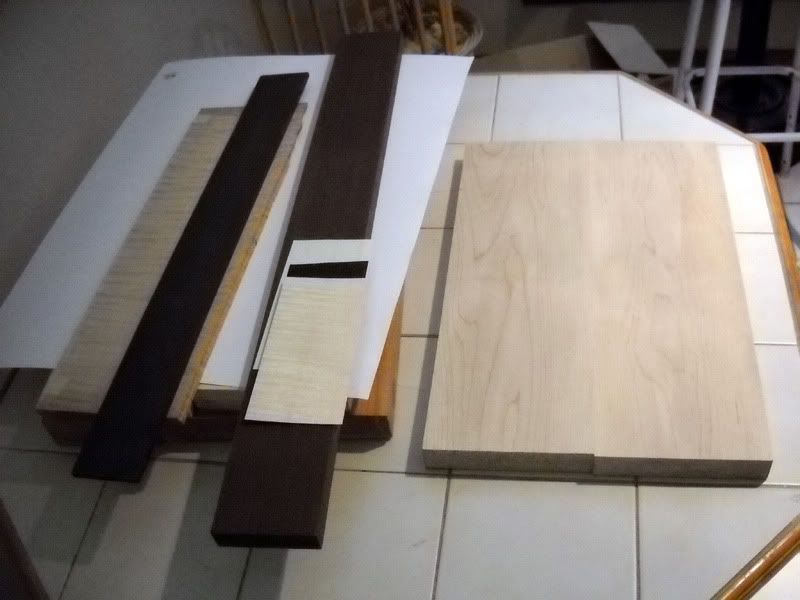 | | |
| --- | --- |
| lbridenstine | 09-12-2013 07:27 AM |
---
Mine's not a fretboard blank, I'm going to use it for a top, but there's going to be a good amount of leftover that I can use for other things.
And the bigger piece in this picture is also wenge covered in wax from Gilmer.
I haven't scraped off any of the wax to see what it's like underneath because it'll be a while before I cut into either one, but I assume it's not quite that dark when it's raw.
| | |
| --- | --- |
| lbridenstine | 09-12-2013 07:35 AM |
---
Quote:
---
Originally Posted by akori (Post 14852034)
CHRIS:
Yeah, I will post, when the neck comes back...if I can use the tools on TalkBass... last few times I tried, I could not post a pic.
Thx.
---
You can either click "Manage Attachments" and "Choose file", complying with the file sizes and dimensions on the chart in that screen, or you can upload the pictures to some other site, right click on it and get the image url ("Copy Image URL" on a Mac or under "Properties" on a PC) and paste that into the little picture icon on the reply screen. It looks like a little box with a yellow background and a grey mountain/sun.
| | |
| --- | --- |
| schlobodan | 09-12-2013 10:21 AM |
---
warwick uses filler wax on wenge. I have seen it on one of their videos.
| | |
| --- | --- |
| Chris_H | 09-12-2013 12:24 PM |
---
Is that really wax on the piece from glimer? or shellac. Definitely looks like the ends are waxed. Most boards I buy from Gilmer are shellacced with waxed ends. I do not recall any that were fully coated in wax.
All times are GMT -6. The time now is

06:05 PM

.
Powered by vBulletin® Version 3.6.12
Copyright ©2000 - 2013, Jelsoft Enterprises Ltd.