Hey Guys,
as you may have seen from before, I am a complete NOOB. just want to share my experience with this product, as I haven't found much on the web about this stuff...as it applies to stringed instruments.
To start out, I'm currently working on my first "project bass". It's an Epiphone EB-3 I got off ebay for 30 bucks. It came with no parts and was painted black.
Obviously, I wanted to take the paint off. in my infinite wisdom i assumed the inlay was mother of pearl, and didn't tape off the finger board when using jasco chemical paint stripper to take the paint off. well, it ate through the mother of plastic inlay when it got on there. so now I have to replace the inlay. crap. i just went for it and applied several coats of jasco to the plastic inlays and completely emptied the routed cavities they were in. nice clean holes now.
Having never done inlay before, but understanding the process that the hole's shape usually is dictated by the shape cut out of the mother of pearl, I had a predicament. especially this being an epiphone. Trust me, I've seen the precut shapes over at stew mac. but everything I've read says they wont fit due to it being an epi and not a gibson. apparently the epi trapezoid sides are more concave. oh well.
I racked my brain for an easy get of jail free card. route out squares? throw it away? i thought for about a week. then i found this stuff on line. InLace Liquid inlay. thank goodness.
so I've attached some images of the process that its going through. again, I've made sure that the holes are clean, and the wood is dry, apparently this stuff can have a hard time setting up and doing its thing if the wood its going into is really oily...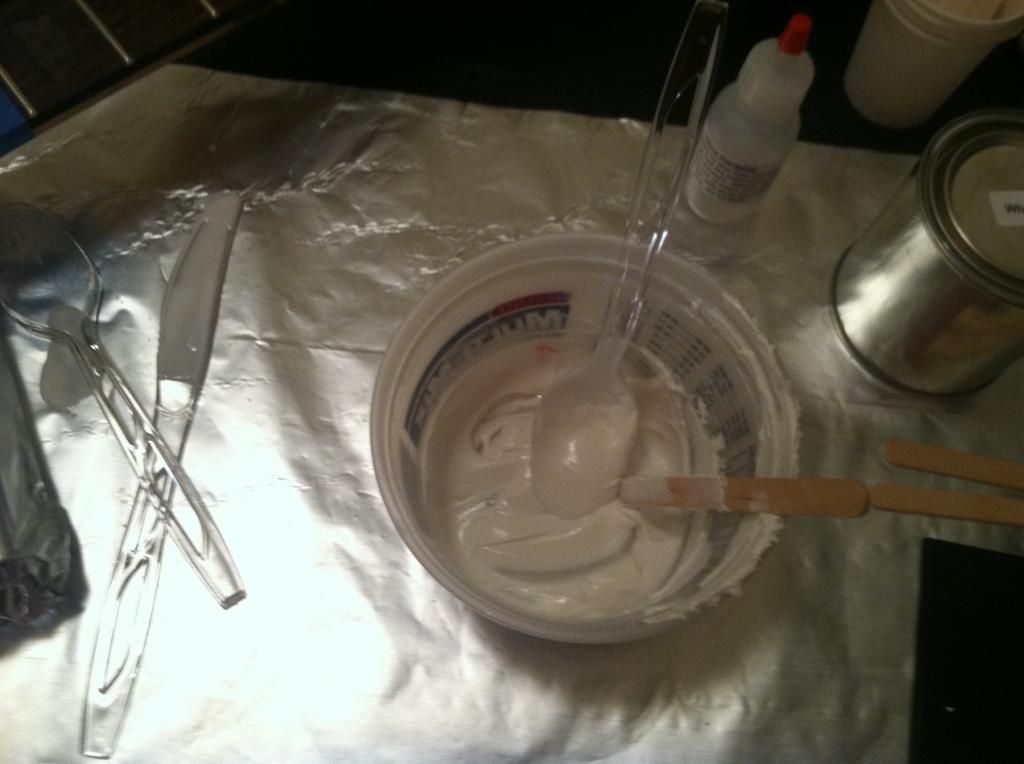 this is it mixed up, I did use a little bit of the "thicken it" stuff they sell. made it a little more thick, the actually product in the can was really thin, and I was kind of worried about it being too soupy.
the thicken it stuff is wierd. when i got it in the mail with the kit, i picked up the bottle and thought id gotten and empty one, only to open it and find it full of wierd fluffy stuff. like finley diced down feathers almost. theres no way its good for humans to come in contact with....
anyways, this picture is about an ounce of the stuff mixed up. i used MAYBE a quarter of it on the first two holes.also, I did 25 drops of the hardner, your supposed to do 25-30 drops per ounce, however the instructions say that too much can actually prevent it from hardening (as if that makes sense)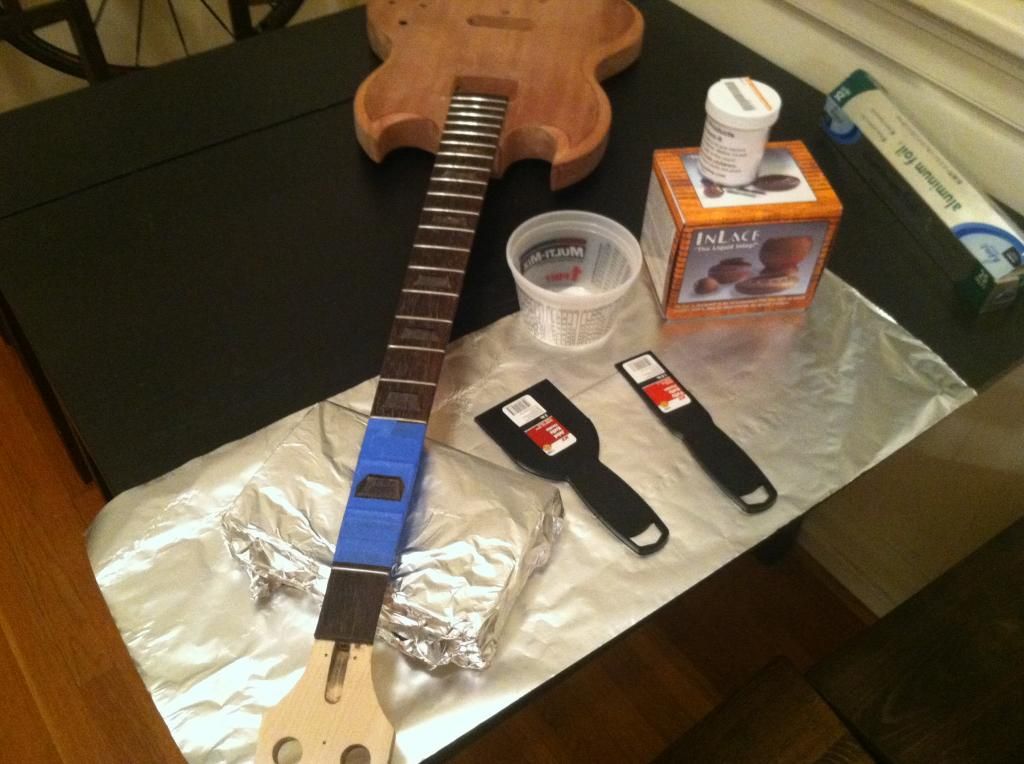 this is a set up i had for it, super junior varsity, i know. i figure epoxy will have a hard time sticking to tinfoil...
this is the first hole taped up. i ended up taping up the second one really quickly after realizing how much and ounce of this stuff makes.
here it is in the holes, I'll let you all know how it comes out. after sanding and what not. again just want to share my experience with this stuff. also, tips and trick for dealing with this stuff, and or epoxy in general would be amazing as this is my first time on both.
-Went