It pains me to report the passing of John Polk owner and operator for Terrapin Guitars. John and I had a relationship that began in 2007 and from the moment that he finished the first order, I knew I had found a great business partner.
In his own right John was an accomplished guitarist. But his love for the instrument carried over into building guitars and making quality pick guard components for other guitarists and builders alike. This was his way of staying involved in the musician and builder communities.
I enjoyed my relationship with John. He was a gentleman and in many respects a long distance friend; one that I will never be able to meet over a pint of ale and a hand shake. (At least on this earth.)
John's work was his craft and he had a passion for the acrylic and celluloid sheets that he cut and shaped into works of art. I knew this in his personality, in the way he treated his clients, and in the final product.
Even after being diagnosed with stomach cancer in early 2012, John did what he needed to do to ensure the continuity of his business. He made a point of showing his wife Mary on how to run the business. From the website, to processing orders and fulfillment. He then took on an employee with shop experience. One that could learn the craft of pick guard cutting inside and out. This is what John did in the last 15 months of his life.
So while John's time on this earth ended this past May, the legacy of what he created and who he was remains:
The business of Terrapin Guitars lives on with his wife Mary and his protégé Justin!
I am grateful to have known this human being and I'll always remember his spirited love for the instrument, his love for the community he served, and the love he had for his wife Mary. I'm happy to see that his legacy will continue as Mary and Justin forge ahead with the Terrapin tradition.
So I will now look forward to seeing more great work coming from these folks and will continue to look to Terrapin to make great pick guards for our basses.
May God rest your soul John, as it should be for one of the good guys.
Jeff Herman
Buscanti Basses
To see John's work, or what Terrapin Guitars is up to with Mary and Justin, just visit:
www.TerrapinGuitars.com
John 2012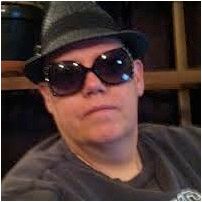 John 2010