Good evening! Update time.
Tonight, I sanded down the body down to bare wood. This wood was as I had anticipated, pretty meh, and paper thin. You will notice that I burned through it in a couple places. I also Carved a silly groove to make my hand more comfortable, seemed like a good idea, but who knows, it will probably do nothing.
The iffy wood situation has lead me to a new dilemma, one which I would absolutely love suggestions on. What to do with the body?
I have a spray booth so I could paint it, or I could wrap the body in carbon fiber. Or finally, I could laminate a pretty veneer on top of it. Although I am slightly leaning towards the latter, I am unsure as to how it would look with the carbon neck, especially if I did a crazy burl of sorts. I am also thinking about hitting the neck with an extra fine scotch bright pad to make it matte, this should keep it extra fast!
On to the composite menu!!
Here is what I currently have to work with:
0,90 Plain weave carbon. Small checkerboard style, pretty run of the mill, but can look pretty sharp.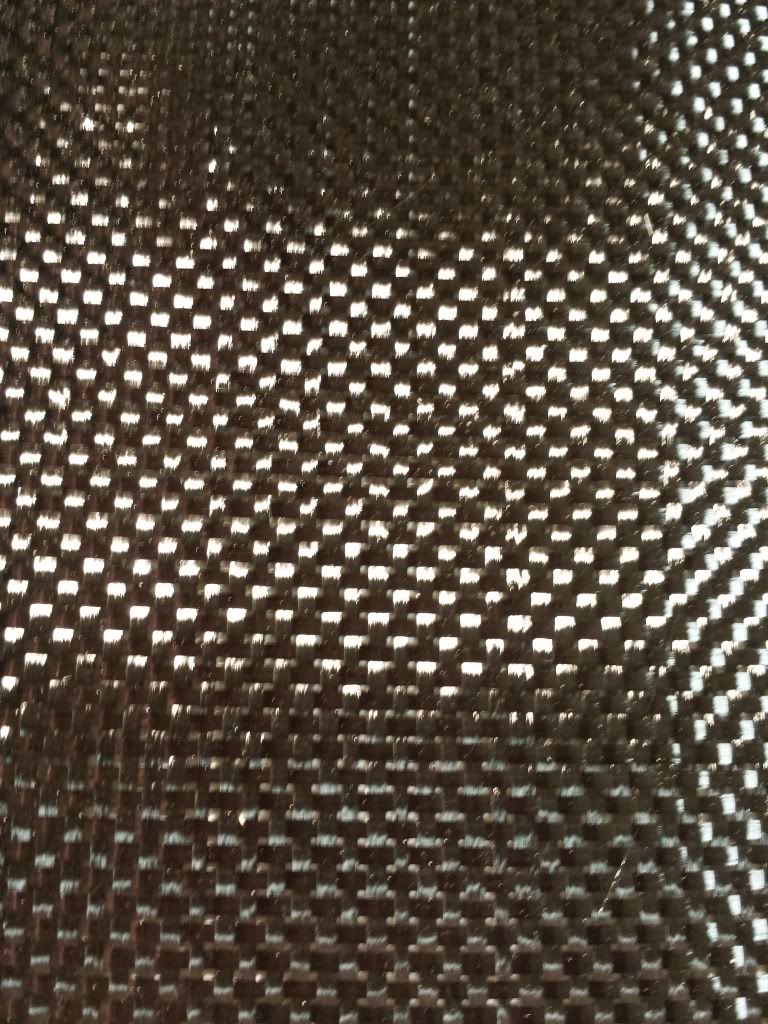 Twill weave carbon, a bit slicker looking. The stuff I usually use on the bottom of my race skateboards. You will find this type of carbon brilliantly displayed on hypercars such as the Pagani Zonda F.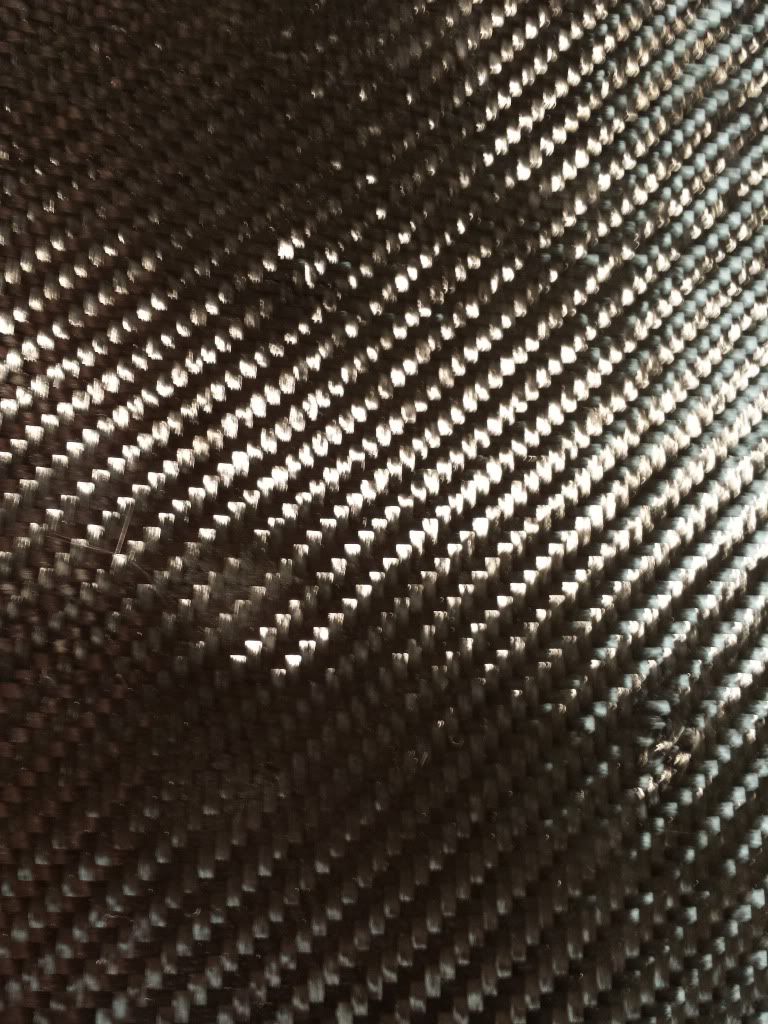 Texallium. This is essentially aluminum (Aluminium) dusted fiberglass. This stuff is brilliantly shiny and silver. Unfinished, it is very hard to capture a good picture of: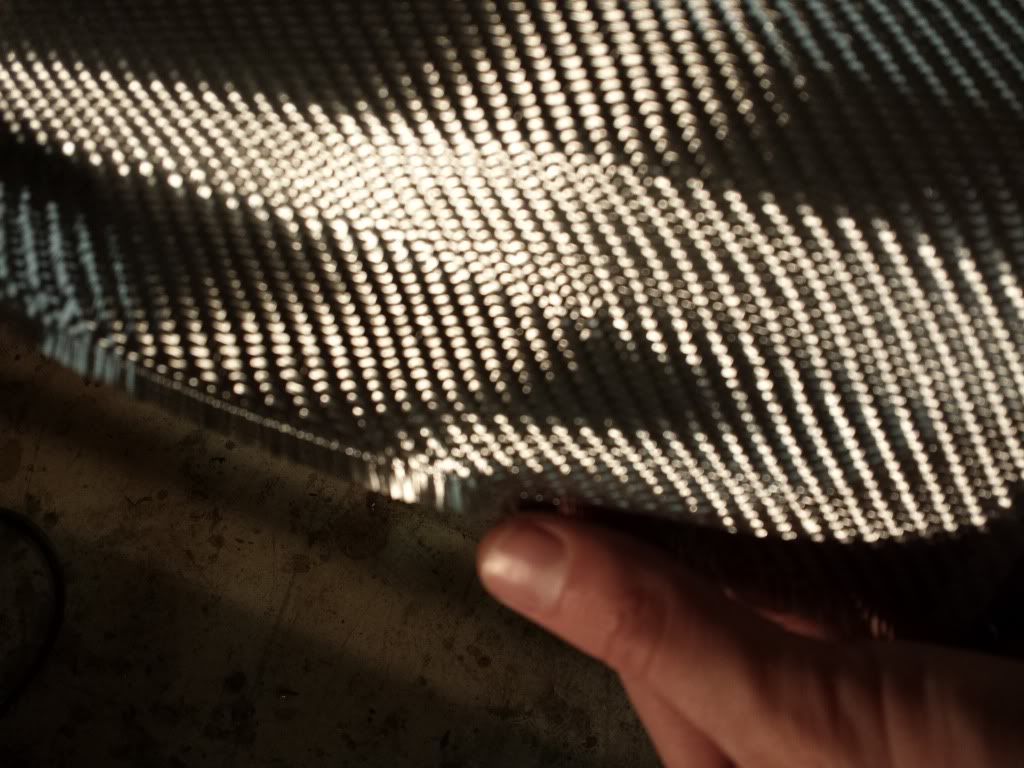 And finally, a gem that I have been clinging on to. A custom multicolor kevlar/carbon fiber hybrid twill. This fabric was a sample woven for me by my good friends at TEAM INC. This is a special fabric that is not in production, and they were kind enough to give me some to play around with. It is SO SO cool.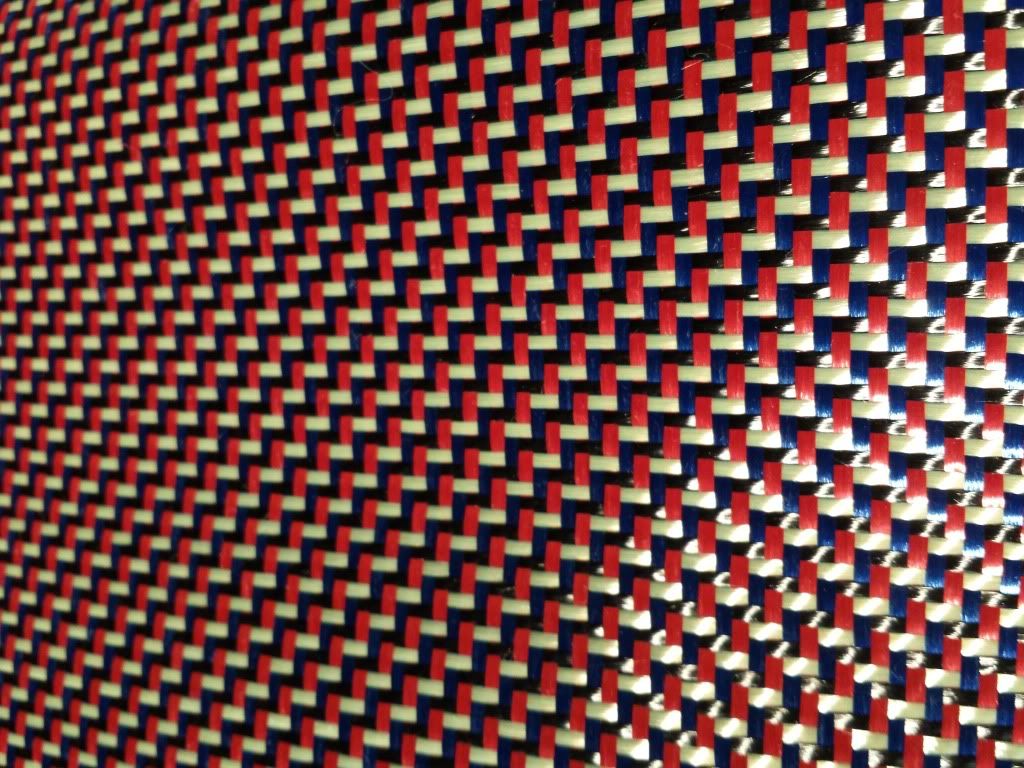 So what do you guys think? I am thinking about doing a composite fingerboard, pickguard and back of the neck (the two laminations on the neck would be done sepparately, so they could be different fabrics.
Lastly. On to the actual progress pictures!!!!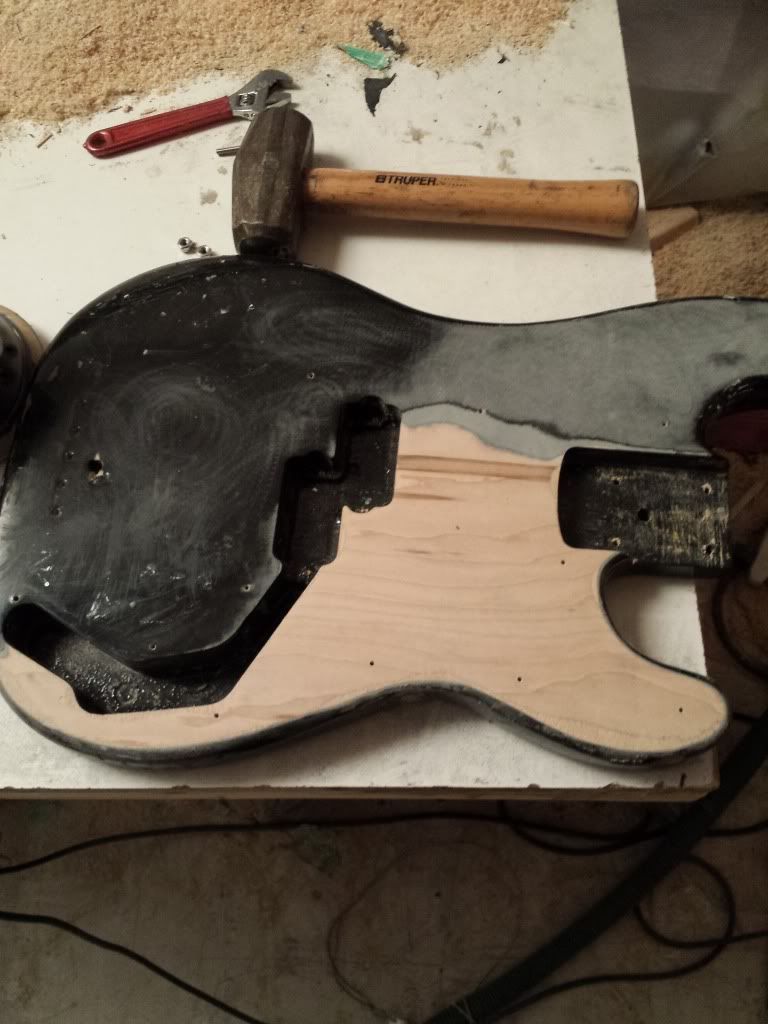 The primer took FOREVER to get through.
Wood isn't that pretty.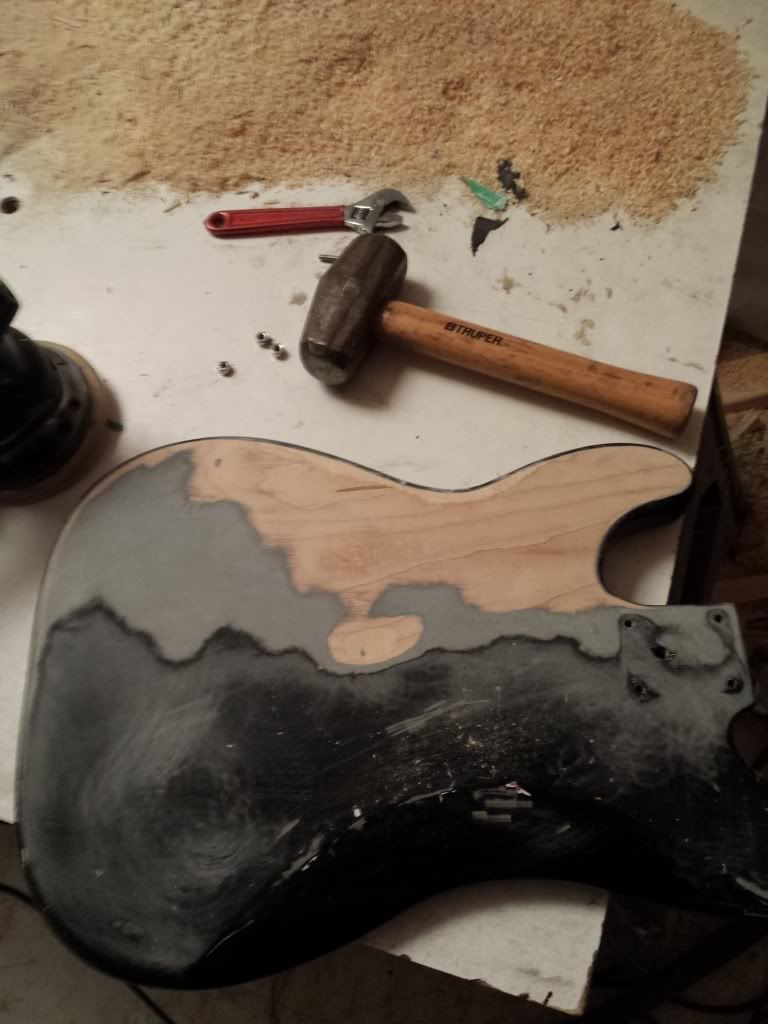 Same goes for the back, note the burn through in the dead f%&$ing center becuase I started by trying to sand out a chip.
More burn through
She's looking nice and clean!! After about 2 hrs of sanding
Close up of the stupid "carve-away" I tried to make. I doubt it will make it much more comfortable...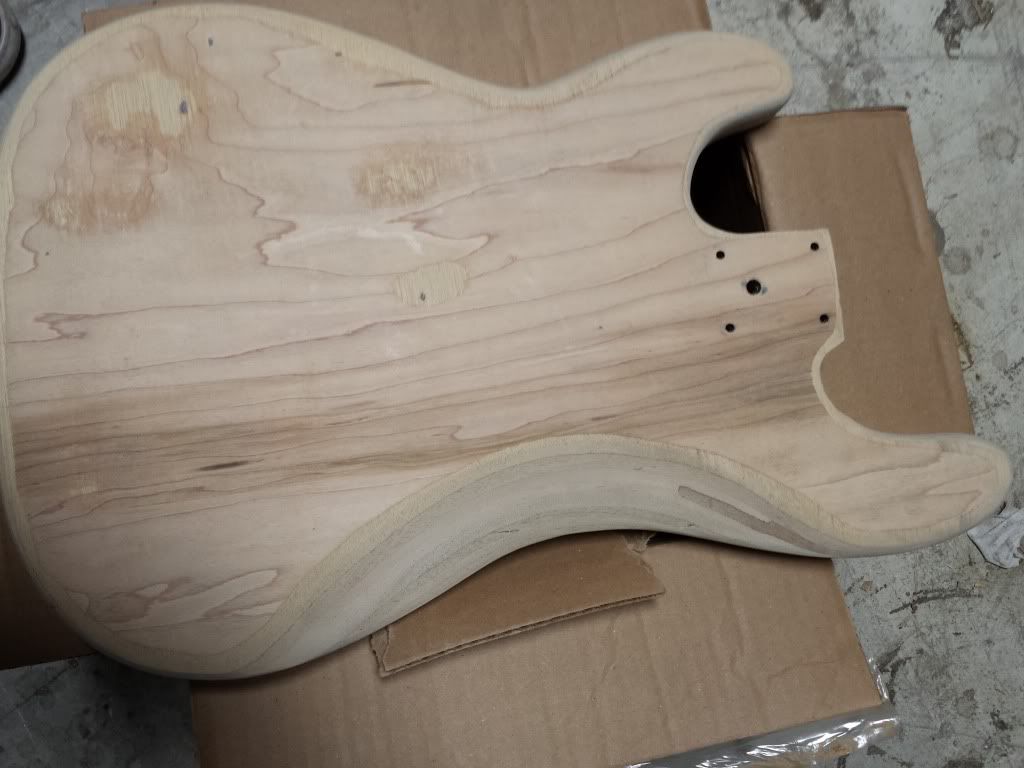 The back is nice and clean now. So many burn throughs. I also made the tummy cut a bit deeper and more sculpted instead of straight with lots of edges.
I sanded the neck nice and smooth for filling.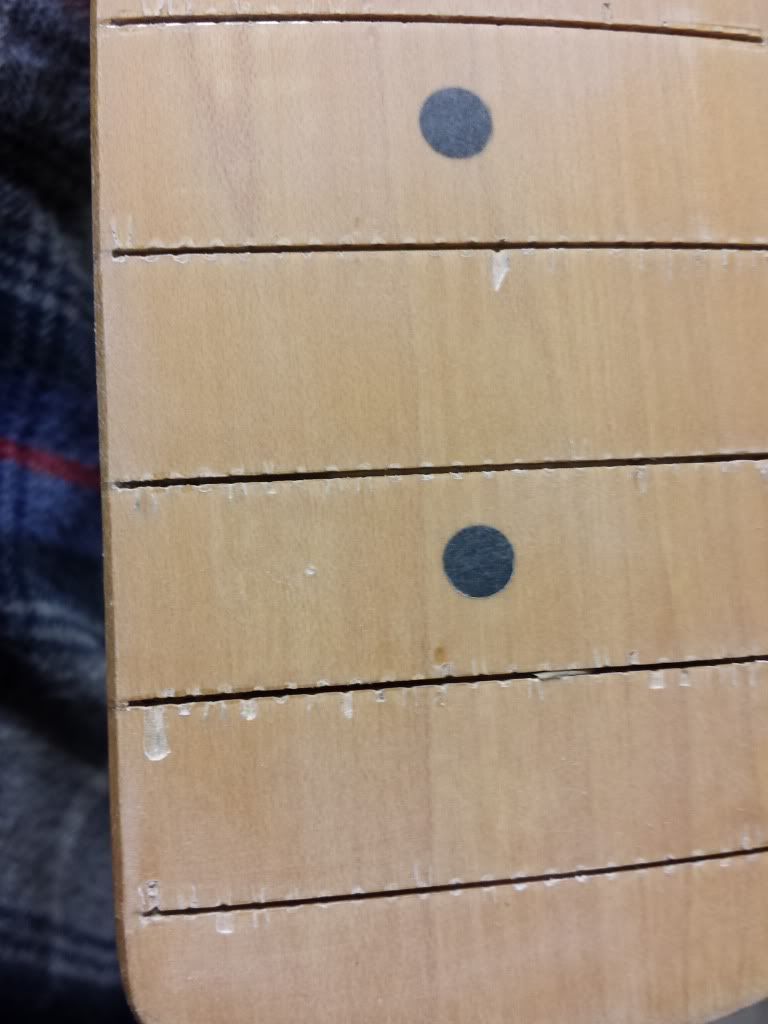 Jaco allegedly used a butter knife...I used pliers when I was 10. Surprisingly clean pulls in most places.
I used marine epoxy and west system 407 fairing compound to fill the fret slots and chips (something I should have done 10 yrs ago). (Shameless self plug) I used TotalBoat Epoxy, which is the epoxy the company I work for developed last year. It works great, in my experience, out performs west system and system three and is much more affordable.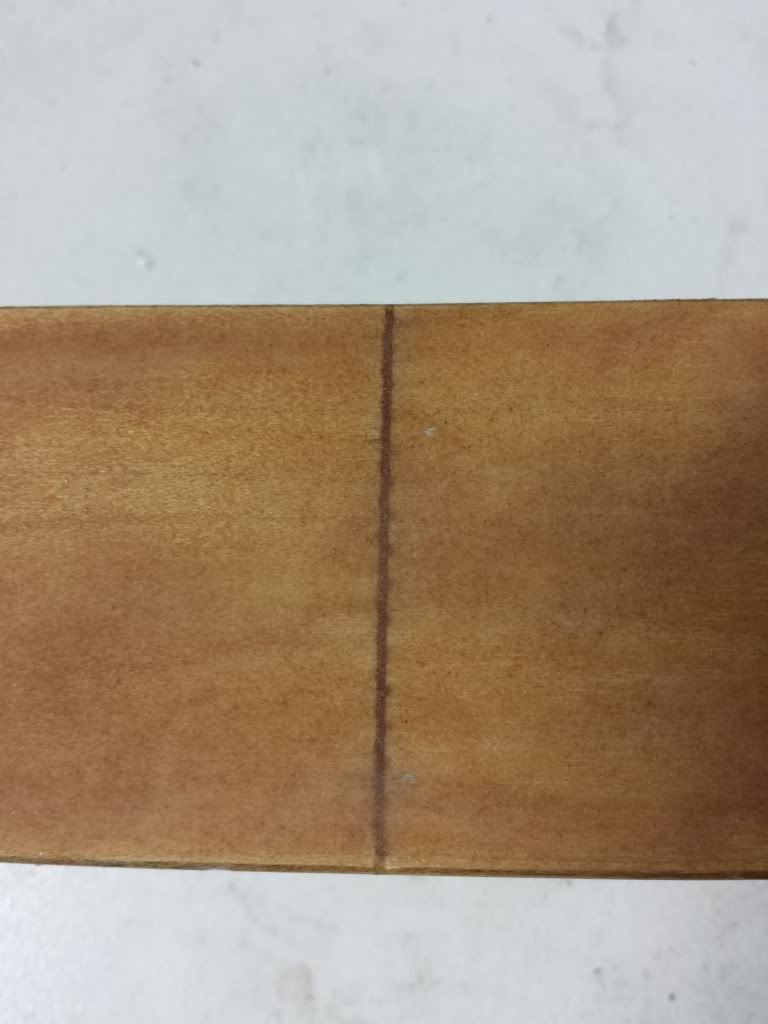 Slots filled, and I spread it all out over the fret board. I plan to sand everything down smooth and nice before I put fabric over it. This will give me a nice, smooth surface that will let me do a nice hot coat of epoxy over to have a glassy, growly fingerboard.
Thats it for tonight folks. I would love to hear input on my methods, and opinions of how I should use these fabrics! I cant make up my mind!