I modified my new Squier Vintage Modified Jazz 70's bass. So I guess it's a Modified Vintage Modified (oh brother!). I needed a two channel setup where each pickup has it's own output jack. It's part of an
http://www.talkbass.com/forum/f36/ex...ss-rig-902681/
setup that I'm doing. I've posted this thread to get this modification in front of people that aren't following that thread (linked). It ended up being so easy to do, so inexpensive, and so darned successful that I thought it needed more exposure. So here it is.
I started with this brand new Squier Vintage Modified Jazz 70's Bass. I bought this bass specifically for this project knowing full well that I was going to modify it. I picked it up about two weeks ago.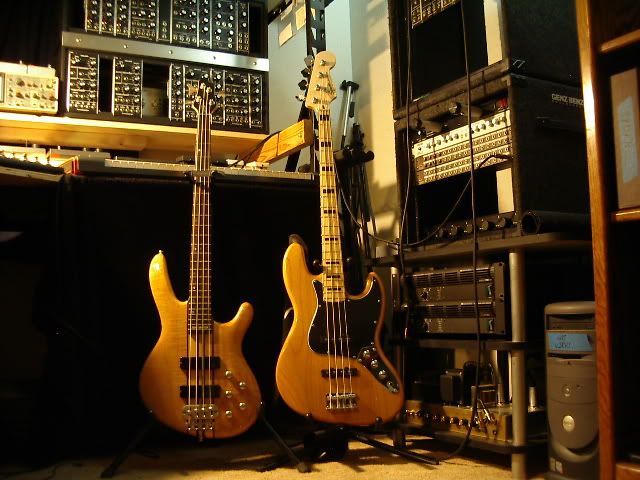 Two days ago I completed the installation of the full-length thumbrest. It's a piece of 1/2" aluminum angle that I installed across the playing field, with that thing I have an even reference spanning both extremes of the playing area. It may look odd but it friggin WORKS! I'm all about function-over-form, I'll put looks after function every time when given the choice. My thumb just glides along it's length when I fingerplay to give me the sound I like. It also works for using a pick, my wrist just sorta slides along the length and gives me a perfectly even reference distance no matter where I decide to pick the strings. I can get a super even sound when going from string to string by moving my picking/plucking position to given areas - it really makes life easier. I scribed a line on the pickguard with a cargo knife, then removed the pickguard and completed the cut by scribing that same line over and over with the cargo knife until the unwanted section just came off. Nice straight cut that's nearly dead-flush with the edge of the aluminum. There is less than 1mm gap between the thumbrest and the pcikguard. The only "aw shyte" is the visible screwhole from the piece of the pickguard that was removed. I only had to drill one hole, I ended up using one of the pickguard holes on the neck-end of the thumbrest. It only needs two screws to anchor it. This thing really works!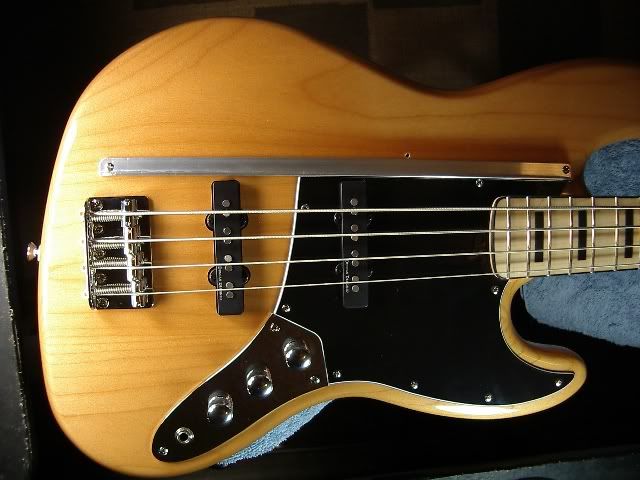 After getting the thumbrest project done, and playing it for a few days to get used to it like that, I began the 2-channel modifications. I removed the control plate and found typical *low-cost electric guitar wiring* inside. It was your average ~done quickly~ wiring job in an economy bass. Some of the factory soldering joints actually just broke off while I was fiddling with the wiring (cold/hasty soldering joints). So this is what I was faced with ...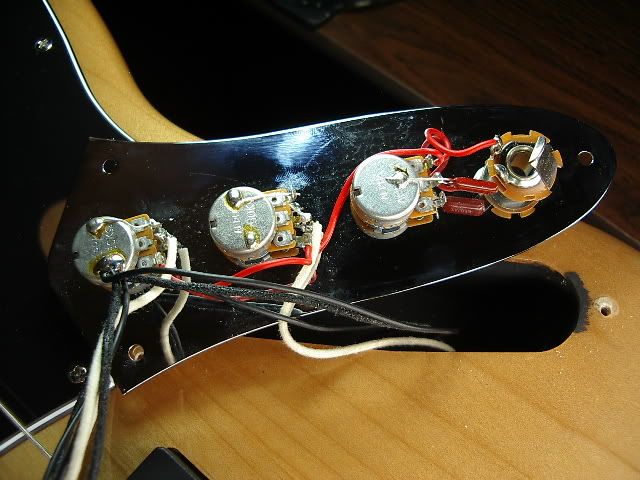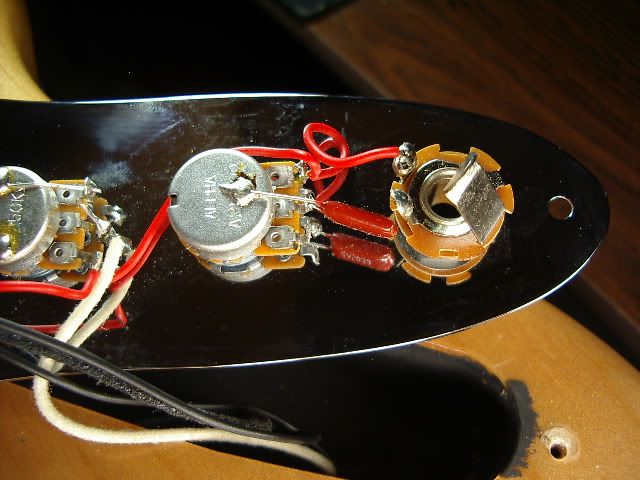 It wasn't
too bad
- I have definitely seen far worse in other much higher priced electric guitars/basses.
Here's the tone control and tone capacitor. It's coming out! I'll be replacing the tone control and tone cap with another output jack. Each pickup will have it's own volume knob and it's own output jack when I finish this. I normally play with the tone control opened up all the way anyhow. So it's pretty useless. And if you'll get around to reading the thread I supplied the link for you'll see why I won't need a tone control (that will be taken care of with sweeping foot controllers).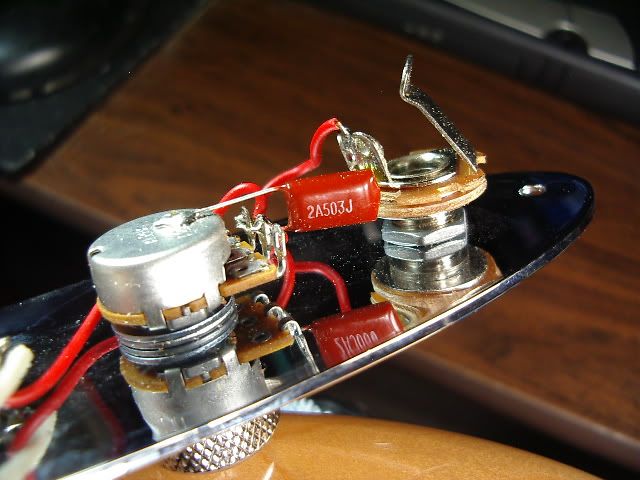 I decided to just gut all of the wiring and replace it all. I didn't like how the control plate was used as a grounding bus instead of actually wiring in a ground wire from component to component ultimately connecting to the Sleeve terminal on the output jack. So I desoldered everything, and resoldered it using all new wire, making sure to make better solder joints than the factory did. I added a ground lead from both pots to both output jacks as well so grounding wouldn't depend on how tight the pots and jacks nuts are. There is now no doubt - it's totally grounded.
This is still stock wiring ....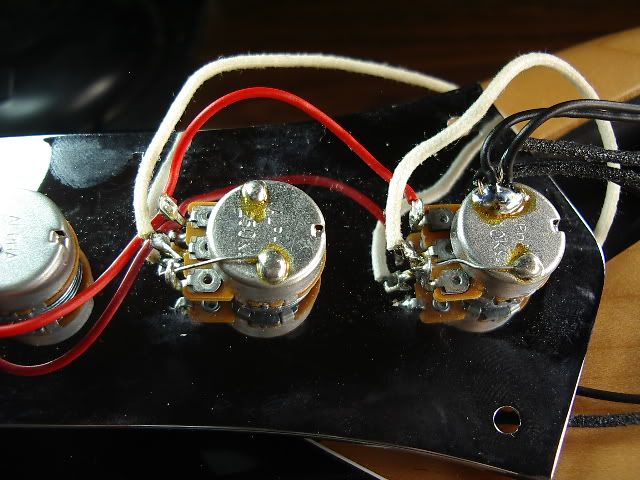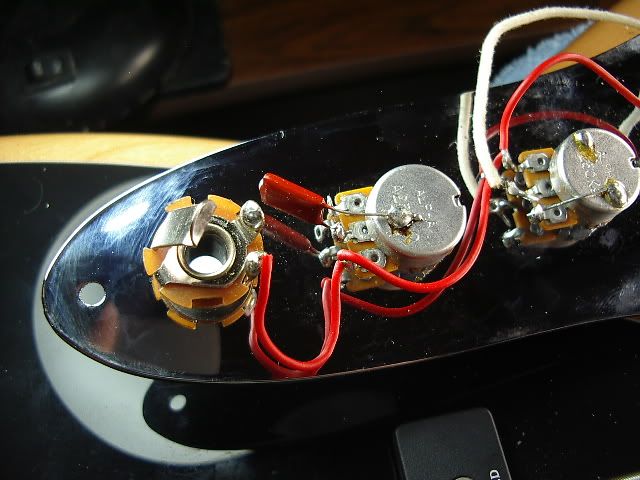 (Below) Ok, all done. I just wired it exactly the way it was before I removed the tone control and installed the 2nd output jack. I actually removed the stock output jack and replaced it with a high quality Switchcraft #11. That one was connected to the Bridge pickup's volume control. I added a Switchcraft #12A for the Neck pickup's output and connected it to the neck pickup's volume control. The Neck pickup jack is a "normally closed switching jack" that has a switching terminal. I connected the switched terminal to the bridge pickup jack's Tip terminal. What this setup provides is double functionality. If I want 2-channel operation, I insert a cord into each jack. But if I want to use only one cord and still have both pickups available (just like stock) I insert only one cord into the Bridge pickup's jack. Since the two jacks are connected together via the switched terminal on the neck's jack both pickup's signals are available at the Bridge jack if no cord in inserted in the neck's jack. As soon as a second cord is inserted into the neck's jack, that connection between the two is broken (the normally closed connection is opened) and the jacks become fully independant.
So I can have it both ways ... single channel (exactly like stock) by using only the bridge pickup's jack, or 2-channel by simply inserting a cord into both jacks. In single channel operation both pickups signals come out of the bridge pickup's jack. In 2 channel operation each pickup's signal is sent out it's own jack. Cool, right?
For the two new Switchcraft jacks, I used thick stainless steel flat washers on top of the control plate, stainless steel inside-star lock washers underneathe the plate, and used Blue Loctite (#242) on the jacks' threads before torque-ing them down good and tight.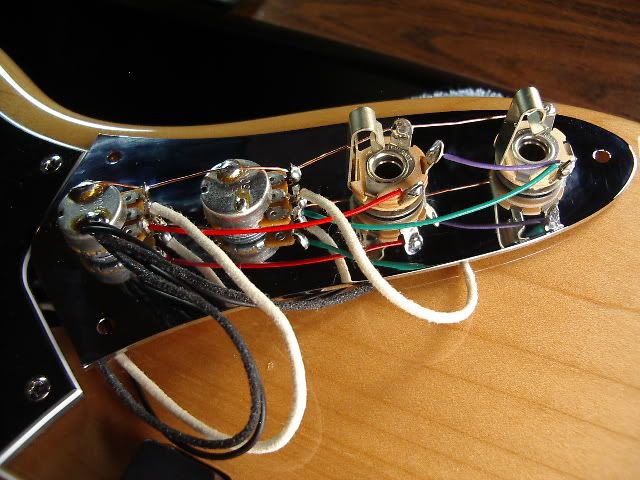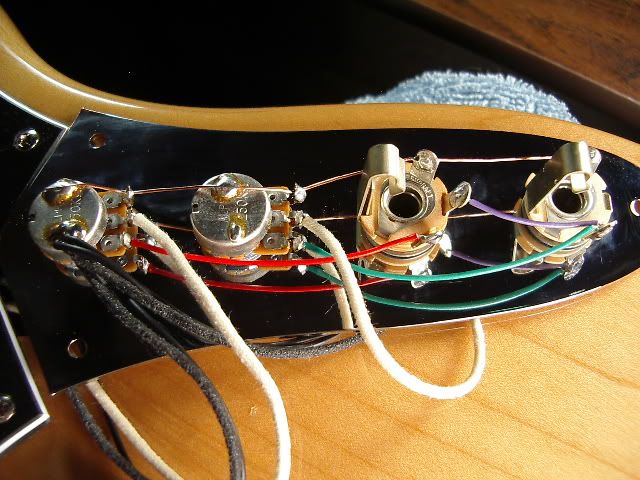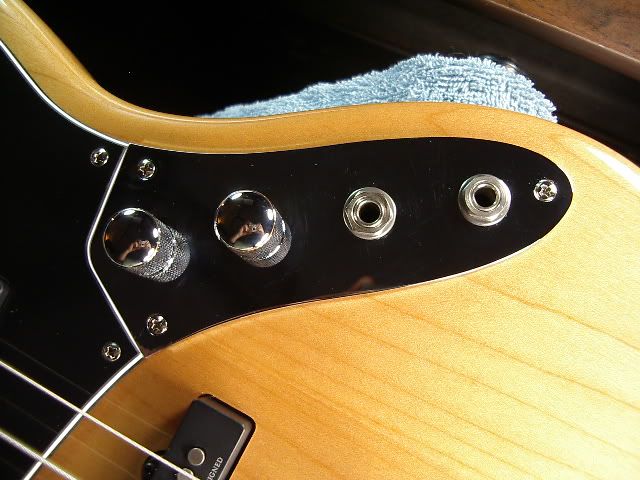 .
Ok, all done .... and it works PERFECTLY!!!! In fact since I replaced the all of the wiring, resoldered everything, added actual ground wiring (that bare copper wire that runs full length connecting all of the components' grounds together with a single wire), used high quality jacks, and removed the tone cap and tone control, this bass sounds better (to me). Clearer, more detail. And the jack switching logic works perfectly, just like I had planned it out.
Here's what was removed....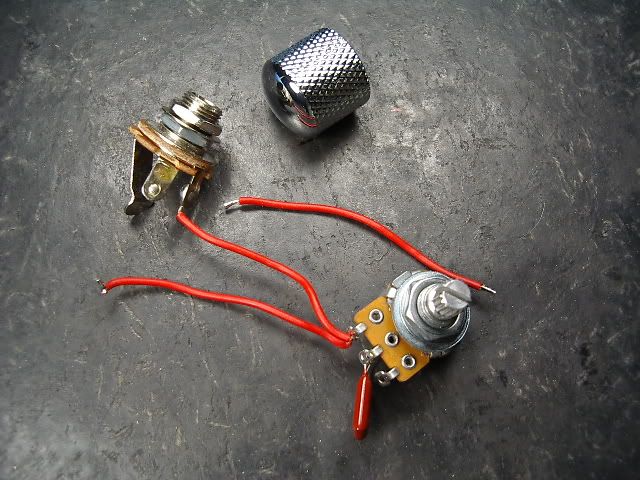 And here's the end result .....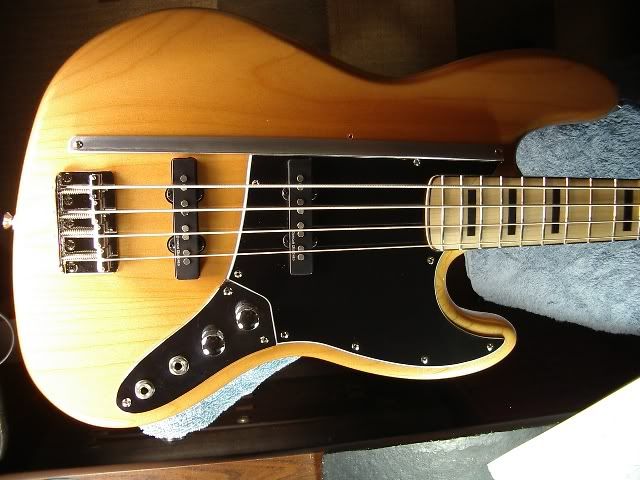 It works far better than I had hoped. Even without connecting it up to any of the panning/fading setup in my experimental rig made with modular synthesizer components (see that thread I linked up at the top of this post). I just started to experiment with it a little bit using the Line-6 M13 and the results were stellar. I used the bridge pickup as the "FX" chain and the neck pickup as the "clean chain". I was able to use the volume knobs like a wet/dry mixer. I tried phasers, flangers, overdrives, EQs, distortions, wild combinations of up to FOUR FX all connected to just the bridge pickup's output while leaving the neck pickup clean and dry. It's so cool that way! I connected the two chains to a two-channel mixer and fed that to my bass amp (details in that thread linked above). The levels were set evenly so all of the mixing was done right at the bass while playing. Friggin Mondo Cooly!!
I can mix in just the right amount of "wet signal", and there is ABSOLUTELY NO LOW END LOSS! Since I had the neck pickup totally clean and dry it provided all of the low end that I needed, while the bridge pickup was used to carry all sorts of FX. With no boomy-ness (like with phasers or flangers how the low end tends to throb really badly). And I could mix in as much of the affected sound as I wanted with the two volume controls on the bass. This friggin WORKS! No weird flat spots or odd volume quirks either.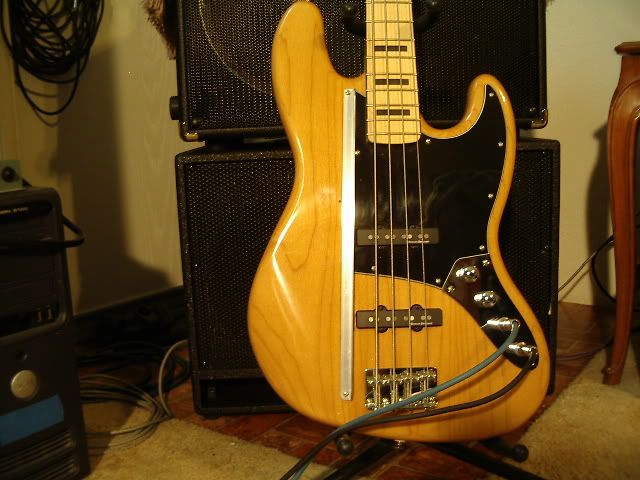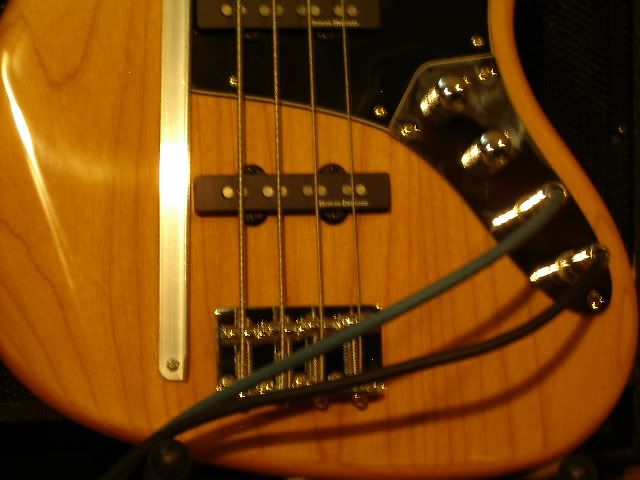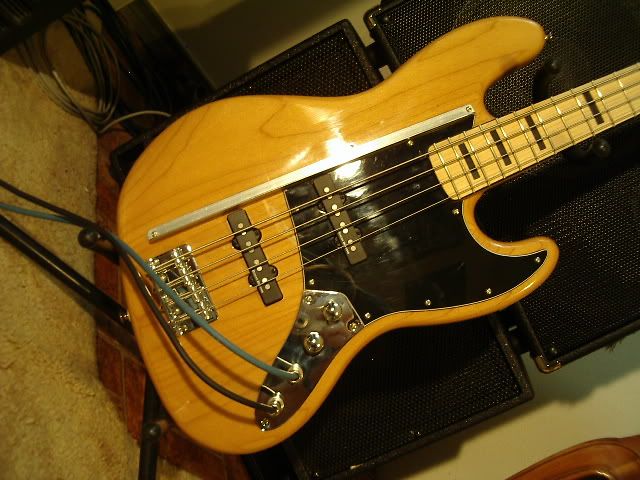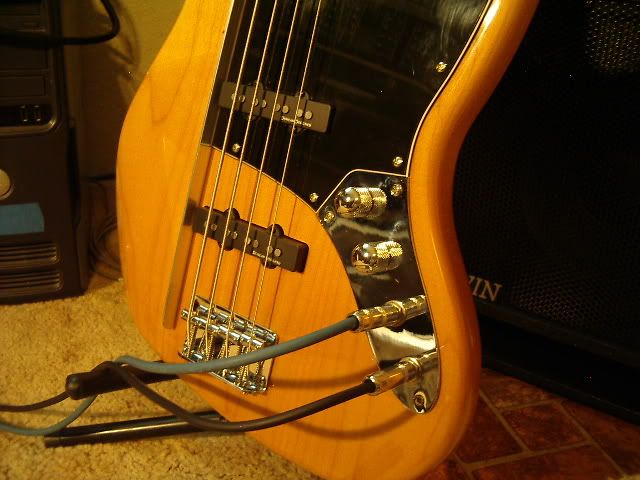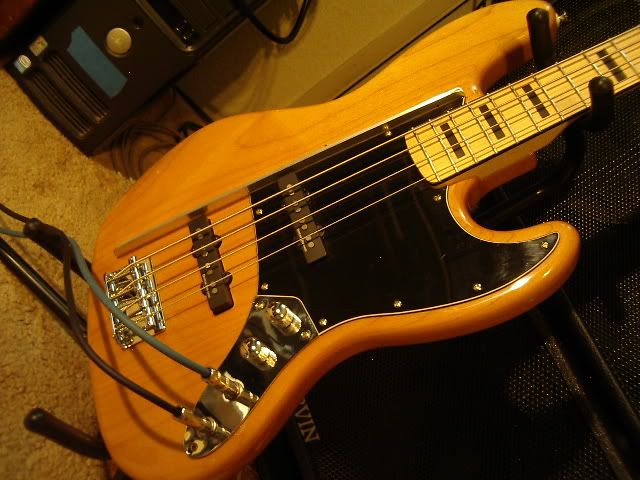 And using the single jack/single channel method worked perfectly as well. Both pickups' signals came out of the bridge's jack with full volume control available if I just didn't insert a cord into the neck pickup's jack. The volume controls worked just like stock in that mode as well.
I only played it for about two hours with the new setup, so I can't wait to try it with the foot controlled panning rig and the double amp/cab panning setup too! This modification was a huge part of this modular bass rig, and it will turn out to be the cornerstone of the entire rig, of that I have little doubt. I'm very pleased with the way it turned out and have no regrets about doing it, and no intentions of undoing it. I cannot wait to try it with a filter array on each pickup!
I also discovered that just by turning down the volume controls and turning up either/both preamps (I use ART mic pres as preamps and limiters - I know a lot of members here don't like those but I really like what they do for passive basses. The input impedance really fits these pickups very well). Anyhow, if I turn the bass's volume controls down and compensate by turning the input preamps up, I get all of the tone rolloff I would ever need. It actually sounds a lot better than it did when I used the stock tone control to roll off the highs. Lowering the output volumes also rolls off the highs, but it does it in a different sounding way. Much smoother and richer sounding than the stock tone control offered. And I have individual control over each pickup as well!
It certainly does work well! Using it with just two graphic EQ stomboxes (one for each channel) would provide TONS of tonal shaping. Or putting a distortion pedal on just one pickup channel would yield great distortion without losing ANY low end. Think of the possibilities! The cost is really low, if you didn't replace the stock jack and just bought one N/C switching jack you'd have less than $5.00 in the whole thing.
It did require resizing the holes for the new jacks. The tone control hole was too small for the added jack, and the stock jack that I replaced with a high quality Switchcraft had a smaller hole than the Switchcraft needed. So two holes had to be enlarged. I didn't even use a drill, I used a handheld "T-reamer" to do it. Worked great.
Ok - enormous post. Sorry, but I was so happy with the results I figured other people may be interested in this setup if they knew about it. I did it because it's all part of a larger plan, but it turns out that it works so well by itself that I thought I'd share it. It would be very simple to make a small summing box that would "reconnect" the two signals into one signal so you can use it with a standard bass amp that only has one input. You could even add two separate tone controls to it as well. It would be very easy to make that so you could have a 2-channel bass without the need for a 2-channel mixer. I might be able to help with a drawing or two if needed.
Ok, I need to close this out. Thanks. I hope you got a kick out of it.
:D