| | |
| --- | --- |
| DavidEdenAria | 01-02-2014 09:49 PM |
---
72 Fender Musicmaster bass opinions

This bass is original except for a stripped finish and it sounds outstanding, the neck is killer, it's very light weight and resonant, so of course I want it to be the best it can be!

I installed a set of rounds a while back but wonder how big I can go on the gauge, the tension is very easy and it sounds good but will it sound bigger with a bigger gauge set?

What about flats on these Musicmasters, anyone favor them?

I am probably going to refinish the bass in black (as it was originally) but what do you folks think of a cool custom Fender color instead of black, is this a mistake?

One other thing, I have contemplated pulling the original stock single coil to try in one of my Strats........is there ANY pickup that improves over the stock Musicmaster pickup?
| | |
| --- | --- |
| waxcomb | 01-02-2014 10:14 PM |
---
TI flats sound great on these basses. I gigged one stock with great results, but some like to put in a Strat sized humbucker to cut down on noise.

Look at the Vista series Squires to see different colors.
| | |
| --- | --- |
| DutchDude | 01-03-2014 05:21 AM |
---
IMO D'Addario flats sound great on a Musicmaster and are available in short scale as well.
I uprgraded my Musicmaster with an Aero Musicmasterer pickup and it improved the bass a lot.
Red looks killer btw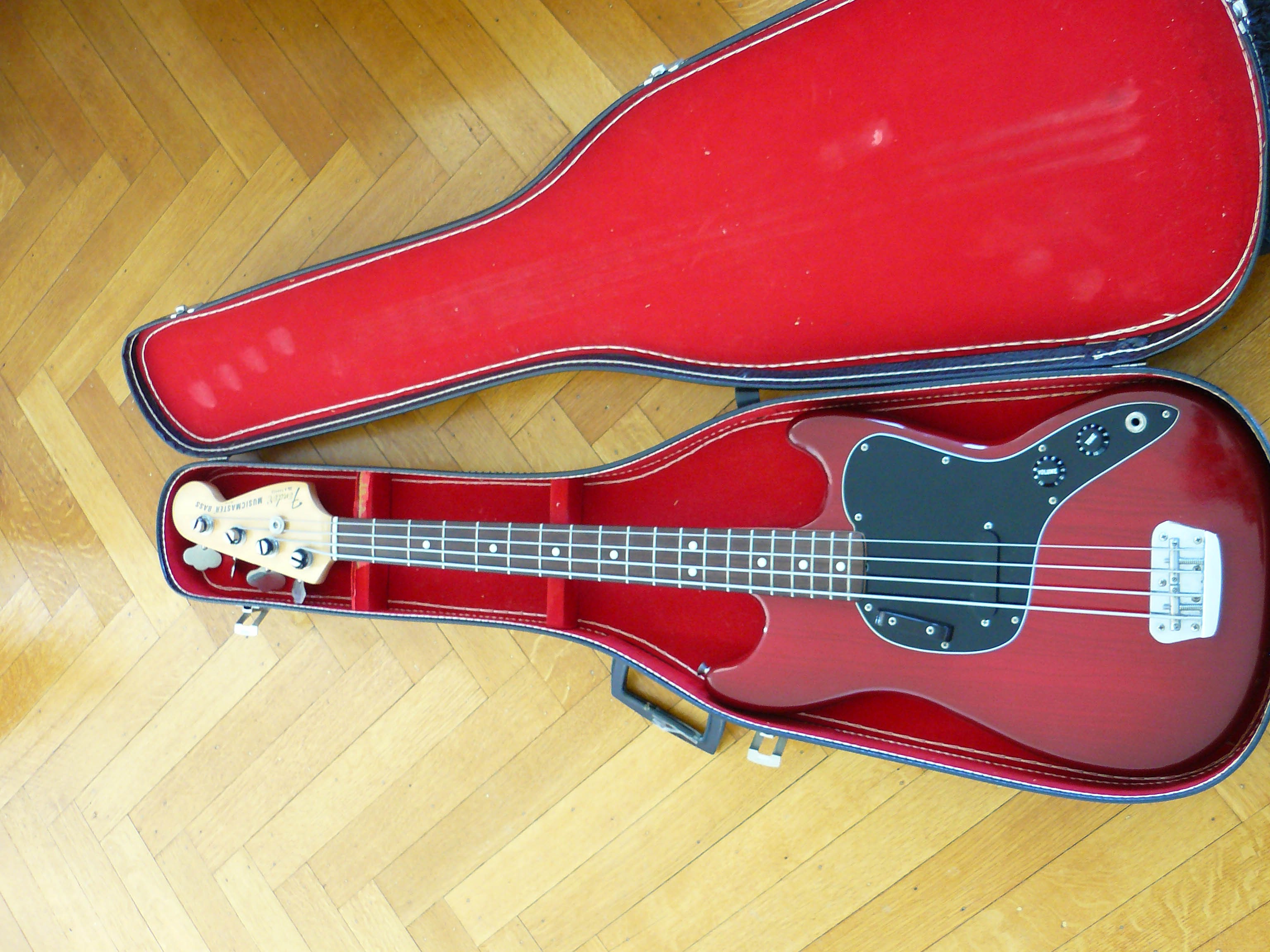 | | |
| --- | --- |
| agent77 | 01-03-2014 08:11 AM |
---
I owned an early 70's Musicmaster, only piece of gear I regret selling.
| | |
| --- | --- |
| bassbully | 01-03-2014 08:34 AM |
---
I had an all original 74' and a Vista. I used Chrome flats on them and they worked and played well on both basses.
The only changes I made to the 74's was add a 78' P bass wiring harness getting rid of the second cap that bleeds off the guitar pup treble. This really opened the bass up and it sounded like a mini P bass.
All times are GMT -6. The time now is

02:09 PM

.
Powered by vBulletin® Version 3.6.12
Copyright ©2000 - 2014, Jelsoft Enterprises Ltd.