| | |
| --- | --- |
| funkybass | 01-22-2014 07:54 PM |
---
Anyone have a fender deluxe active jazz v?

Just wondering if anyone has a deluxe active jazz v and if so how they like it?
| | |
| --- | --- |
| GBassNorth | 01-22-2014 08:08 PM |
---
I have a 2005 Fender American Deluxe Jazz 5 Swamp Ash that is active but not sure if that's exactly what you're looking for.
As far as liking it, I bought it new via mail order so it was sight unseen. The build quality, fit and finish and playability were fantastic. However, I was less than impressed with the sound. I ended up swapping out the stock preamp with a John East retro deluxe and the noiseless pickups with Bart's and then put La Bella Tapewounds on it. It now sounds as great as it looks.
Keep in mind this is a 2005 Fender. I think they improved significantly in 2008 and all the newest ones I've played sounded fantastic stock.
Here's a pic...(its the vintage cherry burst on the left)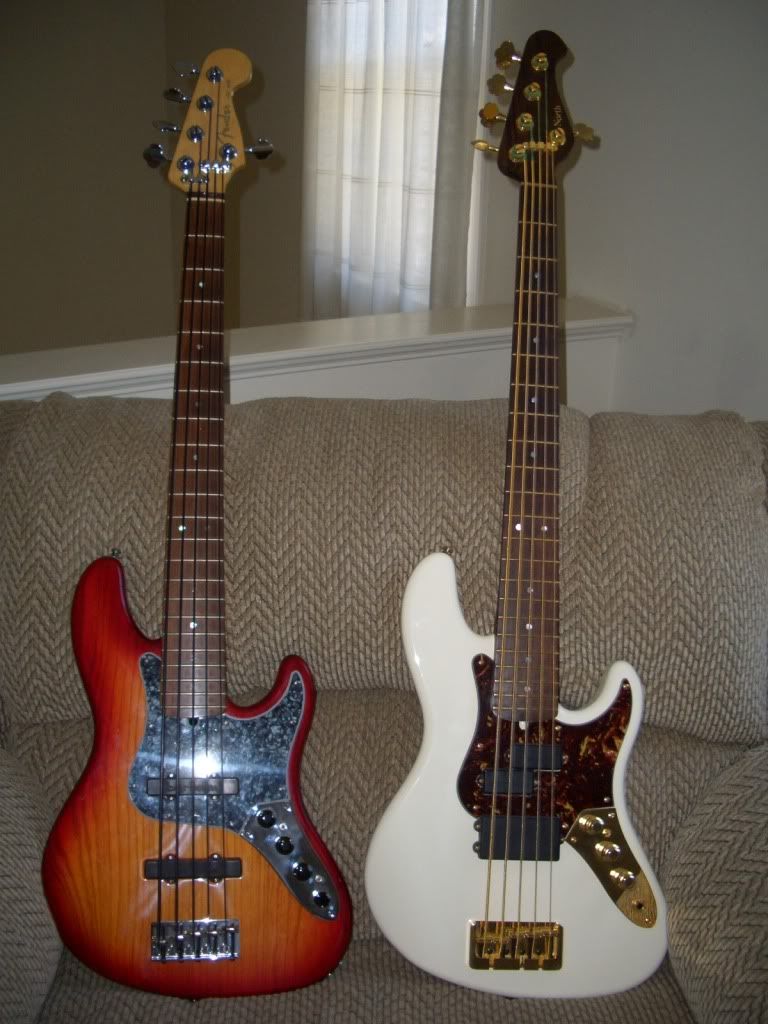 | | |
| --- | --- |
| arginator | 01-22-2014 08:18 PM |
---
I have a MIM Jazz Deluxe V. Wasn't happy with the preamp, so I replaced it with an Audede JZ3d. Much better.
| | |
| --- | --- |
| bassbenj | 01-22-2014 09:32 PM |
---
Quote:
---
Originally Posted by funkybass (Post 15417040)
Just wondering if anyone has a deluxe active jazz v and if so how they like it?
---
I have a MIM jazz V active and I was very unhappy with the "noiseless" pickup tone (mine is 2002) and B string wasn't anything to write home about either. The rest of it was excellent. Excellent neck, (even though I hate the neck profile) excellent frets, I even like the electronics (I did have the mids pot die which I understand is a common active Fender fail).
So with a bit of setup and tweaking and the addition of SCN pickups I would put it up against any Fender V now. As noted by GbassNorth, post 2008 Fenders have the kind of stuff I had to do taken care of and are excellent.
So whenever a Fender-shaped headstock is needed this one really does the job. Yeah, I'm really happy with it. And since I don't play 4 strings anymore except under duress, It's great that it's a Fender and also a 5er.
However, when a Fender-shaped headstock is not required, my choice would be my USA G&L L2500 instead.
All times are GMT -6. The time now is

12:54 AM

.
Powered by vBulletin® Version 3.6.12
Copyright ©2000 - 2014, Jelsoft Enterprises Ltd.