Mine's the 1984 'Custom' variant - 32" scale, 24 frets, insane bridge & a very silly paint job:—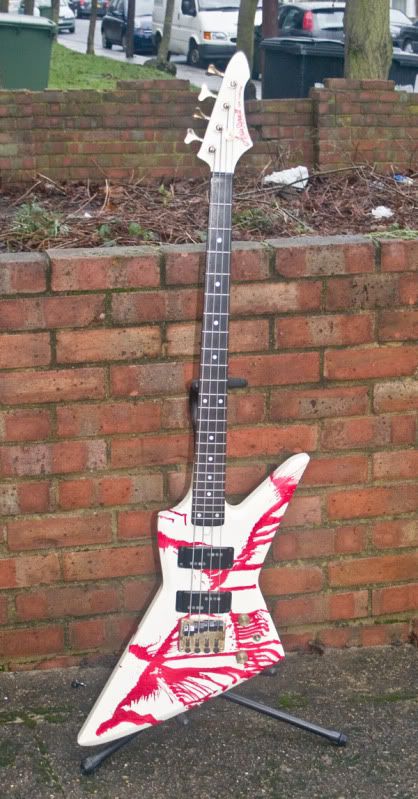 The neck is very slim - if you're used to a Jazz, it'll present no issues, but if you're used to something a bit chunkier there might be an acclimatisation period.
Pickups have the typical Aria mid-bias that pokes right through the mix & with everything wide open will get you a very aggressive tone in the CB ballpark. Wind back the tone & it tames wonderfully, giving a smooth middle that works fine for blues. The p/ups are weird. They have offset polepieces but the bobbins are like two Jazz p/ups stuck together & the windings go around everything. If they're not potted, adding extra polepices is a cinch if more bite is needed.
Balance? Yup. No neck dive at all, but does suffer from 'Explorer Flop' so an extra-long strap is needed to pin the back wing against you. Also quite comfortable & well-balanced played sat down. Access is good all the way up if the dusty end needs a polish.
Weight is around 7.5 to 8 pounds according to a very quick 'n' dirty session with the kitchen scales.
Downsides... The case. It's mahoosive & weighs as much as the bass. Expect to be accused of being a keys player. Gigbag? You'll be lucky. The Custom is about 2" longer than a T-Bird & I've yet to find one that fits. Same goes for a stand that keeps the back wing off the deck; I lugged it all over South & Central London before I found one that worked.
Value is a toughie. I shelled out the best part of GB£400 for mine, but that was including shipping from the US & UK Customs & VAT charges. IIRC I agreed US$600 inc shipping with the seller.
I'd always wanted one in this specific finish (although I'd have settled for the MSG black/white split too), so my ceiling price was set high to begin with. I've seen stock Deluxes go for GB£150-200 on Ebay & Gumtree, often without the hard case.
The later model Arias (1983-6) are frequently undervalued. They don't have the kudos of the neck-through SB & Elite series, and are often written off as 'JapCrap'. They're not.
Pete.