| | |
| --- | --- |
| remainthesame | 09-24-2013 07:45 AM |
---
Bass made just for me.

Hey guys and gals,

I'm starting to want a bass made exactly to my specs, but I have never bought a bass that wasn't already in the store. I don't even know how to go about finding a place where I can say "i want this, this and this" and have it done.

I am also not a luthier, nor am i good with wood so building it myself is out of the question.


What names would you recommend? For the purposes of this thread, money is no object. Thanks a bunch in advance \m/
| | |
| --- | --- |
| remainthesame | 09-24-2013 07:46 AM |
---
also any websites you can recommend would be appreciated as well
| | |
| --- | --- |
| jonesn4bass | 09-24-2013 07:51 AM |
---
That depends greatly on your price range. Most of the boutique companies will take custom orders. I can't speak for any other companies, but I'm having Suhr build me a bass to my specs now.
| | |
| --- | --- |
| remainthesame | 09-24-2013 07:56 AM |
---
no budget. money isnt an issue for this thread. im trying to explore as many options as possible, ill weed out the ones that are out of my price range
| | |
| --- | --- |
| J_Rock | 09-24-2013 08:02 AM |
---
I would without a doubt check out
http://bettermousetrapguitars.com/
Matt is building be a bass now exactly to my specs and at a very reasonable price. I cannot speak highly enough about Matt and his skills and attention to detail. I was able to physically touch and play both basses he made for Phil Lipscomb of Taproot and they were amazing. Matt's attention to detail is second to none. Check out the link in my signature to see the progress he is making on my current bass.
| | |
| --- | --- |
| Bassdirty | 09-24-2013 08:04 AM |
---
Carvin has a build a bass feature on their site..you can choose all kinds of goodies..(sadly. .everytime I play with it. .my bass ends up around 1700..thx to all the fancy options I choose) ;)

I think warwick you can get sweet custom stuff..but it really costs.
| | |
| --- | --- |
| JonnyBassman101 | 09-24-2013 08:08 AM |
---
Fender Custom Shop, Alembic, Carl Thompson, or like I did, Status Graphite to name a few! :) although I think you would be limited with all regarding body shape options apart from perhaps alembic (or status, unless you are willing to spend ALOT of money to have a custom mold for the graphite created)
| | |
| --- | --- |
| Phalex | 09-24-2013 08:10 AM |
---
Valenti Bass?
| | |
| --- | --- |
| BassHappy | 09-24-2013 08:12 AM |
---
Hello
There is a risk involved in any custom instrument as you don't have the luxury of playing your exact dream in advance. Of course, there is incredible reward as well if you and your builder manage to nail it.
My best advice is to hit one of the well-known LARGE music stores in the nearest big city near you - and play a number of unique custom and boutique basses. It's expensive to visit the luthiers - but eventually you may need to. I like to pick out my own wood and it certainly makes a huge difference to be there in person.
One of the biggest issues for me is the how the body shape looks and feels both standing and on your lap. Also take note of all the custom features which appeal to you - LED's in the fingerboard, drop D tuner, number of strings, fretted or fretless, type of wood. Make sure you nail the neck feel, and measure it precisely - I find that duplicating your dream neck is one thing that nearly EVERY skilled luthier will do. Keith Roscoe duplicated my PRS #11 neck perfectly, and then duplicated it again, just widening the neck at the nut. I look at one as a Jazz neck and the other a Precision.
Once you find a body shape that feels great, then you can start to scour the custom builders. Maybe you will get lucky and find a standard body shape that a builder has cnc computerized routing on and won't cost an upcharge. Maybe that doesn't matter to you.
I have had incredible luck with Paul Reed Smith, Keith Roscoe, Rob Allen and I currently have projects with Patrick Cummings of Brian Moore/iguitar and Pat Wilkins. I am visiting Jens Ritter in a few weeks in Germany and I will see how that goes. All are amazing, some willing to step outside the box of the "offerings" they have labored over for years - and some not so much.
Good luck with it, it can be an incredibly rewarding experience if you take your time, put in lots of thought and advance work and eventually get it right!
| | |
| --- | --- |
| SteveC | 09-24-2013 08:13 AM |
---
Depends on how custom you want it. Do you want a unique body shape or a "basic" body style? Do you want to select from the options a builder has available? Do you want to be able to take builder options and tweek them from there?

I had Roscoe build a bass for me. I chose from the specs they offer. Roscoe, Sadowsky, Lull, Carvin, etc. are that way.

Look around. See what you like and start asking questions. When you find your "match" go ahead and start building.

Good luck and enjoy your "custom" bass.
| | |
| --- | --- |
| RedMoses | 09-24-2013 08:20 AM |
---
Why a custom Bass if you are not looking for something specific? Theres plenty of fantastic guitars out there to discover, the more Basses you own over the years the more you learn what you are looking for in a Bass.
Tastes change over time, ask me 10 yrs ago and i would build a 24 Fret/5 String/active EQ/Neck Through... these days i like a good old Fender Jazz with passive PJ pick ups but i have a few preferences such as neck profile, hardware and finish so i got one custom made by Marco Basses. I met Marco at NAMM and loved each Bass he brought with him, we talked over a few months and came up with the specs, its nice to have a unique Bass.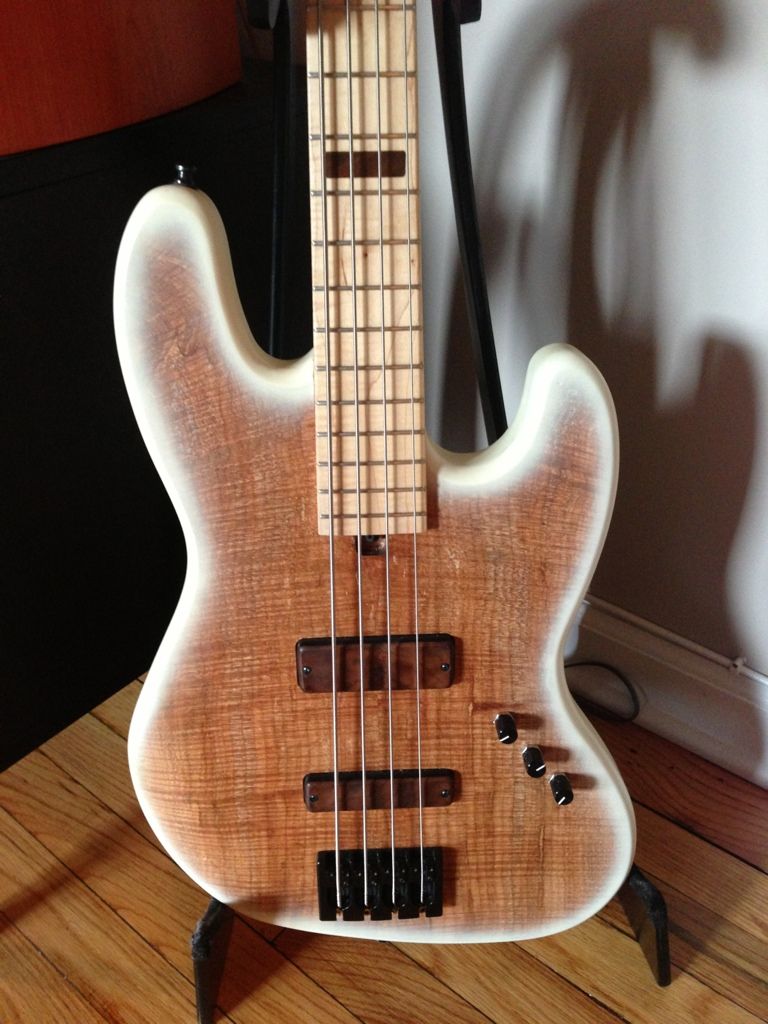 | | |
| --- | --- |
| remainthesame | 09-24-2013 08:22 AM |
---
Quote:
---
Originally Posted by RedMoses (Post 14908415)
Why a custom Bass if you are not looking for something specific?

---
i am looking for something specific. i just dont know who to have make my something specific.
| | |
| --- | --- |
| BurningSkies | 09-24-2013 08:26 AM |
---
It depends upon what your expectations are and how realistic they are. Many luthiers will take on projects like this, but WILL only work within specific constraints. Most have a comfort zone and won't want to reinvent the wheel.
| | |
| --- | --- |
| mikezimmerman | 09-24-2013 08:32 AM |
---
Quote:
---
Originally Posted by remainthesame (Post 14908424)
i am looking for something specific. i just dont know who to have make my something specific.
---
Then you probably want to start off by looking for builders who are already building something fairly similar to what you want.
Mike
---
F-bass, Clement, Fodera, Alembic, Roscoe, Dingwall and those are just off the top of my head.
| | |
| --- | --- |
| SoVeryTired | 09-24-2013 08:48 AM |
---
What you're going to get here (and are doing already) is a list of everyone's favourite custom builders.
And here's mine!
ACG
I'd never played one before ordering - in fact, mine is the only one I've seen in real life. But I did my research, got lots of very postive feedback from people who know what they're talking about, listened to soundclips and got comfort that these are quality basses. Then I spoke to Alan about my requirements and got my ideal bass within the specs of his 'budget' range (which being in the UK meant that I paid less than a MIA Fender).
| | |
| --- | --- |
| gzarate85 | 09-24-2013 08:53 AM |
---
Pavel. You get a good variety of custom work and specs to your liking. As anything, you pay for all the extras (add-ons).
| | |
| --- | --- |
| hrodbert696 | 09-24-2013 09:00 AM |
---
I would suggest one of two routes...
Either go to one of the company custom shops, like Fender, or to the Carvin website. That's basically if you want something that is largely traditional but just want to tweak the details to your exact preference (e.g. you basically want a P bass but with a slimmer neck and a particular finish...).
OR, find a luthier near you that you can actually go visit. A good music shop should know of some. Sit down with them, see what they've done before, get a feel for their style, and talk through the specs of what you want. On the one hand, a luthier will say that they'll make it however you want it, but on the other hand, each one has his particular style and you want to find a good fit.
Just one more luthier to toss out there - John Toon in Kansas City.
http://www.toonbass.webs.com/
His work resembles Carl Thompson, but not as expensive.
| | |
| --- | --- |
| remainthesame | 09-24-2013 08:35 PM |
---
A lot of great suggestions guys. I appreciate the feedback
All times are GMT -6. The time now is

12:12 AM

.
Powered by vBulletin® Version 3.6.12
Copyright ©2000 - 2013, Jelsoft Enterprises Ltd.