| | |
| --- | --- |
| Bart1965 | 09-12-2013 05:07 AM |
---
Honey Blonde finish MIM

Hi, I am considering to buy the '50s Precision MIM in honey blonde finish. There are no such basses available in the local shops so I will have to order it online or buy used. I have seen MIA P basses where this finish seems to be transparent, you see the wood grain through the finish.
The '50s MIM PB has Urethane finish. Does this mean that the finish is non-transparent (which I prefer) like the red or black edition, or not ?
Maybe a '50s MIM PB owner can help me out here.

Thanks, Bart.
| | |
| --- | --- |
| Jeff K | 09-12-2013 09:17 AM |
---
Hey Bart. I have a Honey Blonde Classic P. I also had an early (first year) Highway 1 Honey Blonde Strat. The grain was definitely visible on the Highway 1, but not so much on my Classic P. If you look real close, you can FAINTLY see some grain on my Classic P; but for all intents and purposes, I consider it a solid color. But it IS my favorite color on the Classic P's.
I apologize to anybody who is sick of these pics, but here some of mine wearing the gold anodized and a tort guard. (Currently sporting the tort.)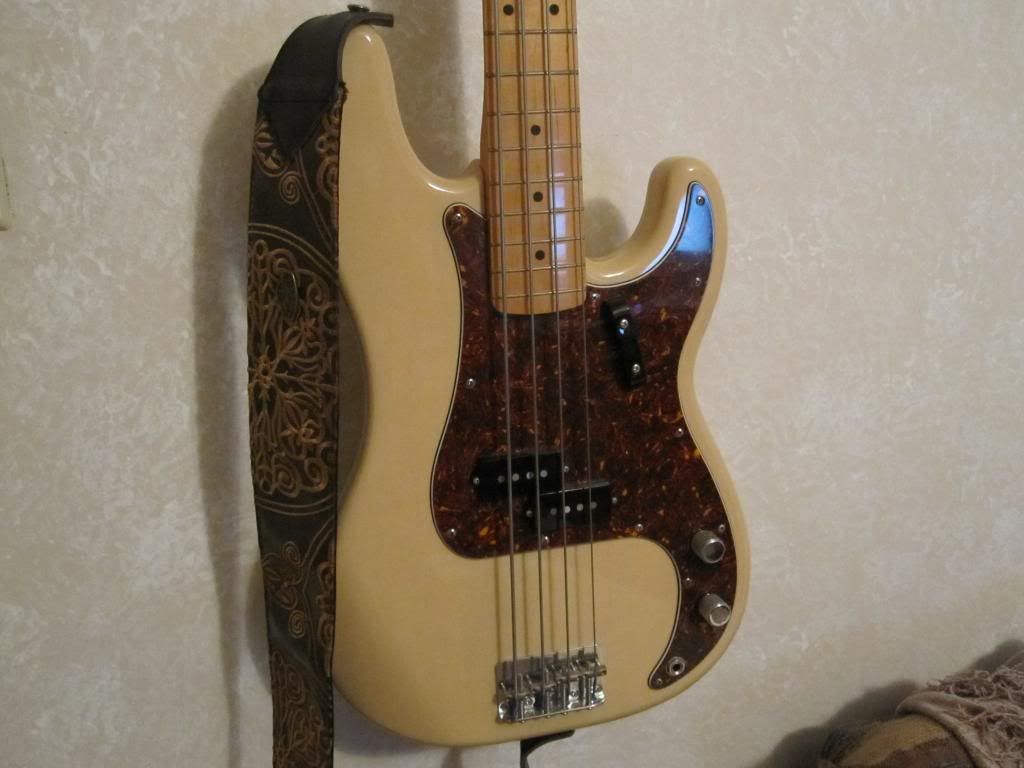 | | |
| --- | --- |
| Bart1965 | 09-12-2013 03:28 PM |
---
Jeff, that looks beautiful with the tort guard. Thanks for the valuable information on the finish. Being an experienced bass player with different basses, how do you rate the classic mexican made PB ? Considering build quality and tone, I am still in doubt if I should spent more $ to get an American Vintage model or if I am just as well off with the Classic series PB.
| | |
| --- | --- |
| Jeff K | 09-12-2013 05:00 PM |
---
Bart, these are an excellent example of a "classic" P-Bass (pun not intended, but appropriate). The tone on mine does not take a backseat to ANY of my other P's, past or present.

The only reason why it's not my favorite of the bunch is because I prefer a nut width of 1.625 inches on a Precision (rather than the 1.75" on these Classics). But that is just nit-picking on my part. I adjust easily between both of those nut widths as well as my Jazz Basses (1.5" nut width). No big deal, but there ARE subtle differences between those 3 widths. Some folks actually prefer the 1.75" width. My guess is you'll adjust to it just fine. And tone-wise, these things nail it.

Also, when you get comfortable enough to use the "Search" feature here on TalkBass, you'll see that these particular models get a lot of love. Deservedly so, in my opinion. This is the only MIM (Made in Mexico) Fender that I've ever had; and it really does sound as good as all of my American-made basses.

EDIT: Oh, you asked about the American Vintage P-Basses. They are also excellent. I've owned an AV '62 and an 'AV '57. Both great basses. But for the money, these Classic P's are excellent. I'm not sure where you live, but if you have a chance to try them all out, one might "speak" to you more than the others. Personally, I am as happy with my Classic as I was with the AV's. The newer American Standards are also well-made, great-sounding basses. Bottom line is that I would not feel reluctant to get a '50s Classic just because it's MIM. It's a solid, well-made bass with great tone.
| | |
| --- | --- |
| TwinBass | 09-12-2013 05:08 PM |
---
I picked up a 50s classic P in honey blonde a few months ago. I love it. The finish is pretty much solid, but if you look closely you can see some wood grain there. On a scale where 0 is totally transparent and 100 is totally opaque, I'd say my bass is about a 95. The first one I was shipped was damaged, and the finish on it was pretty much the same as the one I ended up with. If you want a solid color, you should be happy with it. If you're looking for something that you can easily see the grain through, keep looking.

my .02
---
Proud owner here of a '50s Classic P in honey blonde. As previously noted, the grain is just slightly visible through the finish. But you have to really look for it though. At two paces or greater, it appears completely opaque to the uneducated spectator.
| | |
| --- | --- |
| Bart1965 | 09-14-2013 05:22 PM |
---
Many thanks for your explanations, it is clear for me now that the honey blonde finish is very close to opaque, and that is exactly what I prefer. Jeff, thanks for illustrating your experiences with the different P basses. I live in The Netherlands, Europe, and the AV P-basses (and other Fender made in USA models) are terribly expensive over here, even 2nd hand. But, I tried some new squier models a while ago and was was quite disappointed about the quality - even though I had read some very positive reviews -, which left me wondering if the same thing would be the case with the MIM models. If there would be a considerable difference in quality I would never consider a MIM P bass, but from your explanation as well as many others it appears that this is definitely not the case. And on top of that they look absolutely great. So my mission is now to find a place where I can try one of these instruments (curious to know how that bigger nut width will compare to my MM Stingray4 ) and find me a honey blonde PB.
| | |
| --- | --- |
| Jeff K | 09-14-2013 10:38 PM |
---
Probably 6 or 7 years ago, I stopped in a local music shop. They had either 4 or 5 Classic '50s in stock, and had them all on sale because they were relocating and wanted to clear some stock. I played every one of them (3 black and 2 Fiesta Red), and was shocked at how good they all sounded. Very consistent, and not a dog in the bunch.

I didn't buy one though because I already had "too many" basses. But afterwards, it haunted me. I kicked myself for not snagging one on sale. But about a year after that, I came across my Honey Blonde in a Guitar Center near my house. It was used, sounded killer, and I got an excellent deal on it.

Anyway Bart, I'm telling you all this because I was very impressed that they all had "that" special P-Bass tone. To me, they were more consistent than playing 5 new American Standards. I almost always find one or two that seem to sound better than the others. Admittedly, I probably looked down my nose a bit at the Mexican Fenders before that (albeit subconsciously). A pleasant surprise to be sure. I hope you can find one over there. Best of luck!
| | |
| --- | --- |
| melikecookies | 09-14-2013 11:17 PM |
---
I wanted to chime in on this thread being an owner of 2 honey blonde 50s basses. Everything about them was perfect in my eyes except the neck, which wasnt exactly a profile thats comfortable for me. I swapped both for jazz necks and now they are my favorite precisions I own, better than any MIA I've played. As far as the grain, one of them is much more transparent than the other - the grain is very apparent. The other seems closer to a solid color. So they may vary from bass to bass, but its nothing less than stunning regardless.
| | |
| --- | --- |
| Bart1965 | 09-28-2013 05:32 PM |
---
Jeff, thanks again for your kind advice and explanations. I have been out for work for a while but am finally able to reply again. Reading the posts on this forum absolutely convince me that the MIM classic P is well worth the money, and my goal is definitely to purchase one of these beauties.
I visited a local shop yesterday and the sales guy did his best to convince me that a new american standard P gives you so much more value for money due to the modern neck, heavier bridge, etc :-( . He did not have a MIM P available, except for one Road Worn. I might be forced to order a classic P online. By the way, I noticed this week that pretty good deals are being offered in the US for the MIM Classic P "Lacquer" with the black cellulose finish (1/2 price compared to Europe), an option to consider. I am assuming that the "Lacquer" model will not be inferior in sound compared to the regular classic P.
Melikecookies-thanks for your input, good to know that the transparancy might differ from bass to bass.
---
Yessir, not so transparent.
The neck is pure vintage P
1 3/4" nut, skinny vintage frets
Perfect.

I love mine and have played many much more expensive fenders, AVRI, CS, and old vintage precision that weren't as good.
| | |
| --- | --- |
| Jeff K | 09-28-2013 10:27 PM |
---
Bass Central is showing a Honey Blonde on it's website for $749.00 (U.S. dollars). I'm not sure if they ship outside of the U.S. though. You could always email them and ask.
| | |
| --- | --- |
| Wallygator | 09-29-2013 10:35 AM |
---
Mine is almost completely opaque and beautiful and my favourite and I think I should go play with her now. See what you've done? :)
All times are GMT -6. The time now is

08:54 AM

.
Powered by vBulletin® Version 3.6.12
Copyright ©2000 - 2013, Jelsoft Enterprises Ltd.