| | |
| --- | --- |
| Guinness20 | 08-29-2013 04:28 PM |
---
Honey blonde P w / black pickguard?

Hiya, just a quick one.

The other day I briefly picked up and played a Fender Classic Series 50s P bass, and it was amazing! Sounded great, but the feel of the neck and the playability really caught me off guard!

The only trouble with the thing is that I really don't like the way it looks - the anodised gold pick guard just doesn't do it for me.

Not bothering with the lacquer version, so I have a couple of colours to choose from. Just wondering, has anyone ever seen a honey blonde p bass with a black pickguard? I can get a direct replacement pickguard from WD music.

Thanks for taking the time to read this, I now I'm a bit of a nob for caring so much about looks when ultimately it's about sound:rollno:
| | |
| --- | --- |
| melikecookies | 08-29-2013 06:34 PM |
---
Bump, very curious about ths as well... Anodized looks sexy to me, but tends to mess with my nails. Was tossing around the idea of swapping.
| | |
| --- | --- |
| Lank Thompson | 08-29-2013 06:40 PM |
---
Honey-Blond with black pickguard would look fantastic (as would tort).
| | |
| --- | --- |
| Dan55 | 08-29-2013 06:45 PM |
---
Yep, that color body looks nice with a variety of pickguards. The vintage "mint" color Fender guard looks particularly nice, but you really can't go wrong, particularly if YOU like it!

Dan
| | |
| --- | --- |
| Jeff K | 08-29-2013 10:24 PM |
---
| | |
| --- | --- |
| mellowinman | 08-29-2013 10:45 PM |
---
Quote:
---
Originally Posted by Jeff K (Post 14801555)
Personally, I like the gold anodized on my Honey Blonde '50s Classic. I've seen them with black, but don't think it looks as good as the gold or the tort. Here's pics of mine with the gold and the tort. I also agree that a mint green might look good as well.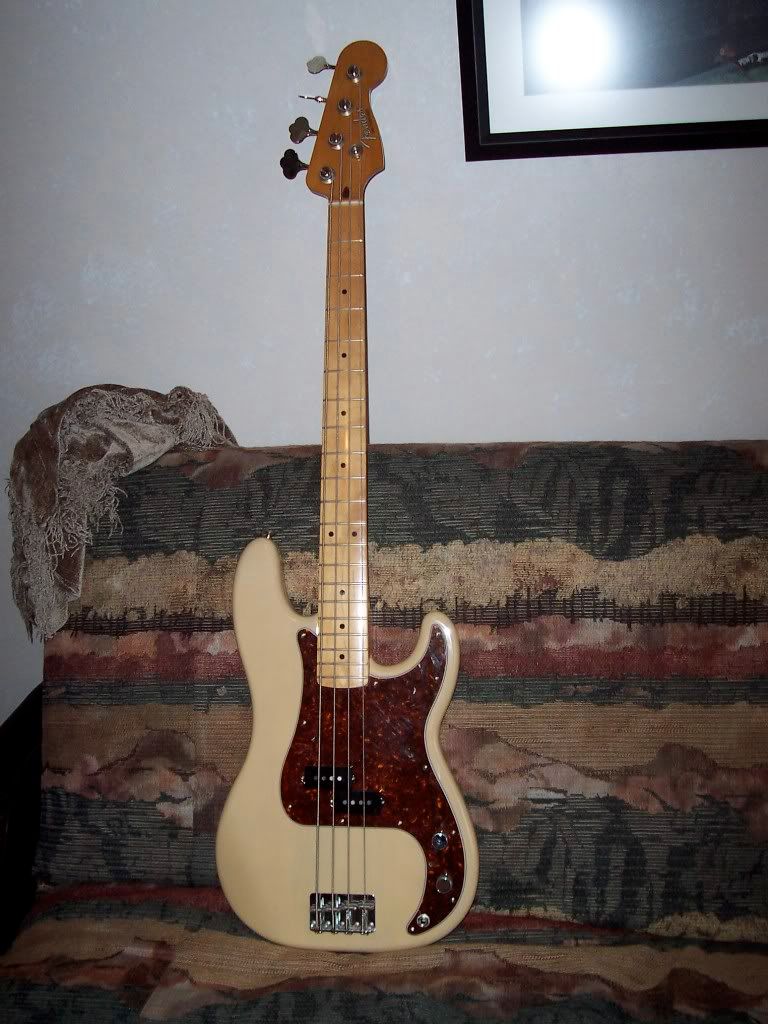 ---
I hate to be a talkbass cliche, but, OH THAT TORT!
That is fantastic.
| | |
| --- | --- |
| PotsdamBass8 | 08-29-2013 10:51 PM |
---
I personally feel that very few basses look bad with a black pickguard, and very few look particularly good with a white pickguard. It's all personal preference though.
| | |
| --- | --- |
| Guinness20 | 08-30-2013 02:08 PM |
---
That tortoise shell looks incredible! Don't know why I hadn't considered it!

Where did you get the replacement tort pick guard from?

Cheers
| | |
| --- | --- |
| Jeff K | 08-30-2013 03:31 PM |
---
Actually, the tort was on it when I stole, er, I mean BOUGHT it used from GC several years ago. I wasn't positive (and I don't think they knew) it was a '50s Classic because she was wearing the tort. I jotted the S/N and went out into the parking lot and called Fender. They verified that it is a '50s Classic. Went back inside and bought it for $315.00.

I was talking to a tech friend and told him what I got. Asked if he happened to have a gold anodized laying around. He had one on one of his basses and was thinking of switching to tort, so we swapped them out. So bottom line, I'm not sure what brand the tort was. But every time I look at that old pic, I start thinking of getting another one for it. I DO like the gold on it, but the tort did look surprisingly hot. I say "surprisingly" only because I usually only like tort on a rosewood boarded neck.
All times are GMT -6. The time now is

05:04 PM

.
Powered by vBulletin® Version 3.6.12
Copyright ©2000 - 2013, Jelsoft Enterprises Ltd.