| | |
| --- | --- |
| SIFJiggy | 08-19-2013 09:00 AM |
---
Low-dollar bass paralysis

My name is Jon and I have LDBP...

I constantly GAS for basses around and under the $300 mark but have a perpetual fear that it will be a p.o.s. I have read through on so many threads including the new SUB MM series, the more recent Squier VM series, and the SX (essex) basses.

So for me- its feel. I think I can EQ my way out of most anything. These overseas basses are getting RAVE reviews and I'm not "skeptical" per se, but I always feel like I'm going to end up making my GAS worse once I get into one of these Asian beauties. "Ooooh, I should have got the SUB Ray" or whatever will inevitably happen.

So 300ish being TOP DOLLAR - what do you think? Am I missing anything?

Disclaimer: GCs around me are HORRIBLE - they have almost no bass inventory and last time I was in there I played both an American Jazz and a MM that SUCKED not set up or paid any attention to in probably months. I also have a problem with half I the employees not knowing ANYTHING. "Go out and try them" doesn't hold much water for me.

Oh - and to make it a little more difficult for you fbass and Fodera snobs - lets just assume that 300 isn't "throw away" money. While cheap, I don't think I could live with myself I pissed through a g-note of crap basses.

For now, we'll take it one day at a time.
| | |
| --- | --- |
| MysticMichael | 08-19-2013 09:16 AM |
---
Quote:
---
Originally Posted by SIFJiggy (Post 14749588)
My name is Jon and I have LDBP...
---
Hello, Jon. Welcome to group... :smug:
MM
| | |
| --- | --- |
| thefunkgorilla | 08-19-2013 09:46 AM |
---
Hi Jon,
Two bits of experience to share:
1. I'm not sure where you live but as a professional musician in Atlanta one of my most valuable relationships is with my local luthier. If you have a good one, ask him who makes quality overseas basses. Ask him(or her) to recommend some options or select a few from your list of GAS basses.
2. Most of the online stores(zzounds,musiciansfriend,music123,sweetwater ,ams) offer free shipping on a large variety of value priced basses. They also offer money back 30-45 day trial periods, minus return shipping.

My suggestion is to use the above two suggestions to get a bass in your hands. Once you have it, take it to your luthier and have it set up end to end. This should only take a few days at most and then you will have a good 2-3 weeks to try the axe. If after all this you don't like it, you are only out return shipping and the cost of a setup.
| | |
| --- | --- |
| eldoryder | 08-19-2013 09:54 AM |
---
Hi Jon-

I can relate. I have agonized for months over which $300.00(ish) bass would be next. I absolutely LOVE the look of the Squier VM Telecasters. I also LOVE the Classic Vibe Precision 50s (in butterscotch, of course!). SO many decisions. Slab body vs. contoured. Two-barrel bridge vs. four. Two pickups vs. one. Three Fender demo videos and countless amateur videos showing advantages and shortcomings. NO local guitar shop in which to try out ANY of them. Watching each 5%, 10%, 15% and 20% off sale come and go at the online retailers. Figuring which store would charge sales tax, which one would provide free shipping. Who had the best return policy? Finding the best VALUE among all of them and hoping I didn't pick a "one-trick-pony" or a lemon that I would hate later. It was frustrating, and I, too was in LDBP on steroids!

How did I overcome this affliction? Just yesterday, I was idly looking in on Feebay, and as usual, took a glance at the lovely old Peavey T-40s being auctioned. Before I knew it, I was bidding on one. I left a final bid, secure in the knowledge that based on what I had seen before, someone would easily outibid me by $75.00 to meet the current going price for these "under the radar" gems.

Imagine my total shock and surprise when I actually won an auction for a well-used but not trashed T-40 WITH OHSC, AND Free Shipping! I won it for under my max price of $300.00 including shipping. Does it need a few things? Sure! Can I afford to do them over the next few weeks and months? YOU BET! Is there any "instant depreciation" on this bass purchase, compared to buying a new Squier? NO! In fact, if I provide some TLC and replace a few parts, I do believe I now have a versatile little bass that will give me several lovely "P" and "J" and "MM" and "Rick" tones to enjoy and play, while slowly over time being worth much more than I paid for it

On balance, I'm happy my "GAS-attack" is over and done with. I have spent my budget, and no longer have to stay awake at night agonizing over making a mistake on a new bass purchase. I have met and conquered LDBP and no longer give it permission to take over my life!

One day at a time, my friend! One day at a time..................


Mike in Texas
| | |
| --- | --- |
| gjbassist | 08-19-2013 10:04 AM |
---
I too suffer from LDBP!
I have bought several SX basses from Rondo and have had very good luck with them.
My two main basses are a modded SX Jazz and a modded SX P/J.
With mods I have about $260 in the jazz and about $300 in the P/J Even if you don't like to mod your basses the quality to dollar ratio of SX basses is excellent!
My son just got one of the Ursa Pro jazz basses for $209 and I was totally impressed with the look, feel and tone of it right out of the box.
http://www.rondomusic.com/ursa2mnprona.html
| | |
| --- | --- |
| Razman | 08-19-2013 10:17 AM |
---
OP, is it only new instruments you are looking for/at? I could probably count the number of pieces of gear I've bought new on one hand (maybe two). Especially guitars/basses. Just my opinion, but I pay little to no attention to any new instruments on the wall at any music store I visit - why take the depreciation hit when one can find an instrument that retailed from anywhere between $500-$1000 for $300? I know of a six string Washburn that retailed for over a grand (street price was most likely much less, but still) that I could pick up for three right now if I had the $ to spare.

Best of luck with your search...

Raz
---
Cheap basses are fun.

Brands like Epiphone and Squier are really bringing the heat these days with their cheaper instruments. Quality is way up.

If GC doesn't have what you like, ask them to order it. If it sucks, return it. They don't usually charge shipping so you won't be out anything.
| | |
| --- | --- |
| RonniePudding | 08-19-2013 10:26 AM |
---
1 Attachment(s)
I just got a Squier CV 60's Jazz used from a local music store for $200, plus $100 for a new HS case. It's the best playing bass I've ever owned. The only thing it needed was to have the input jack replaced, which the store did for no cost to me.

One thing about the Squier CV and VM series being "entry level" (they don't feel entry-level to me) is that you can find them barely used by folks who purchased them as a first bass and either decided it wasn't for them or felt the need to have a "brand name" upgrade in short order. The one I bought still had the plastic wrap on the pick guard =)

In my case, I like to play something before I buy it, and I don't see the point in paying the premium for a new instrument in this range. So I just kept my eyes out on claigslist and the local music stores for a few months until I found what I was looking for. It helps to not be in a hurry.

Before I found the one I ended up buying, I saw a several VM and CV basses on craigslist that were good contenders, for around $200. At those prices they tend to go fast, so you have to browse the listings regularly to better your odds.
| | |
| --- | --- |
| Nephilymbass | 08-19-2013 10:26 AM |
---
For $300 the best basses are mim fender jazz basses IMO. They can be found used for $300 all over the Internet. I never really understood the attraction to squire and sx stuff when the mim fender basses are so cheap used. Throw in some quarter pounders into a fretted or just put some nickel roundwounds on a fretless and you've got a lot of bass for the money.
| | |
| --- | --- |
| jweber76 | 08-19-2013 10:35 AM |
---
I also suffer from LDBP, but my problem is that I actually own and regularly gig my low dollar axes along side my American jazz, Peavey T-40 (not exactly a "little bass" Mike! lolz) MIJ Fenders etc...drives my guitarists crazy! The issue is that I already know how great these basses can be right out of the box with a quick set up and how flexible they can be with some low budget modding/frankensteining, ie pickups, pots, tuners or sometimes just a pickguard to make it look a little cooler (to me...)
I'm currently actively gigging a pair of Squier Affinity (!!) P basses, total purchase price approx $40, a Squier Bronco-$75, a fretless VM jazz and have a 5 string SX jazz coming soon...probably an affinity Jazz coming in the fall (to be a tribute to the early 60s stack-knob jazz on a budget) and a squier cabronita come winter time...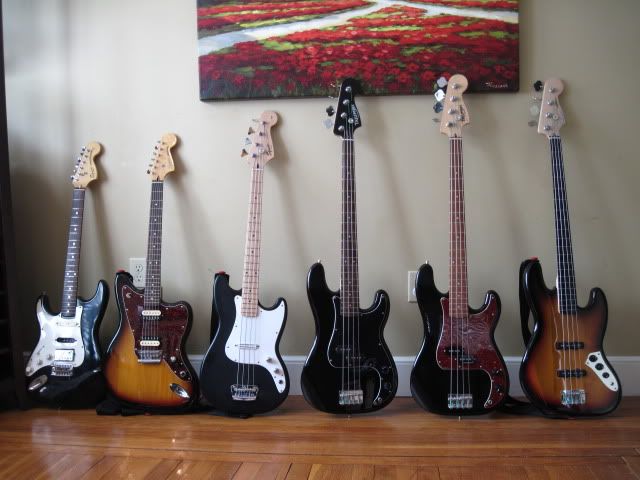 -John
| | |
| --- | --- |
| FourBanger | 08-19-2013 10:51 AM |
---
I feel your pain,there are too many good basses for less than $300 these days.

When I agonize to my wife she has said "well decide which good $1000 bass you'd pick and choose the cheaper one most like it." And of course my response was, "that doesn't help, for $1000 i'd buy three or four of these!"
| | |
| --- | --- |
| jweber76 | 08-19-2013 11:00 AM |
---
Yeah, that never works... I often hear "so, you would rather have five nickels than a quarter?!"
"well, if I was a coin collector, then yeah... "
| | |
| --- | --- |
| FourBanger | 08-19-2013 11:42 AM |
---
Yup, because part of the paralysis is in the having to choose, whether it is at $300 of $1000. I actually get more nervous the higher my budget goes because the stakes are higher...

I have been very slowly saving up again but have a gig now ehre a small amount of cash will be added to my kitty. When I had $200 to spend I wished I had $300 to open up to some cooler choices. When I hit $300 and I had to make the choice it got bothersome. Now I might be able to pony in enough more to but two of those $200 basses used or blemished.
| | |
| --- | --- |
| SIFJiggy | 08-19-2013 11:45 AM |
---
Lol - good responses. I have done the 300 MIM thing a few times over. Love em - no problem with them at all! There is something about owning a bass (or anything personally) from "birth" I kind of dont like finding quirks that may have been caused by someone else. A fresh slate, if you will, is most appealing to me.
The new SX Andromeda is fascinating! One piece swamp ash wow.
http://www.rondomusic.com/andromediamnna.html
| | |
| --- | --- |
| bassbully | 08-19-2013 11:53 AM |
---
I have been suffering for years. I own a few basses well below $300 and they are built as well as well sound as good as my MIA Fenders past and present.

I stay passive but if you like active basses then my thoughts change about low dollar basses with cheap pre amps :spit:

But for now its a good market for low dollar basses and If you are like me you do some searchin and diggin around and score a 83' MIJ SQ Squier Sen ash P bass for $140.00 on CL :p
| | |
| --- | --- |
| ridethespiral | 08-19-2013 11:59 AM |
---
I got a used Yamaha BB424 for $200 last month and I have only played my $900 ESP/LTD for about 5 minutes since then.. I highly suggest you check out the Yamaha BB424's. VERY hot pickups for being passive, and sounds quite amazing to me. This one needs a little bit of work done to the frets to get rid of some buzzing, but it has seen a lot apparently. I imagine a new one with a good setup or a used one that was taken care of would play astoundingly.
It may not be the prettiest or have the most eyepopping woodwork, but it does what a bass should do, and well. I give props to Yamaha for making such a great cheapy.
| | |
| --- | --- |
| SteveHeissner | 08-19-2013 12:05 PM |
---
It's fun to see just how good you can get a cheap bass sounding, whether you decide to modify it or not. Sort of like buying a cheap car and souping it up to run fast.
| | |
| --- | --- |
| DiabolusInMusic | 08-19-2013 12:09 PM |
---
Nope, I have yet to find a cheap bass that speaks to me. The one time I did buy a cheap bass on the reviews it was garbage and I then found more reviews basically describing my exact experience. I do still play the Squiers every time I go to the store, mostly because that is what they stock the most of.

My advice to the OP is to stop going to GC and start going to craigslist, cheap basses are the easiest thing to find on there, at least in my region. Parents buy their kids these basses, they never play them again, so you can get them for $100. With buying used you will not always get exactly what you want but you can always turn around and sell it for what you paid, maybe even a slight gain. Worst case scenario you pay $20 for a bass rental for a couple months, that is still a great deal for me.
| | |
| --- | --- |
| bryan gibson | 08-19-2013 12:31 PM |
---
Cheap basses are a bad habit for me as well. The thing to remember going in is that no two are exactly alike. My current fave cheap-o is a Turser 51P clone. The neck is solid maple, birdseye, and is amazing. The others on the rack that day were crap, so this one was the exception rather than the rule. Same goes with Squiers and SX stuff. The most consistent cheapies seem to be LTD's and Yamahas. The RB Exotic is an amazing bass, just with cheaper hardware.
| | |
| --- | --- |
| marko138 | 08-19-2013 12:36 PM |
---
I love the stuff that's out there now. My Squier VM jazz is awesome. I'm eyeing some of the SBMM stuff now too.
All times are GMT -6. The time now is

07:22 AM

.
Powered by vBulletin® Version 3.6.12
Copyright ©2000 - 2013, Jelsoft Enterprises Ltd.