---
Modulus flea/FU information resource

Lucky enough to have bought a silver sparkle flea bass today (1997) and have spent ages on line looking for a site which goes through the general evolution/changes over the years similar to the excellent musicman website which covers bridges, logos, necks etc.

Is there a information resource for Modulus? Or are there any experts out there?

Will post pics in a while.

Cheers

jJj
---
Flea bass

As promised.
I am interested in any details that help to date it or confirm that everything is in order.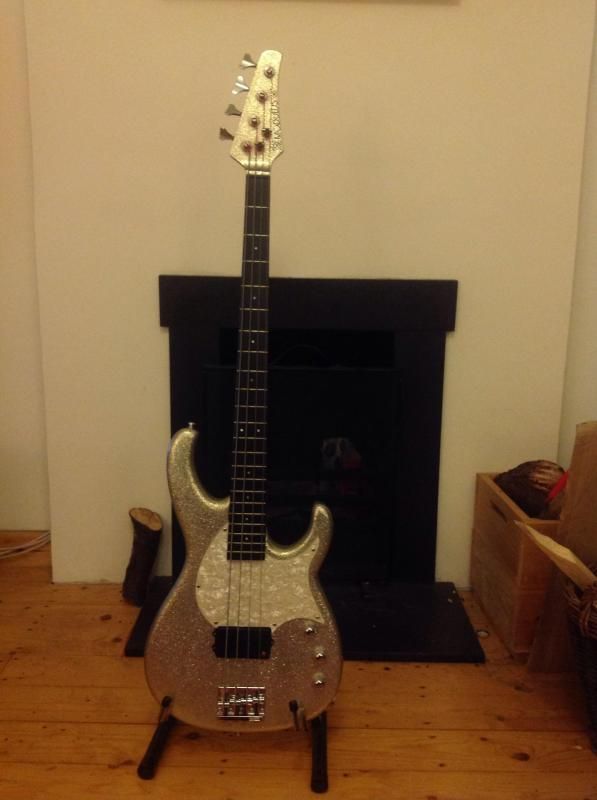 front view
Back view serial number starts with 97 so this is a 1997? No neck plate.
Lane Poor pickup? Bartolini preamp inside with B & T pots cut and boost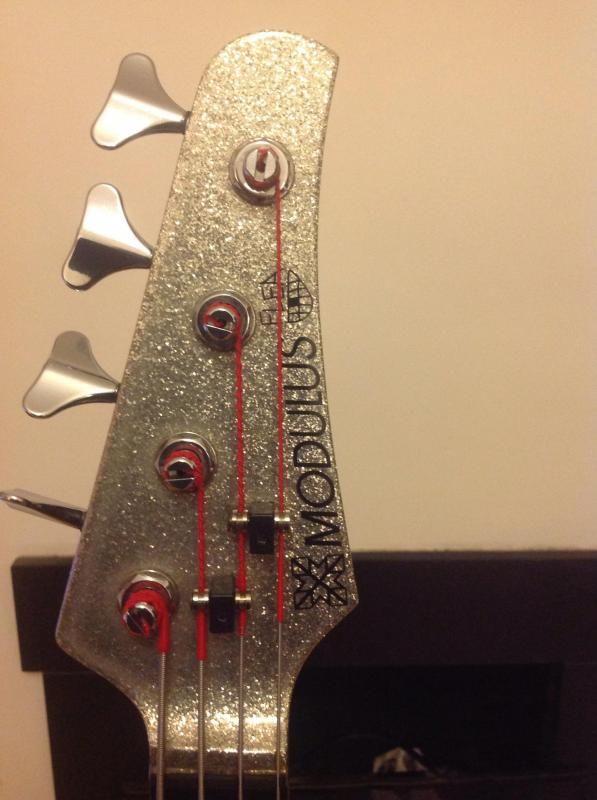 flea logo, note the string guides
Any info welcome from across the pond!
Cheers
JjJ
| | |
| --- | --- |
| TXLawDawg | 01-02-2014 03:30 PM |
---
You are correct that it would be a 97 model based on the serial number. Everything looks stock to me besides the bridge. I had an 06 and it had a Hipshot Type-B on it and that one appears to be a Gotoh 201. I was thinking the early FB's might have came with a Badass bridge (because that's what Flea used) but I'm not 100% sure on that. Someone else more with more knowledge is sure to chime in or you can ask over in the Modulus Mob thread (might get quick response) -
http://www.talkbass.com/forum/f8/mod...rt-4-a-992997/
Congrats on the bass!
| | |
| --- | --- |
| sbassface | 01-02-2014 06:26 PM |
---
I can't answer your questions but I was looking for one out of curiosity and could not find one good score!
---
Thanks for that can the moderators out there move this to the Modulus section?
Cheers
jjJ
| | |
| --- | --- |
| rossiman | 01-03-2014 09:14 AM |
---
It is a 97, I used to have one. Everything looks stock (97s had gotoh bridges, they then moved to hipshot and badass IIs)
Lane poor is accurate, I have the same one- as is the flea logo
The string guides were used on 97s. Some time in 98-99 they switched to 2x of the current string guides...then again in 2000-2013 they started using only one

The preamp in yours is most likely a Bartolini- that was the common preamp combo with the lane poor

Everything says 97 but usually they had a neck plate, this may have been a late 97 one when they started to not use neckplates anymore
---
Thanks rossiman, just the information I was after. After a bit of searching I could only find early ones with neck plates.
It does have a Bartolini preamp.

As for the sound, I'll have to wait for my amp to come back from the shop. With any luck they will sort out my flapping farting distortion riddled speaker then I can see what I've got!

Would be good to have access to a database of Modulus Fleas/FU design etc. I'd like to know more about them and how many were made. Or am I being too much of a trainspotter ( or whatever the US equivalent is)!?

JjJ
| | |
| --- | --- |
| rossiman | 01-03-2014 02:59 PM |
---
The most popular are the flakes- blue and silver the most common. Some oranges, reds, greens, reds, purples, etc
Theres also black, stealths, tobacco burts.

After Lane Poor stopping making pickups in 2000 or 2001 (I believe), Modulus sent a LP to Seymour Duncan and they reverse engineered it to make their own representation. That is now the most common pickup found in 2001-2013 modulus basses: the SD Basslines "Modulus"....if it wasn't a SD in your Modulus it most likely was a Bartolini. There was a rare 97 modulus once upon a time that had TWO Lane Poors in it like a jazz/HH configuration.

Preamp have pretty much always been either Bartolini or Aguilar ODB
| | |
| --- | --- |
| rossiman | 01-03-2014 03:01 PM |
---
There's also a civil war amongst Modulus fanatics like myself between the 97 modulus basses and the current ones.

The 97s were sleeker and had an indescribable way of playing if you got a good one BUT a lot of people could not trust a bass that didn't have a truss rod (some horror stories about graphite warping)

I was lucky enough to find a newer Modulus ('05) that resembled the weight and playability of a 97 I used to have
| | |
| --- | --- |
| Hidesert | 01-06-2014 06:24 AM |
---
Nice find, JJJ! Perfect appointments, IMHO.
One additional bit of info; the Sparkle finish was a significant up charge, and the matching peghead finish yet another costly up charge.
I would bet that if you look under the pickup, it will be dated from Lane Poor, too.
---
Thanks again, my curiosity got the better of me so I had a look at the underside of the pick up:
Initials and 2020 on the white sticker and MM4HB etched on pick up.
Not sure what it means but a) it may help with the general knowledge and b) I'm glad it didn't say made in China!
Cheers
Jjj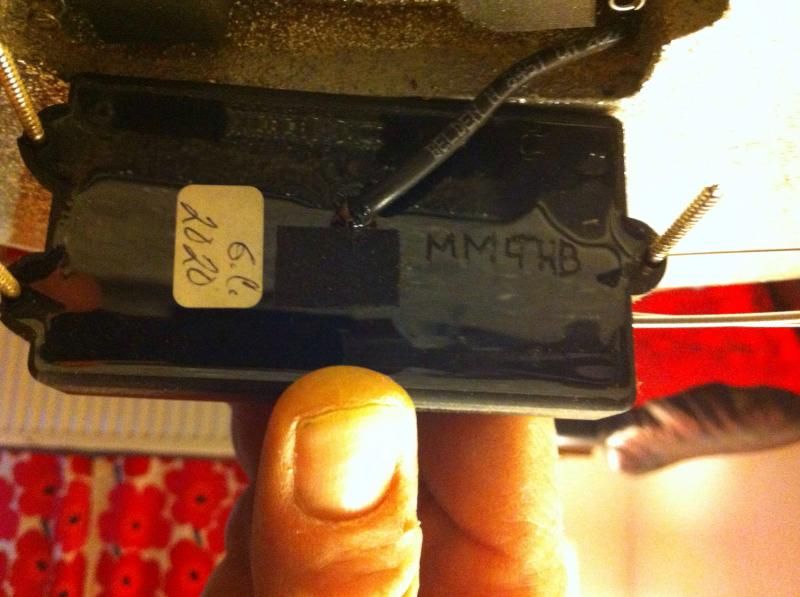 | | |
| --- | --- |
| Hidesert | 01-08-2014 07:35 PM |
---
Interesting. Wish I could help you figure that out.
| | |
| --- | --- |
| penguineman | 01-08-2014 07:46 PM |
---
very nice looking Bass I've been looking for one and havent had any luck myself so it's a great find. if you find a site that does give more info on them please let us know.
---
If I find out more I'll post it.
According to the legacy lane poor site MM4hb is the code for a musicman pick up (Humbucker (parallel, 2 conductors)) which I assume is interchangeable with a Modulus.

I've been looking on eBay, gumtree and a few other sites and I have seen a few 90s flea basses and a few FUs over the last 6 months or so. Here in the UK the second hand prices seem to have risen by ~50% in the last 2-3 years.

Jjj
All times are GMT -6. The time now is

11:16 AM

.
Powered by vBulletin® Version 3.6.12
Copyright ©2000 - 2014, Jelsoft Enterprises Ltd.