| | |
| --- | --- |
| Flatwound | 01-25-2014 10:21 AM |
---
NBD: Guild Pilot 5

I've been pretty silent on the bass boards for the last few years, trying to cure my GAS. However, I occasionally peruse the Craigslist ads, and this one caught my eye. Guild Pilot 5, good condition, OHSC, $200. OK. I've been pretty happy with my ESP LTD Surveyor 405, but when someone drops a Guild Pilot in your lap for $200, well, it warrants investigating. This is the basic model, i.e., not Pro or Advanced. EMG-J pickups, VVT.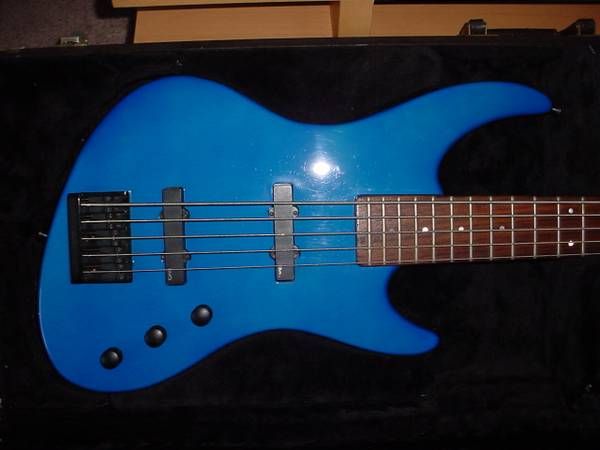 Of course it had ancient roundwounds on it that sounded like ancient roundwounds. But I have a set of SR2000's burning a hole in my pocket, and I'm sure they'll perk it up.
Oh, and it weighs 8 lbs. even.
| | |
| --- | --- |
| Thundar | 01-25-2014 10:24 AM |
---
Very nice score!! Love the old Pilots! Great choice in strings too, BTW ;)
| | |
| --- | --- |
| georgestrings | 01-25-2014 10:56 AM |
---
Nice score, OP - those are great basses, IMO...


- georgestrings
| | |
| --- | --- |
| Flatwound | 01-26-2014 07:05 PM |
---
I played it in church this morning. Fortunately, before I did, I checked the battery. It was very close to stone dead, and a new battery really perked it up. I also adjusted the truss rod, which was a bit of a challenge - I hadn't realized that it has a quarter-inch nut sticking up, rather than an allen head adjustment. I found a quarter-inch offset box-end wrench that works OK.

It sat in the mix pretty well. I haven't played Jazz-type basses that much recently, but, being an EMG fanboy, I found plenty to like. I still have to tweak the setup a little more, but so far, so good.
All times are GMT -6. The time now is

07:11 AM

.
Powered by vBulletin® Version 3.6.12
Copyright ©2000 - 2014, Jelsoft Enterprises Ltd.