Hey everyone!
So I just got this, and I thought I'd give my initial review/impression. This more of a review of build quality/ fit & finish than tone. I'll try to get pics of the more detailed parts if there's any interest soon.
So I ordered this bass when I saw the Kickstarter campaign posted on here about a year ago (
http://www.kickstarter.com/projects/...d-design-guita
) thinking it would make for a great backup to my custom Jaguar bass (which was still in progress at the time). About a year later, it finally arrived, and I'm pleased with it.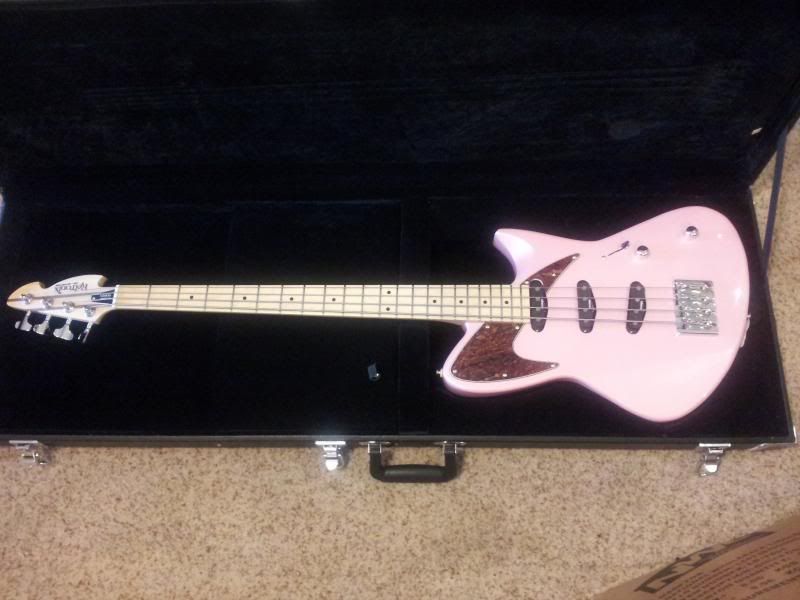 PACKAGING:
The bass arrived double boxed, and in a pretty nice hardshell case, which I was not expecting. Inside the case was the bass, a setup/QC checklist, a certificate of authenticity, warranty card, and a little baggie with the allen keys, some picks, keys for the case, a cable, and one of those little tuning tools.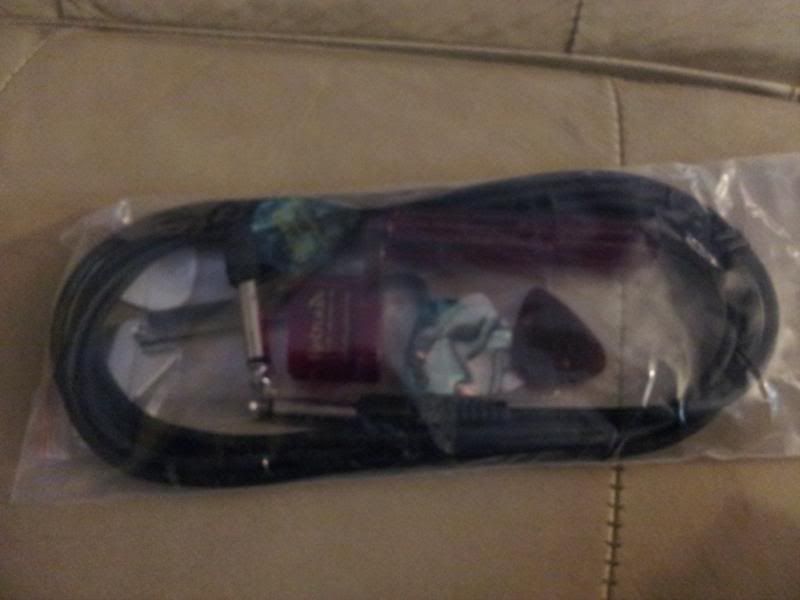 PAINT:
I got the bass in metallic pink because I wanted something different, and pink is cool. I think it looks killer! Really nice finish throughout the entire instrument. I noticed one black spec that looks like it's under the clear coat, but it's not noticeable from more than a few inches away, and I couldn't take a good picture of it on my camera phone. The back of the neck is a nice smooth satin finish that feels silky and plays easily, while the fingerboard seems to be finished in gloss. No stickiness or flaws to mention.
PICKGUARD:
I hate tort guards. I mean HATE them, but on this bass I don't mind it. maybe it's the funky shape of the guard. I still sent them a message asking about the possibility of getting a white one. The guard is cut well and fits snugly where it should.
FIT & FINISH:
The nut seems well cut and the pickup routes are tight and neat. However, you can slip a piece of printer paper on either side of the neck pocket. Nothing more than that though. To be clear, that's less than a .5mm guitar pick on either side. I don't think that's bad, just trying to be as detailed as possible.
HARDWARE:
The hardware seems generic, but functional. The bridge is similar to a Hipshot A style, and the tuners look like those little Gotoh keys and have a cute little 8th note on the back of them. Both parts seem to be doing their job, but we'll see how it goes with time (I have no doubts) Chrome dome top knobs that seem to be on there nice and tight and turn easily. The neck is held on by a 6 bolt configuration.
ELECTRONICS:
The bass uses dragonfire 51 style pickups. These are cheap pickups. A J set goes for 30 Brand new on ebay. However, they do sound good after a quick little soundcheck. Initially, I was horrified by the buzz I was getting in my bedroom. I know these are single coils, but this was BAD. It ended up just being that room, and I have had that issue on other basses before.
Very simple volume/tone controls, and a 5 way switch that gets you : 1(towards neck): Neck only 2: Neck and middle 3: Middle only 4: Middle and bridge 5: Bridge only. All great, usable tones. The tone control also has a lot of play in it. Seems like its going to be a really versatile bass.
The inside of the cavity has shielding paint on it, while the cavity cover has aluminum shielding tape or something similar. The wiring is relatively simple, and looks pretty neat.
http://s121.photobucket.com/user/pri...g.html?filters
[user]=36033247&filters[recent]=1&sort=1&o=4
PLAYABILITY:
First off, when I picked it up, I thought "WOW, this thing is pretty light." Well, I'm used to heavy basses, but this bass weighs in right about 9 pounds, so while it's not a featherweight, its not uncomfortable at all. I strapped it on with a Couch Racer X strap, and there was no neck dive whatsoever. The small headstock and tuners contribute to this, I'm sure.
The bass came setup really nice from the factory, and it's a great player. I'm not sure of the radius or anything like that, but it's very easy to play on. There's no fret buzz unless you really dig in. I do play with a heavy attack, but the buzz is more like a typical growl you get on any bass with low action than a terrible awful thing you wouldn't want. Makes the instrument more dynamic, in my opinion. Smoothness when you want it, nastiness when you want that. The neck has 22 frets, which are all easily accessible due the the neck pocket design and the awesome contour on the lower horn of the body itself.
OVERALL:
This bass made a great first impression on me. I've acquired a few more basses since the day I ordered it, and I've been thinking "I'll sell it as soon as I get it to thin the herd." But playing it has me seriously reconsider that. I may take it to a gig this Friday. It's between this and my relatively new Gibson Ripper.
I was gonna wait to do a review, but this is one of the first of these models to make it out into the public, so I wanted to get some info out on it.
Hope this review was helpful. I tried to look at it with a critical eye. Please let me know if you have any questions.