The other day, a bass in the GC used section caught my attention. I made a thread about it because, from the picture, it was hard to tell what color the finish was.
The general consensus was that it had been refinished. It made the most sense.
So I called and some dude who didn't seem to know much said it was in pretty good shape other than a few nicks and dings. No big deal.
At $300, (DiMarzio p/u and hard case included) and with GC's return policy, I figured I couldn't lose. So I went ahead with the purchase.
I got it in today and after giving it a solid once over and playing it for about 15 minutes, I have mixed feelings.
For starters, the body is from a Squier. And it's been refinished, somewhat poorly, with a cool (I think) metallic color.
The neck plate clearly says "Squier by Fender" so I'm wondering if they were just ignoring that or only had honest intentions...
Who knows?
Upon removing the pickguard, you could tell someone was impatient after the refinish, because the PG stuck to the bass in spots.
Closer examination revealed that the body must've originally been a Squier P in LPB or something (see picture below).
Otherwise, it was a little dirty, but the wiring for the DiMarzio looked okay.
Plugging it in, I really got into the sound. That DP127 is pretty sweet. So it's got that going for it. (Oh. And pearloid. Aw yeah.)
Anyways, since this bass was misrepresented, I have grounds to a return and a refund I'm sure. (Satisfaction guarentee? Yeah, I'm a little unsatisfied...)
But I was just thinking about calling their store and seeing if I could get a credit or partial refund or something and just keep it. Would that be fair?
I either want to see if I can do that, or just return it.
Haven't made up my mind yet.
I think I'll give them a call tomorrow.
Here are the pictures: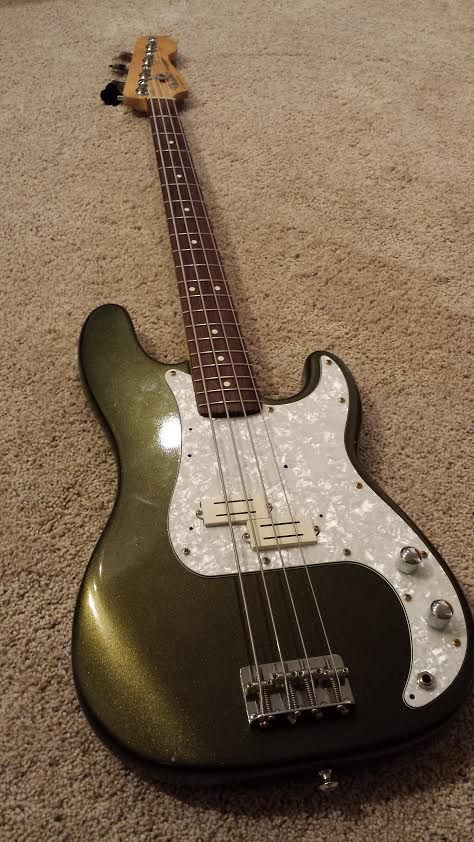 Thanks for taking a minute to read/reply.
I appreciate you, TB.