Rip; I think you're really gonna enjoy it! Now, I will freely admit that I'm very biased, after all…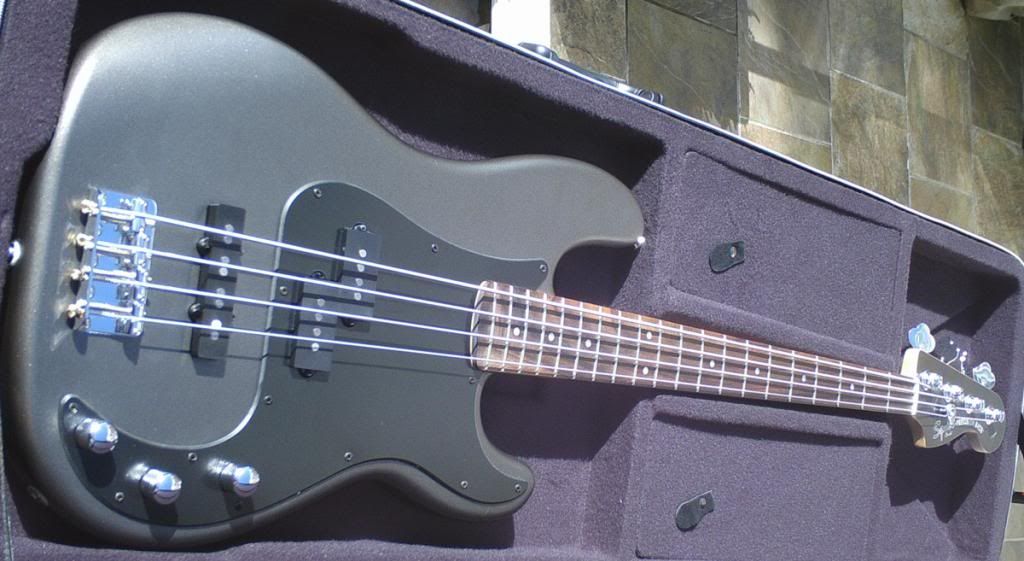 …it was this Sexy Beast that convinced me to buy my first bass.
The only mods I've done so far is to replace the pickguard screws with black ones. Beyond that, the only thing I'll probably ever do is to put on a Hipshot Drop-D tuner. (love 'em!) Call me nostalgic, but I don't think I'll ever change the electronics…hum or no hum.
As far as replacement parts, you might be in for a bit of an uphill climb. I've had a lot of experience with Squier's Standard line. Over the course of time, Squier's hardware "footprint" started deviating off of Fender's. Here's some photos for reference;

That Standard Jazz, sister to My Sexy Beast, has a few compatibility issues. The route for the bridge pickup was a little too small for a replacement, or at least it's pickup cover. It would've had to be routed out and widened a bit. Also, that pickguard normally goes onto an MIA Jazz. I had to attack the neck pocket, pickup route and the edge along the control plate with a Dremel tool to make it fit. And speaking of pickguards…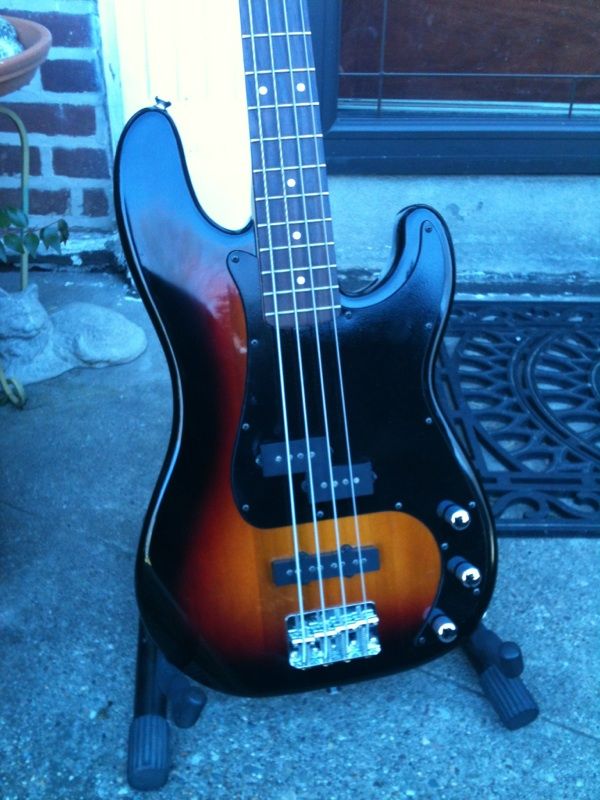 This is a 2001 Squier Standard P-Bass Special. Note the extra pickguard screw on the left. I bought a Fender 14-hole guard to replace the (boring!) white one, but several screw holes would not match up. I had to paint that bad boy myself. Fortunately for you the Chrome Edition you have is much newer and has the more-common thirteen holes. Your chances of a match are better, but that's still no guarantee it'll be a match with an MIM or MIA pickguard. I recommend you trace out the guard onto graph paper and take it to a music store to see if it lines up with a prospective replacement.
One other thing, I bought a used Black & Chrome P-Bass Special earlier this year. I wanted to use the neck for a parts-bass I was building. Unfortunately, the heel was just a little too big to fit into the pocket of a Mighty Mite (re: Fender standardized) body. Another example of the Standard Line slipping off the "footprint". It's likely you'll have to do a little sanding off of a replacement unless you get a custom-made one.
Either way, enjoy the Hell outta that lovely bass. I know I still love mine, compatibility be damned. :cool: