Hey y'all, I got my Squier Bass VI about a month ago (I hope that everyone that's waiting gets theirs sooner than later) and have been meaning to do a review. For all of those who are only interested in an abridged review and pic, it is as follows: I am totally stoked on this instrument! Right off the bat I was digging it, and after a month I couldn't be more pleased with the purchase.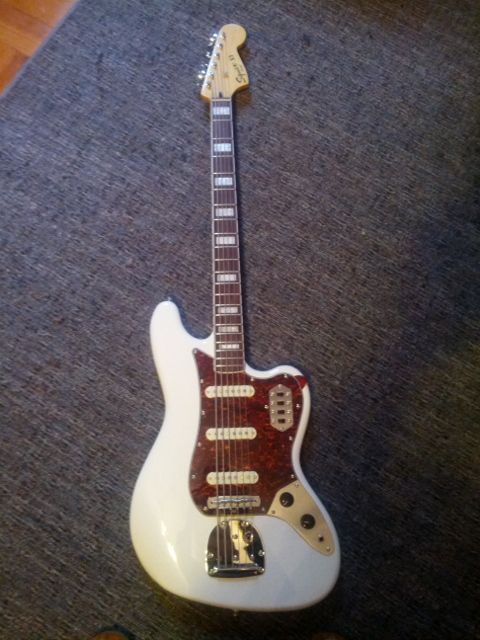 Okay, now for some long-winded details. (I plan on posting this in other Bass VI threads, not because I think that it's an important review or anything, but in the unlikely event that something in here might actually help someone. I suppose that I should put this in the Reviews section, eh?)
* First things first (and a little about myself, so you have an idea where this is coming from). I am not a guitarist. I've screwed around on guitar and even learned a couple of easy tunes, but my experience is very limited. I haven't even picked one up in years. I think that this is worth noting because although the Bass VI is a bass, it very much plays like a guitar. And let's face it, it wasn't designed for bass players. Those who (also) play guitar will have an advantage. That being said, I wouldn't discourage any non-guitarists from getting one of these hybrids. Personally, I didn't even know they existed until a couple of months ago, when I saw a guy play the hell out of one (his name is Mike Rossi and plays for Donkilo! Afro Funk Orchestra (
http://afrofunknh.com/
). Super nice guy. He built his from a kit some time ago, and incidentally, he may just have the best live P Bass tone that I've ever heard too). I immediately became fascinated with the Bass VI and had many ideas/visions of how I would employ it. Funny, I've always joked that I would take a month or two someday to learn guitar, because there are some things that I'd like to do on one. The Bass VI will do pretty much all of those things.
*Upon delivery, somethings that I noticed: The build was pretty solid, and not just for the price. The (Olympic White) paint wasn't without its blemishes, as there are a few tiny pits in it. I'm not sweating them though; I think that this bass is gorgeous, even including the less than superlative tort guard. Everything seemed to be in good order, except...
*Strings: Anyone that's spent ten seconds on any threads about the Bass VI will know that strings have been a major topic. Mine were okay, except of course, the low "E" and the "A". Mine came with a .084/.085 on the "E", which is just way too floppy. After searching many threads, including one on Offsetguitars.com, I decided to order an array of single strings of varying gauges from Circle K Strings. Talk to Skip over there if you're interested. He was helpful to me, was working on some complete sets, and has his own Squier Bass VI. After some experimenting, I settled on his recommended set of: (BVI-102 - 102, 76, 57, 43, 33, 23p. I tried an unwrapped 22 for a high "E", and although it could manage some wicked bends, it didn't feel or play to my liking otherwise. To be revisited. I may even go up to 34, 24 for the "B" and high "E" respectively. I'd like to eventually try flats, but for now I'm satisfied. In regards to the low "E", I think it'd be okay with an .095, but anything less will be too floppy. Also, Be prepared to do some work/filing to the nut when you go up to the higher gauges. I've never done that kind of work, but it was easy.
*Intonation+: I haven't had the difficulty that others have reported. Flip the bridge around 180 degrees if you have any trouble, most notable with the low "E". You'll also have to work on the setup a bit too, but it's all pretty basic. I've been really impressed with how well this thing stays in tune, and I love to bend the &$!# out of the strings. I haven't really messed around with the tremolo/whammy/whatever bar though, so we'll see how it responds to that. Hmm...I need to start messing around with the tremolo/whammy/whatever bar. For those that are keeping score at home, I have no complaints about the tuning pegs.
*Weight/Balance: The Bass VI isn't light, but it balances extremely well on a strap for me. It stays right where I leave it, as much as any bass that I've ever owned. This makes it very comfy to me. Weight is definitely a factor for me in basses, but I find that a well balanced bass is much more important, and can negate the negative effects of a heavy bass.
*Pickups/electronics: I like the setup. Three pups with switches gives you seven tonal variations (plus a tone control). And the strangle switch lives up to its moniker; it really cuts the bass quite a bit. I guess down the road I may look to replace some of the electronics, but for now it's all fine. I'll be interested in seeing what mods people do to this instrument.
*Playability and what have you: I like it with a pick, but you can absolutely play fingerstyle. Like Ed Friedland said in his showcase for the Eastwood Sidejack VI, you can pretty much get used to anything. Open chords sound better than I expected, but 2, 3 and 4 note chords up the neck is where this bass really shines. Like I said, I don't play guitar, but I do have knowledge in chords/theory, which certainly has helped. Also, I bought a couple of chord/guitar books to get me more familiar with that aspect and it is going well. I think that devoting some of your study/practice/approach this way will help out the non-guitarists out there. That's my plan anyway. Also, playing leads; muted picking (sorry JimmyM ;) ); and good 'ol bass playing and grooving, is fantastic! :bassist: (I need to wrap this up; I'm starting to use the smilies.) Seriously though, it's an absolute blast to play, and it is the antithesis of a one trick pony. And lastly...
*Effects: The Bass VI in my opinion, is just begging to played with effects, and has single-handedly staved off some of my pedals from being sold...for the time being. Add a little overdrive and this thing screams, and I don't even have a proper fuzz pedal! For now, I'm glad that I've kept my Tech 21 Bass Deluxe, dedicating the 3 presets on the B channel to my Bass VI. Fuzz coming soon. An octave and/or some EQ'ing can really plump it up. The first pedal that I bought with this bass in mind was a SA Soundblox® 2 Dimension Reverb, and I'm very happy with it. So get in there and get your hands dirty with your effects on this thing. And lastly, for real...
I'm really interested in seeing how people play and use their Bass VI. I think it can make for a great writing tool, or a great instrument to play with a band. I don't see me getting much use out of it with my main band, but I've been playing it with an old drummer friend of mine that I've always wanted to start an original project with. If anyone has any questions, feel free to ask. I'll try to keep my responses concise. :rollno: (Doh!).