I was in search of a pre-CBS Pbass for a while and earlier this month a TB member reached out with an awesome offer and we made a deal on a 1960 PBass.
It looks to be originally a sunburst but the poor thing had been covered in house paint. Other than the finish it is all original except for a ground wire and 1 missing screw on the bridge.
The paint has now been removed without any sanding and it is ready for the restoration process. Here is the current picture of the bass as it sits now.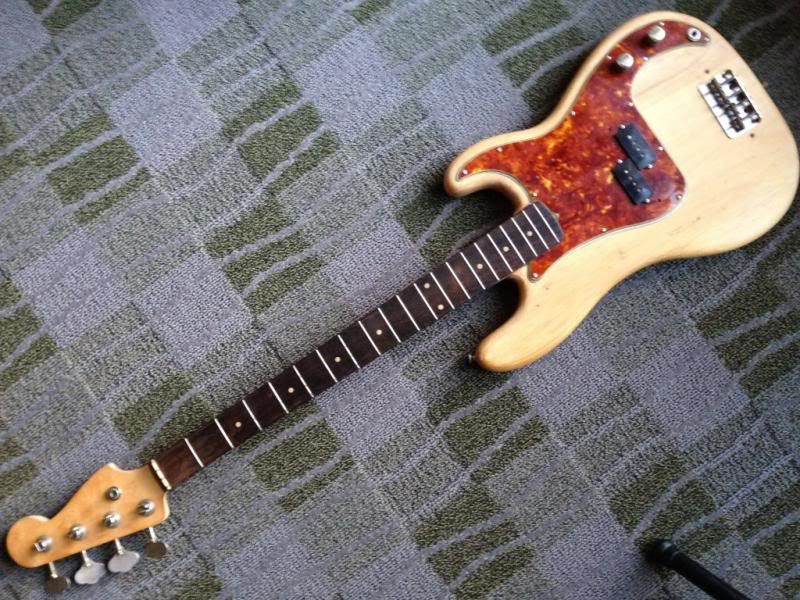 It has really nice wood and Brazilian board.
Still debating on the resto but leaning towards going with MJT who I have worked on with other projects. To replicate a soft worn nitro sunburst like these examples below.
MOST IMPORTANT - to understand my choices I just want to be clear on the goal of this restoration.
The goal of the resto is to return it to a condition the original sunburst finish would have looked like if the original owner had not covered it in house paint! Grrrr. The nitro finish will be thin so as I play it everyday it will wear very quickly and look more and more natural.
Just going to have the resto give me a head start.
It will look something like this... ( if I go this direction)
Just a nice light natural worn look - not huge missing paint chips/ scratched up look that so many purposed relics have. I worked with MJT on project like this before and they are amazing at what they do.
If not this route then oil it up seal the neck and have the lacquer aged to look something like this... Still deciding but I think it will be sunburst.
( this is 66 but you get the idea)
However, my favorite vintage PBasses are aged yellowed olympic white but if I do a refin I think it should go back to original aged finish. I think these are very cool too.
Thoughts anyone? What would you do if this was your project?
I am curious to know as I seem to flip flop every week on the direction. Seems like more people are easier on refins these days than they were at the height of the vintage craze in 2006-2008.
The bass will be going to MJT the week of Jan 6th.
This is a players bass to be enjoyed and played. No relic fights please. I consider this an accurate restoration of what should have been and just righting a wrong that was done to this bass in the 70's.
Poll and comments welcome.