| | |
| --- | --- |
| BirdThunder | 12-19-2013 09:52 AM |
---
Rockbag for thunderbird!

So I just got my new classic-IV pro bird, plays like a dream though the set up is high, easily adjusted, so I ordered a warwick rockbag for buzzard/beast and they said it fits the thunderbird with it, but holy cow it's fooken huge. But it's well padded, got a neck/headstock strap and cushion in there with a hidden pocket, shoulder saving strap which is wide and nice. it's got 1.5inches allowance on the sides, and 2-3.5 inches at the bottom for your bird, my problem is I need a smaller one, why? cause I'm short (5'6) and the case is up to my nose. Here's some pics
http://i.imgur.com/zxTzJc6.jpg
http://i.imgur.com/rIYSc2B.jpg
http://i.imgur.com/iks8Sle.jpg
http://i.imgur.com/uKQ8uCt.jpg
http://i.imgur.com/Dm95uCJ.jpg
EDIT:
http://www.thomann.de/gb/rockbag_rb2...bassgigbag.htm
>here's the exact bag i bought. though I got it from amazon cause, 'MURICA!
*sidenote: I'd rather get the extra thick thunderbird bass bag from Amazon by India, it's designed for the thunderbird so I guess it's gonna be more snug you just have to DIY reinforce it with industrial foams and pvc lining.
| | |
| --- | --- |
| BirdThunder | 12-19-2013 08:58 PM |
---
bump?
| | |
| --- | --- |
| pudgychef | 12-19-2013 10:11 PM |
---
I had that exact bag back when I was gigging a T-Bird a lot. Good bag, but you are right...huge

Also used a Ritter bag that fit snuck and (while a little less padded) was easier to manage
| | |
| --- | --- |
| LAST_C | 12-30-2013 05:43 AM |
---
Just got my Gig Bag

Hi there.
I just received my gig bag for my Blackbird. It's not the Rockbag but a cheaper alternative. It took a while to get here but it was worth the wait. It fits my Blackbird just fine. I'd say it has like 1/2 or 3/4 inch padding, the handle seems to be reinforced and it has like a rubber base at the bottom. I paid $44.95 plus shipping and I already plan to buy another one for my Epi.
I wish it had more padding in the headstock area, but since I plan to be very careful with it, I'm not concerned. It comes with 2 pockets and, that's pretty much it. i'm happy because the difference between caring the hardshell case and the gig bag is huge. Finally I can put it inside my car's trunk. Here's the pic: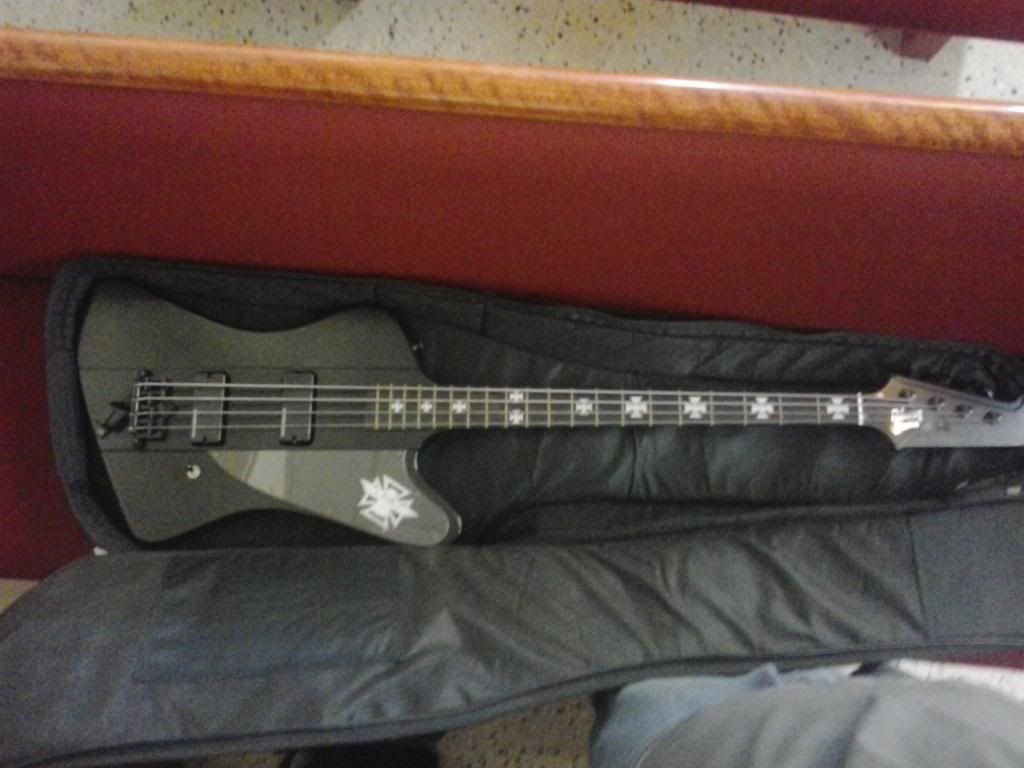 I'll add more pics later today.
I don't know what brand it is, but here's the kink for those interested.
http://www.amazon.com/Thunderbird-Ba...erbird+gig+bag
All times are GMT -6. The time now is

12:44 AM

.
Powered by vBulletin® Version 3.6.12
Copyright ©2000 - 2014, Jelsoft Enterprises Ltd.