Here's a story I can never resist telling again. (and again…ad nauseam)
Obligatory boring exposition
: I am a former drummer who hopes to get back into "bangin' them drums" someday. I suppose it should come as no surprise to anyone that playing bass would eventually become the next musical challenge I'd take up. Y'see, back in my high school days, the friend whom I was learning alongside was a nascent bassist AND introduced me to Rush. The latter opened my eyes to a whole new level of musicianship and to the concept that the gee-tar isn't the only instrument that can move to the forefront.
Fast forward to two-and-a-half years ago
: For years the urge to take up bass had been growing stronger and stronger. I found myself starting to do some tentative research and evaluating different basses, mostly by their esthetic appeal (I'm also a former art student). Cost was also a concern. I'd tried learning six-string when I was in grade school and it never caught on, so I didn't want to pick up an expensive hobby that I could possibly lose interest in.
Eventually, I stumbled upon this lovely creature, a Squier Standard P-Bass Special…

…and I said to myself, "If I'm gonna learn bass, I want to learn it on that one!"
So my mind was made up…I'd seek this one out. This turned out to be a greater challenge than I could've imagined. Little did I know that this P-Bass Special, along with the Standard Line, had been discontinued three years before. Everywhere I found a listing for it online turned out to be using an old or incorrect pic. I even called Fender and they told me that the last of them had been shipped out in 2009…mega-bummer! :bawl:
Despite the ever-mounting frustration of this seemingly fruitless quest, I stumbled upon another lovely bass. My eye was caught by a used Fender Aerodyne for a fantastic price (less than half the going retail price!) on the website of a chain of pawn shops down in the Alabama/Georgia areas. After about half a day of debating, getting pics from the vendor and realizing that this was doable while the P-Bass Special was probably a pipe-dream, I grabbed it.

Even though the Aerodyne I scored is a fantastic piece of work, chips and dings and all, I just couldn't let go of my quest. To get all literary and junk, "Ahab needed to find his white whale." So I kept on searching, devising new and different ways to try to locate one. After six months my tenacity finally paid off. :eek:
Behold…My Sexy Beast!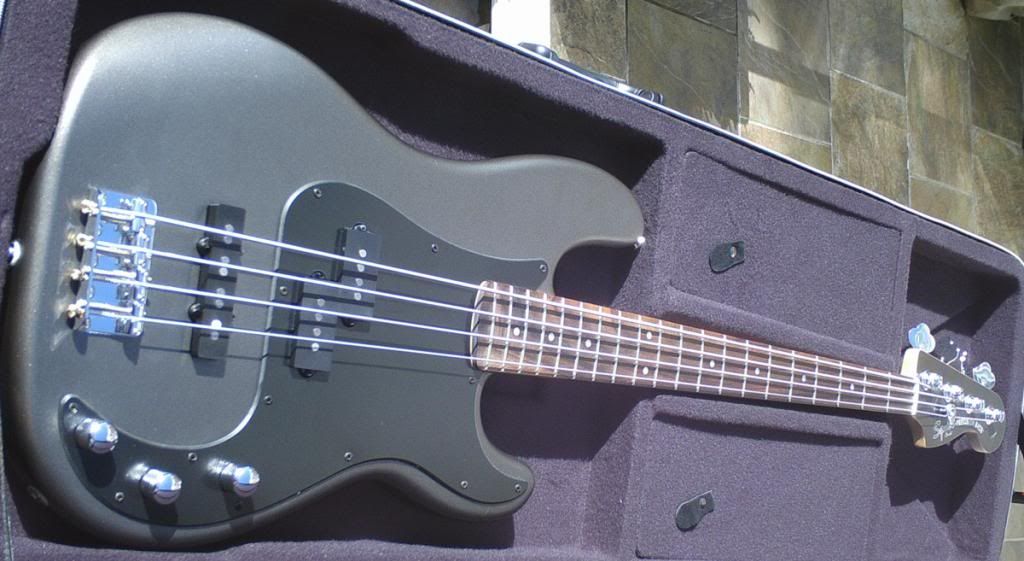 It seems that by switching from a standard Google search to a Google Images search was the trick to finding it. That and a flawless refurbished item coming up for sale courtesy of
eBay seller fretjoe
. (If you see this, thanks a million dude!)
Getting this certainly hasn't kept G.A.S. away. I've since cycled through more than a few basses and have kept a few. I'm even putting together a parts-bass as I type this. But if I had to do away with them all save one, this is the one I'd keep. This humble Squier P-Bass Special is exactly that to me…special.