rojo, this is an example that may not be clinically "insane", but I'm proffering it up as a mod that is as fun as it is cheap. Specifically, it's about pickguards…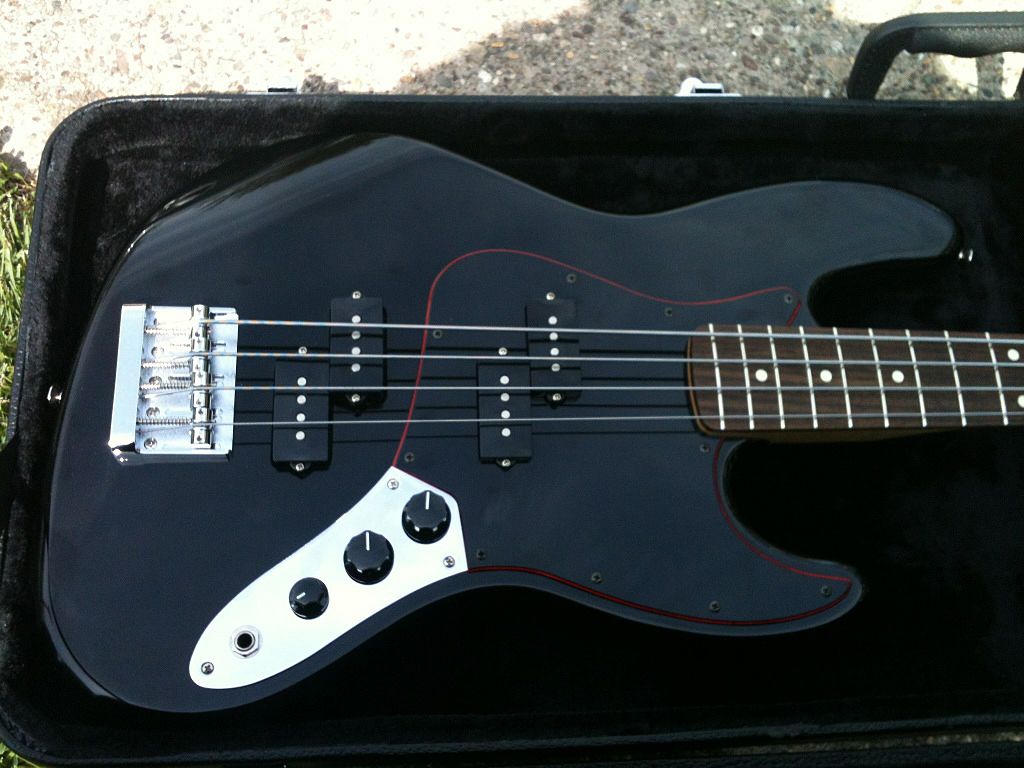 I thought the stock black/white/black pickguard on this Blacktop Jazz was a little plain. I was leaning strongly towards getting a custom-cut black/red/black, but didn't want to shell out a lot of bucks for it. So instead, I crawled into the headspace from my art-school/amateur-illustrator days. What you're looking at is two layers of red Sharpie marker, which was just as effective and (surprise, surprise) a whole lot cheaper!
There is a bit of a trick to it, though, so I shall explain for anyone who's interested.
1. Take the guard off the bass. I know it's a "well duh!" thing to say, but it should be said regardless.
2. It's best if the guard you're working on still has it's clear protective coating. It'll keep any stray marks from getting on the front. If it's been discarded, be careful and patient when applying.
3. One layer might not look very uniform or a little splotchy. Let the first dry for about an hour…longer if the humidity is high. Then re-apply another layer.
4. After drying for another hour, lay the guard onto a flat surface. Take a paper towel and fold it up a bunch of times to create a burnishing surface. Rub the inked edge with a decent amount of force to remove the excess dye. Do several passes all around and keep switching up the portion of towel you're using, otherwise you're just rubbing loose dye back onto it. Eventually you will get little-to-no dye coming off. And then you're done!
I've done with with red and blue, each of which have yielded interesting results. For example, one layer of dark blue looks blue. But if you lay down a second layer, you get a blue/purple scarab effect when under strong light. In other words, the more you add, the more your results may vary, as seen in the attachment below.
Look carefully where the output jack goes. Despite the mediocre light this was taken under, you can make out a little purple.
Attachment 391521
I did an even better job on another blueburst body recently, along with some other mods. I'll post more detailed pics when I can get better weather for proper photos.