- -
Squier CV bass
(
http://www.talkbass.com/forum/f8/squier-cv-bass-1024930/
)
| | |
| --- | --- |
| astrobass63 | 10-23-2013 07:43 PM |
---
Squier CV bass

I'm thinking of buying a CV Precision and I was wanting to know if anyone has one and how do you like yours, thanks!:hyper:
| | |
| --- | --- |
| wild4oldcars | 10-23-2013 08:03 PM |
---
I don't have one, but the cv 50s p is absolutely the most comfortable neck I have ever played on. very very glossy, which I love to death. if I ever need a scpb for anything, I would not hesitate to grab it, especially at such a bang-for-your-buck price you can find them used at. I haven't had any experiences with the 60s cv pb but I would certainly expect them to be as amazing as the 50s.

the cv jazz is also very very nice, fwiw, but the neck is a little too narrow for my hands.
hope this helps at all :)
| | |
| --- | --- |
| HuntYouDown | 10-23-2013 08:26 PM |
---
I got the Matt Freeman, same thing. I highly recommend it.
| | |
| --- | --- |
| Bassbubble11 | 10-23-2013 08:31 PM |
---
I have a 60's P. It is not just a great bass
for the money. It IS a great bass.
My main gigging basses used to be a MIM
Jazz and a Special P (with J neck). I have
not gigged with them since I got the CV.
I was looking for a straight up P but couldn't find
one with a neck I liked. I found the CV just because
it was the basically the only P left.
Looks great. Feels great. Plays great. Sounds great.
AND it is very affordable.
| | |
| --- | --- |
| astrobass63 | 10-24-2013 04:36 PM |
---
The 60's P bass is the one I want, is the neck slim? I have small hands so I need one that does.
| | |
| --- | --- |
| lostrings | 10-24-2013 08:24 PM |
---
| | |
| --- | --- |
| MIMJAZZ | 10-24-2013 08:42 PM |
---
I have one and I love it. I actually sold my AV P because I truthfully thought the Squier sounded and felt better. I got hipshot tuners and a badass for stability, but I didn't have any problems with the stock hardware. I did change the pots and input because of reliability, but I never had issues with the stock electronics. The pickup sounds great, the color is great, plays great, feels great. I tell all my friends to atleast try one.
| | |
| --- | --- |
| Bassbubble11 | 10-24-2013 09:48 PM |
---
Quote:
---
Originally Posted by astrobass63 (Post 15033536)
The 60's P bass is the one I want, is the neck slim? I have small hands so I need one that does.
---
The neck is slim front to back and the nut width is
42 mm. It's a Modern "C" according to Fenders website.
I used to only play J's or P's with J necks. I could never
play the P's with the deep, wide necks.
Honestly, I think I prefer the neck on the CV to my
J necks.
| | |
| --- | --- |
| Wallace320 | 10-25-2013 04:47 AM |
---
yeah: 1,625" at nut

Quote:
---
Originally Posted by lostrings (Post 15034294)
The nut on the 60's P is 1.625...Pretty comfy. It is a fantastic bass. Squier got it right with this one. Sounds and Plays fantastic.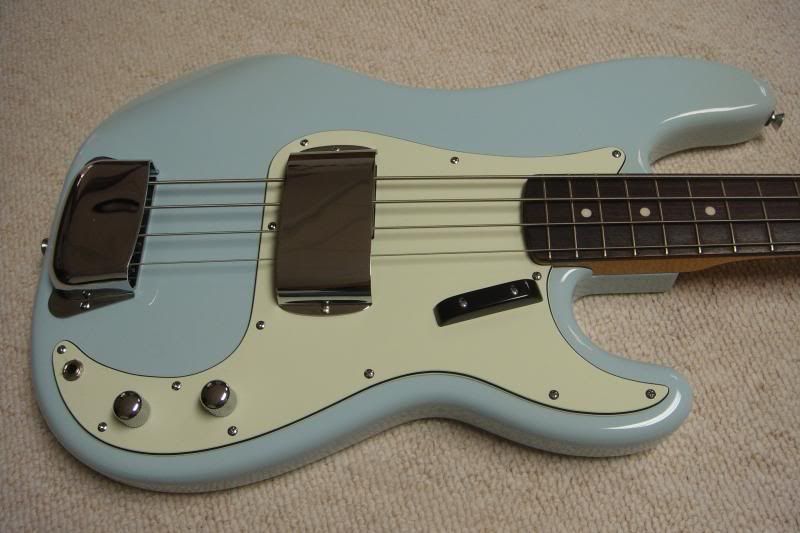 ---
and btw I owned that sonic blue Precision as well (now out of production) what an instrument! and how I miss it!
not that easy to find over here even secondhand, for its reknowned overall quality
Anyway, fiesta red and tort (a lil' poor man's Pino Palladino's) isn't worse than sonic blue one: you won't be disappointed
Cheers,
Wallace
| | |
| --- | --- |
| SolarMan | 10-25-2013 05:27 AM |
---
Great basses. The CV Squiers are pretty much the best bass for the money that I know of, and gigged by bassists worldwide. Buy a used one and you maximize your buying power.
| | |
| --- | --- |
| vxjoe | 10-25-2013 06:52 AM |
---
CV P Bass

I have an American Deluxe Jazz Bass with a modern C neck and a CV P bass. the neck on the P is wider and the finishes are different. I still like the P for it's build quality and tone. I'm looking for a CV Jazz because I'm so impressed with the neck of the P. there are no sharp frets caused by neck shrink due to low humidity. The expensive jazz has sharp frets all year long, I don't know why American Fenders suffer from poor fret dressing while the Asian products do not.

Buy yourself a CV and enjoy it. The neck on the CV is comfortable to play for hours.
All times are GMT -6. The time now is

02:53 PM

.
Powered by vBulletin® Version 3.6.12
Copyright ©2000 - 2013, Jelsoft Enterprises Ltd.