| | |
| --- | --- |
| AudioDwebe | 12-24-2013 07:37 AM |
---
Wood or plastic?

Tried this in luthiers section but traffic is a bit slower there so here it is.

I'm thinking of getting a bass with an ebony board defretted. I've spoken with two local luthiers/techs who have differing techniques.

One chooses maple slivers because he like the way it wears. The other's choice is a plastic compound since it's not affected by temperature changes.

Prices are comparable. Is one better than the other?

Thanks

Mamoru
| | |
| --- | --- |
| irbass | 12-24-2013 07:55 AM |
---
I would go with plastic, just because of the temperature stuff.
But i don't know what's better.
| | |
| --- | --- |
| Rip Topaz | 12-24-2013 08:18 AM |
---
This isn't a defret, it's a new build, but I used .020 styrene plastic for the lines.
| | |
| --- | --- |
| JellinWellen | 12-24-2013 08:23 AM |
---
"He likes the way it WEARS"

Your main objective is to have as little wear as possible, at least that's what I would do. Plastic gets my vote.
| | |
| --- | --- |
| Luthier Atlanta | 12-24-2013 08:23 AM |
---
One could go either way really, if you use wood I would use Super Thin CA it will penetrate the wood and make it hard. Wood will wear as well as the fret board, it is such a fine line.
| | |
| --- | --- |
| Pilgrim | 12-24-2013 08:25 AM |
---
It's simply personal taste. The wood can make the lines less conspicuous. Wear is not an issue, since either material should wear at the same rate as the fretboard.
Wear can be avoided by playing flats.
Here's a fairly dark rosewood board on which I used .020 styrene, which is quite easy to work with:
---
I can't say one is better than the other as a filler, but I used wood putty in 1980 on my '67P and haven't had any issues.

However, appearance might be a consideration. Maple is light in color and will stand out against the ebony resulting in a bold, lined fretless look (unless painted or stained). With plastic, you may have the option to closely match the ebony if that's your preference.

Not a luthier. Just some things to think about and discuss with your tech.
| | |
| --- | --- |
| esa372 | 12-24-2013 09:18 AM |
---
Maple strips - I had them put into my Jazz when I defretted it.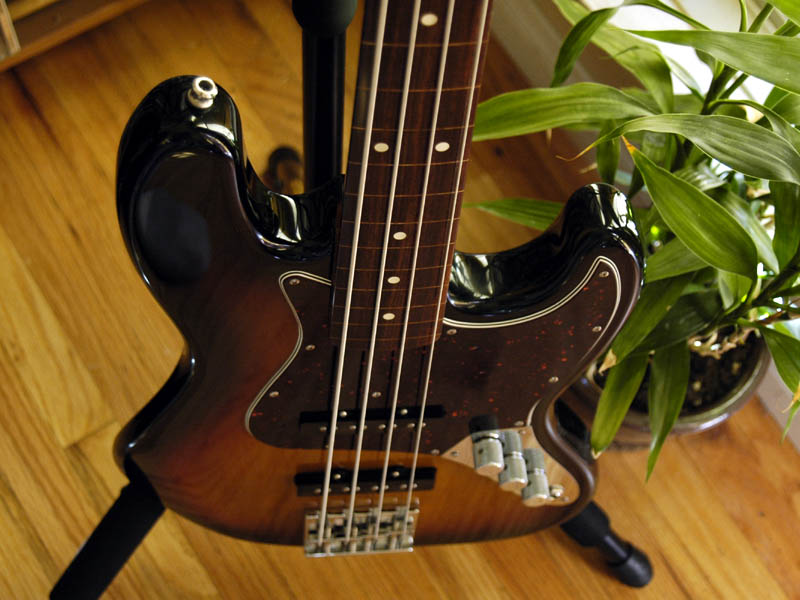 Wood is always better than plastic, imho.
| | |
| --- | --- |
| GBassNorth | 12-24-2013 09:39 AM |
---
I'd go with the luthier you like best and feel most comfortable with and the one in which you have the highest confidence. Then let that luthier decide which fret line method he feels most confident will work best in your situation. Be sure to let the luthier know the types of strings you like to use and your playing style as well as the environments in which you play and store your bass.

You might find very different fret line recommendations if you're a heavy handed stainless round wound string player that likes to do a lot of string bends and frequently plays outdoors vs a light handed tape wound string player that does few bends and slides and plays mostly in a studio. The more info you can give your luthier the better recommendations they can make.
| | |
| --- | --- |
| Sid Fang | 12-24-2013 10:34 AM |
---
There's plastic and then there's plastic. There are phenolic compounds like "Richelite" and "ebonol" that look and feel like dense ebony, and I'd think that would be a better plan than maple for filling in slots on an ebony fretboard.
All times are GMT -6. The time now is

05:21 PM

.
Powered by vBulletin® Version 3.6.12
Copyright ©2000 - 2014, Jelsoft Enterprises Ltd.