Quote:
---
Originally Posted by KeithAlanK (Post 13721602)
A few notes:
I agree with the "bathtub" idea while testing, as well as the use of a terminal strip for easy rewiring.
Also the reverse-stagger P pickups like BC Rich employs, for better balance across the strings.
All solid ideas.
---
Thanks! I've much stuffs in the path ahead of me to test and experiment with. I intend on posting as many of my findings as I can in the form of SoundCloud tracks and text.
Quote:
---
Originally Posted by KeithAlanK (Post 13721602)
... Here's where my own ideas deviate from the norm a bit:
Your amplification system's versatility lends itself to proving or disproving a number of things, and what I would like to see someone in your shoes try is simply swapping bridge and neck pickups when implementing a two-output biamped system (your third pickup being added to season the stew).
I had the pleasure of seeing Billy Sheehan with Talas in small upstate NY clubs MANY times, and his crazy rig fascinated me. Sounded freaking amazing, especially up close and personal.
---
Well, I'm not much of a fan of the cliche "biamped" system, meaning that I think it's a misuse of one's resources running each pickup to separate amplifiers and speaker cabs. For one thing, if you decide to use just one pickup (let's say the neck pickup) you've just cut the power of your amplified sound in HALF. One amp no longer makes sound, so there goes a big chunk of SPL. Another thing is that when you do that "pickup-per-amp" thing, you are relying on the venue/room to actually produce your final pickup mix. You may sound excellent "up close and personal" and you may sound like ass in some other part of the venue. You may also be at the extreme mercy of the FOH guy to produce your final pickup mix.
If you process each pickup on it's own, using whatever means and devices you choose (exactly like "biamping" provides) and
then
mix them together
before
they are amplified, you have FAR more control over your amplified sound. There will be far greater consistancy of your sound in more places within the venue that way, and you also have "the last word" about your pickup mix when it comes to what the FOH guy can do to your tone.
I still use two amps/two cabs, I split the mixed pickup sound into two separate signal feeds and send them to separate amplfier channels which power two different cabs (a ported 2x10 and a sealed 4x10). Each amp channel also has it's own group of FX/EQs/processors before things get amplified. This is what I use to tune the sound to the venue. The 2-amp-channel system is great for tweaking the mixed pickup sound to best suit the room or the venue. It is also an excellent place to tap into for recording two tracks at a time.
Here's the basic routing and processing algorithm I use (all horizontal straight lines are patching insert points where any type of processing may be used). Note that it is divided up into three stages. STAGE-1 is INPUT and PICKUP MIXING - STAGE-2 is Parallel FX processing - STAGE-3 is amplification.....
Here's far greater detail of "STAGE-1" (I can actually switch be between two different pickup mix "presets" by using a momentary footswitch). Every place you see a RED LINE is an INSERT POINT where any type of FX/EQs/Processors/Compressors/Etc. may be inserted into the signal chain.
And here's more detail about STAGE-2 (parallel FX processing) and STAGE-3 (amplification). Any straight lines are insert patch points.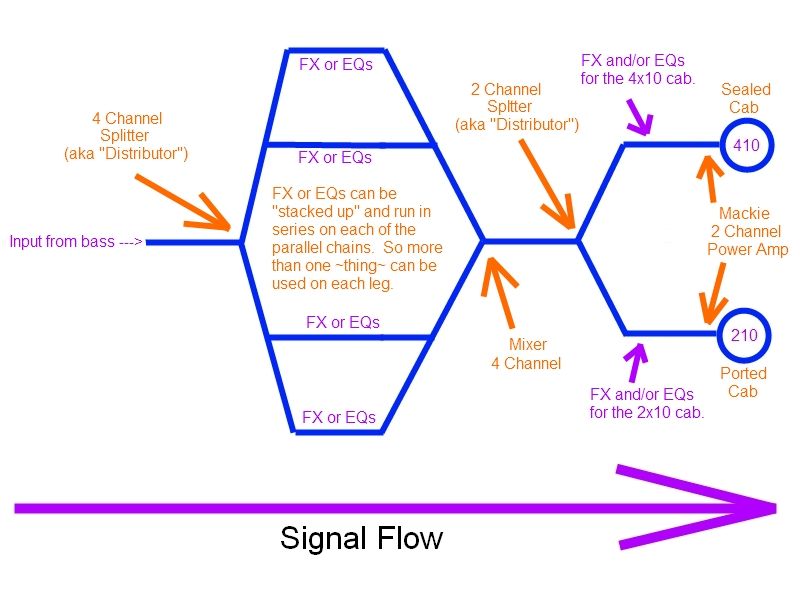 (MORE DETAIL ABOUT THIS SYSTEM IS FOUND IN THE OTHER THREAD - PAGES 12, 13, 14 ARE MOST APPLICABLE BUT THE ENTIRE THREAD IS INFORMATIVE .... SEE LINK IN MY SIG)
I've tried to step ahead of the age-old "biamped" system where each pickup is sent to separate amps. It's too limiting. If you process each pickup individually then after all of that processing is done, mix everything together, you have the option of running that mix to a single bass amp (great for those without the luxury of owning more than one bass amp rig) - OR - you can resplit that mixed signal and then do whatever you please with it.
I feel it's just far more flexible, offers a lot more control over the sound, and is just plain old better to process each pickup separately, mix them, then amplify that mix however you see fit (whether it be resplitting the signal to two or more amps, or sending one mixed signal to FOH, or whatever it is you wish to do). The old one-amp-per-pickup idea is tired and kinda cliche these days. Yea, that older idea ~works~ but I feel this method I use ~works better~ :)
I go into this notion in far greater detail in the "X-Rig" thread (see link in my signature).
Quote:
---
Originally Posted by KeithAlanK (Post 13721602)
... These days, though, I'm wondering if the tighter, lower-string-travel nature of a bridge + middle pickup might not be an interesting choice for sending to the low-freq section of a bi- or triamped system? Certainly the D and G strings will benefit from the fatter sound of a neck pickup much like the reverse stagger P pickups provide. It's not like there isn't enough EQ/crossover/processor/speaker choices to get the fat bottom going good from a Musicman.
I guess what I'm getting at is that I find WAY too many bassists over-EQing the lows and turning their tone into mud. Every PA I've ever run, from small club systems to 100,000 watt concert monsters with line arrays and a mountain of subs, required turning the low knob on the bass's channel down a shocking amount just to get some clarity and tone. Personally, I always cut some lows on my amps (and my basses are fairly flat or even bright already) then add volume to get enough thunder onstage.
---
Well, see my comment above to reply to most of this set of ideas. I agree with you about how things are done by most bassists. Again, this notion is dealt with in great detail in my other "X thread" (see link in my sig).
Quote:
---
Originally Posted by KeithAlanK (Post 13721602)
The new digital mixing boards with multi-band compression are another interesting development which holds some promise for future pedals or rack gear, much like my old 18 volt Trace Elliot bass comp, only better.
---
Agreed. Another way to deal with that is using one or more of the Boss LS-2 line splitters (see pages, 12, 13, and 14 of my X-Rig thread for a lot of detail about using the LS-2 as a parallel FX device). I myself use modular synth signal routing and mixing gear. Once again, see the link in my sig for all the details you'll need to see how I go about doing this.
Quote:
---
Originally Posted by KeithAlanK (Post 13721602)
Sorry, just thinking out loud here. I'm enjoying this thread already and look forward to the next pages with great interest.

As a longtime sound engineer, I found my initial forays into biamping my bass--both live and studio--to be remarkably easy and successful, and am looking for some new ideas before committing myself to a more permanent course of action (plus I need to recover from expensive truck repairs).

Your experiments look like they'll give me and others useful ideas and data on many aspects of the total sound picture, and I for one really appreciate your efforts.
---
No apologies necessary :) I write long posts too. I think you might be better served by diving in to the Experimental Fully Modular Bass Rig thread (aka "X-Rig" thread) that is linked in my sig. This bass I'm working with in this thread is being designed to exploit that system to it's fullest degree. It seems that your interests and ideas fit in better with the X-Rig quite well. Both this thread and the X-Rig thread are sortof interlinked, developments in both systems compliment each other greatly.
I could have posted this bass's design and construction within the X-Rig thread, but I wanted new readers to follow along with this project and be able to provide opinions and ideas regarding it's design and construction.
But for ideas about the outboard gear, processing, and amplification you'll find a LOT more information about those ideas in the other thread. I'll be posting links to inter-connecting ideas and progress in both threads as they pertain to one another.
I hope you find this stuff helpful!
Fluxoid.