| | |
| --- | --- |
| bassballs27 | 08-23-2013 07:56 AM |
---
Your Bass Wood and Neck Construction Preference

Explain your bass wood (body, fretboard, neck, etc) wood and neck construction (bolt-on, neck-through, etc) preference. No indication of what is considered to be "best", just explain what you like. Let's strip away name brands. Try to see what bass players are enjoying lately for bass construction.

I considered setting up a pole for this, but there are a number of combinations out there, so rather than be restrictive, just explain.

Here goes my contribution.

I've always been a big fan of ash as being the body wood for a long time. I found that the ash body / maple fretboard combination was what I liked for a long time. Then I started trying Rosewood and Ash combination, found that different, still kept my ash / maple basses. And recently I tried Alder / Rosewood and was very surprised I hadn't tried this before. In fact, I think Alder and Rosewood is now a personal favourite. I'm also finding that basses with darker fretboards to be more appealing than maple necks I once played.

In general, most of my basses have had maple necks and are bolt-ons. I've been considering owning a neck through or set neck bass recently too, but haven't really committed to it yet.
| | |
| --- | --- |
| Wallace320 | 08-23-2013 08:05 AM |
---
34" bolt on neck

I'm definitely for 34" 21 fret bolt on maple neck & fingerboard, coupled by alder body with no particular top and possibly with a stringthru bridge system. A 4er with open gear tuners and a bass extender.

That's, more or less, my kinda bass/bass construction.

Cheers,
Wallace
| | |
| --- | --- |
| tfernandez | 08-23-2013 08:05 AM |
---
The only two basses I actually still play are maple body and neck with a flame maple top. Rosewood fret board. And both are neck-thru construction. I don't really like bolt-on necks because the overall profile of the heel is thicker than on a neck-thru. I also feel it has a sleeker look than a bolt-on. That being said, I have always wanted a single-cut bass with similar wood choices that has either a set neck, or that multi-wood heel I see a lot on ken smith and fodera basses
| | |
| --- | --- |
| phillybass101 | 08-23-2013 08:08 AM |
---
Bass #1. body=Nato, neck=maple, proprietary bolt through construction. Neck extends deeper into the body, fingerboard=maple. sound is punchy, and it sustains forever.

Bass#2. body=ash, neck=maple, fingerboard=rosewood. Bolt through construction. Sound is more compressed and refined than bass #1. Great slap tone.

Bass#3. Alder body, maple neck, maple board, bolt on. Your basic jazz bass. Its a keeper.

My favorite sounding bass (do not own but have heard) would have ash body, ash neck, maple board, same bolt through construction as #'s 1 and 2.
---
I like walnut for body wood and prefer neck-through construction. I like a maple board for looks but don't claim to be able to tell a tonal difference. I've mostly only ever had maple necks, so I can't comment on wood choice there.
| | |
| --- | --- |
| El-Bob | 08-23-2013 08:12 AM |
---
Lately, I like something about the feel of a bolt on. I like maple, and I like it fat.
As for the body, something kinda bright like ash. I avoid things like mahogany.
I'm really not very picky though...
| | |
| --- | --- |
| SoVeryTired | 08-23-2013 08:20 AM |
---
I guess I have no preference in that I go with what sounds good on an bass-by-bass basis.
My backup is a fantastic-sounding agathis Squier P Special with rosewood fingerboard, maple neck (bolt-on, obviously). I've never heard anyone express a preference for agathis but this bass sounds great.
My main bass? Okay, I did actually have some wood choice on this. I basically kept it simple - rosewood/maple for fingerboard and neck (bolt on), alder body with black limba top. It was a choice of swamp ash alone or alder with a top, and I went with the alder simply because I loved the look of the black limba. I'm not going to attribute any tonal qualities to any of the woods - I either chose them because they were the cheapest or nicest looking options.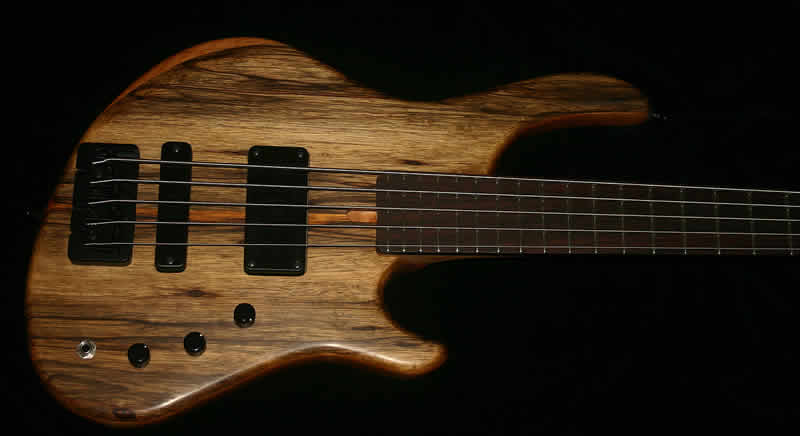 | | |
| --- | --- |
| bass geetarist | 08-23-2013 08:27 AM |
---
I also like ash bodies with maple fretboards. Nice snappy attack, with smooth and full sustain and a lot of character and depth to the sound

Another combo I like is basswood with rosewood. I find basswood has a somewhat tighter frequency range than alder or ash and, if the instrument is designed well, it can really work for a punchy and clear sound. The rosewood adds warmth and softens the attack, so that the sound isn't too clunky or abrassive.

This is based on the instruments I've played/owned anyways. Tonewoods have such a subtle (yet important) effect that I'm never quite sure if I'm really hearing what I think I'm hearing....
---
Alder body with headless cf neck. Great lows, clear highs, no dead spots and sounds the same no matter which fret is played.
| | |
| --- | --- |
| zcwilkes | 08-23-2013 08:45 AM |
---
I personally love carbon fiber necks with wood fingerboards and I prefer Alder bodies. My favorite basses I own all have alder bodies. If its a wood neck I prefer maple with a maple or ebony fretboard over a rosewood one. My number one and number two basses are a Modulus Q6 (Carbon fiber neck/chechen board, alder body with bubinga top) and a MIA Black and Maple Jazz. I have another modulus and it has a alder body. I also have a bass that has a mahoghany body and one that is ash, the rest maple (I have 13). I seem to prefer the alder basses though I'm not really sure if that's the reason or not.
| | |
| --- | --- |
| jim777 | 08-23-2013 08:50 AM |
---
I am really liking Ash as a neck wood these days, and would love to see it used more often. It is a nice tone wood, and it is strong enough for baseball bats where a maple bat would be too heavy to swing:) I've got a Maple/Ash/Maple neck on my W&T and LOVE it :)
| | |
| --- | --- |
| Margus Alviste | 08-23-2013 09:05 AM |
---
I have had a lot of different basses from older Fenders to modern high end basses. I have also ordered several hand built custom basses with specific options and built 10-15 basses from parts. For me the most interesting part of bass design is how to get certain sounds my current band/music or my customers need without loosing the playability and look. :)
My current rack includes appr 10 basses - each of them is unique and meant for different purposes. I love the sound of my Alembic Orion 5. It's just amazing - big, full, lots of low end while having also a snappy treble and prominent mids. Orion has a set-in neck (multi layered maple with walnut stripes and mahogany/figured walnut top. I guess the amazing tone comes mostly from the electronics though.
I have also a great W&T single cut 5-string which is neck-through. It has lots of laminated woods to get a certain type of modern sound while keeping the stability - Maple/Ebony neck with Madagascar Rosewood fingerboard and American Walnut body wings topped with Mappa Burl veneer. The Nordstrand pickups and U-Retro preamp gives all the possible tones one can imagine while still sounding modern.
My absolute favourite is Wenge/Wenge neck and plain Korina body MTD535. It's a bolt-on as most Michael's instruments. It sounds very musically and fills the room like a nuclear bomb. MTD uses active soapbars specially made for MTD by Bill Bartolini. Records phenomenally!
And then I have a few bolt-on Fender Jazz basses (you already know all about these for sure) and a very-very good 80's Ibanez Roadster RS824 that has a Maple/Maple neck and Mahogany body with Flame Maple top and back. What an amazing bass it is! The best sounding wood in my collection. Ok, maybe my 62 Jazz is comparable.
So lots of different combos but they all work for my different needs. And I am in the process of desiging three new basses for my customers - all very different construction wise. :bassist:


Oh, btw, I really like Pau Ferro fingerboards, Wenge necks and Korina body.
| | |
| --- | --- |
| Webtroll | 08-23-2013 09:14 AM |
---
I'm a complete whore for mahogany, and for fingerboards it depends on my mood, but generally I don't like heavily coated fingerboards. Even with maple I don't like having a thick finish; if it stains I could care less, hell it looks better. Were I to design a custom built bass for myself it would likely have a light wood body with a mahogany cap, mahogany neck with a plain maple fingerboard, 34" scale, a single pickup in the MM "sweet spot" or P position, or diff pickups in those 2 places (yes I know they slightly overlap). Lightweight tuners, likely chrome hardware, a reasonably basic bridge. Maybe a Fender Performer, Rick 4001 or Spector shape. Hell, make 2, a 4 with a D tuner and a 5. Neck mount? Hell if I care, I've played neck throughs, set necks and bolt ons that I've liked and hated. I guess a bolt on if Performer, set neck if Rick, neck through if Spector shaped. I'd have to hear the bass before deciding if active EQ is necessary, but with good pickups I doubt it would be.
| | |
| --- | --- |
| beatlebass64 | 08-23-2013 09:23 AM |
---
Mahogany for me.

One bass is a mahogany body, maple neck (rosewood fretboard).
The other will be a blackwashed mahogany body, neck, and headstock, with an ebony fretboard.

Also have a mesquite body with an ebony fretboard.
| | |
| --- | --- |
| Tomkat8 | 08-23-2013 09:31 AM |
---
I have to agree with a lot of posts, my favorite combo is a bolt on hard ash body with a maple neck and fingerboard. It just sings with sustain and has a bright aggressive attack to notes and keeps chords clean and intelligible.
| | |
| --- | --- |
| edpal | 08-23-2013 09:43 AM |
---
Ebony or maple fingerboard coupled with active pickups, set or through neck for maximum modern clank, punch.

Rosewood fingerboard, bolt-neck,passive(jazz preferred) pickups with ash, alder or mahogany for old-school sound.
| | |
| --- | --- |
| dkelley | 08-23-2013 11:49 AM |
---
I've had favourites that were neck through 7 piece exotic woods used everywhere including fretboard, and favorites that were single piece maple neck maple board bolt on with alder or ash bodies.

Currently I'm playing and loving the following:

maple 1 piece neck through with ash (or maybe alder, but sounds like ash to me) wings, ebony fretboard

maple 1 piece neck with rosewood fretboard bolt on with poplar body (which is basically the same sound as alder)

maple and some artificial fretboard (like ebony) bolt on, mahogany body.

maple with rosewood bolt on, alder body

solid 1 piece mahogany neck through without body wings... yup, seriously. ;-)

love them all. those are brightest to darkest sounding in my arsenal, but not doubt pickups and preamps affect it too (where applicable ;-)
| | |
| --- | --- |
| bassballs27 | 08-23-2013 02:01 PM |
---
Nice responses everyone. I really appreciate this.
| | |
| --- | --- |
| mogpipe | 08-23-2013 09:23 PM |
---
Maple body, maple neck, maple fretboard. All I know is bolt on necks. All three basses.
| | |
| --- | --- |
| bassballs27 | 08-30-2013 05:59 PM |
---
Here's an interesting combination, Alder body, Maple Neck, and Maple Fingerboard.
Apparently this is Geddy Lee's favourite combo. Anyone have any comments?
All times are GMT -6. The time now is

11:41 AM

.
Powered by vBulletin® Version 3.6.12
Copyright ©2000 - 2013, Jelsoft Enterprises Ltd.