From TalkBass Wiki
[edit]
blakelock
blakelock's post on crossover planning and building for his 12/6
[edit]
vlad335
Erse circuit board, being used for the lower half of a CBG 15/6 crossover. Also a good choice for any fEarful sub. These boards are great and make assembly quite easy.
---
Vlad335's CBG 1515/66/1 crossover, built by Passinwind:
[edit]
masonjax
Masonsjax 15/6 CBG crossover
Here is a pic of the assembled Greenboy "Cheap But Good" crossover and L-pad for the 15/6 with 18sound 6NM410 mid driver. I used the adjustments recommended by Duke LeJune for the new 18sound midrange and it sounds incredible. I assembled the crossover on a piece of masonite chalkboard stock which should be available at craft stores. Perforated sheets of masonite sold at hardware stores for hanging tools on would probably work very well. The 6 lug barrier strip I used was found at my local Radio Shack. With the layout I used, the crossover was too wide to mount on the port shelf, because it overhangs and would interfere with the tuning or airflow, so I screwed it to the side bracing where it fits nicely and is still easily accessible if I need to make any changes in the future.

---
This is another "Cheap But Good" crossover and L-pad that I built for the 15/6 with the older spec 18sound 6ND410 mid driver. It is identical in design to the newer version, but uses slightly different values for the woofer capacitor and the L-pad resistors.

[edit]
Burning Skies
Queg's 15/6 CBG crossover
[edit]
singlemalt
Singlemalt 15/6 CBG crossover
This image shows the last two L-pad resistors (far right) wired in series for slightly less midrange attenuation. The plans call for these to be wired in parallel.

TDVT 12/6 Alpha CBG crossover
This is the Cheap-But-Good X-over for the 12/6 spec-ed for the Alpha 6 instead of the 18 Sound driver, so it's a bit simpler & has no L-pad. It will be shock mounted on the shelf of a 12/6 cube.

[edit]
felt-tip
[edit]
R-o-D-
[edit]
PE2WDO
PE2WDO 15.6 crossover
This is the somewhat modified crossover for my fEarful 15.6 with 18 Sound mid driver. It uses a high pass T-filter with 18db/oct roll off, double nr. of capacitors (caps are used in parallel to lower esr), fixed R-pad and 6.3Amp slowblow fuses for speaker protection. PCB size is 12"x6"

components:
                 L1 = 2.7mH/0.19E
                 C1a = 15u/400V
                 C1b = 15u/400V
                 C2a = 8.2u/400V
                 C2b = 6.8u/400V
                 L2   = 1.3mH/0.25E
                 C3a   = 15u/400V
                 C3b   = 10u/400V
                 R1a  = 4.7E/50W (in parallel with R1b)
                 R1b  = 4.7E/50W
                 R2a  = 10E/50W (in series with R2b)
                 R2b  = 10E/50W


[edit]
Nordskov
Standard cheapo 12/6 6ND410 with -6dB/0dB/off switch. I use the 600W rated 3,3 mH low-pass coil instead of he 500W. Stacking power resistors is normaly a no-go, but I dont think the dispersed heat will exceed their max thermal rating.
And wiring: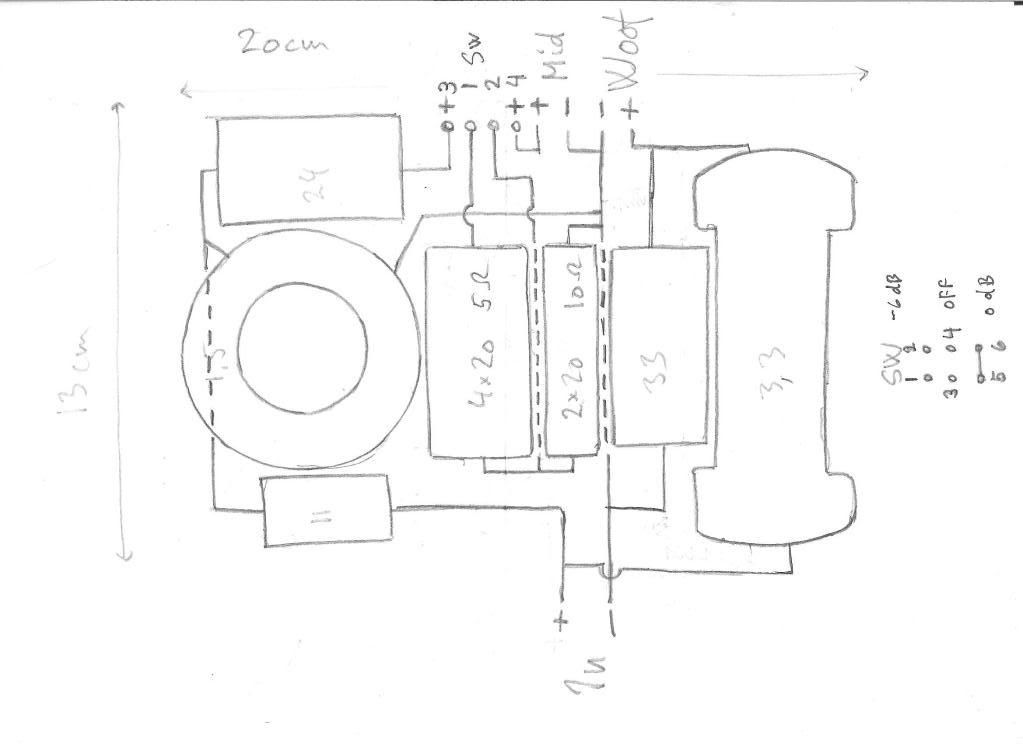 [edit]
Sundogue
[edit]
Matt916
Cheap But Good crossover for a 12/6 Alpha6A. I left pigtails for all the external connections. Overall size is about 5" x 7".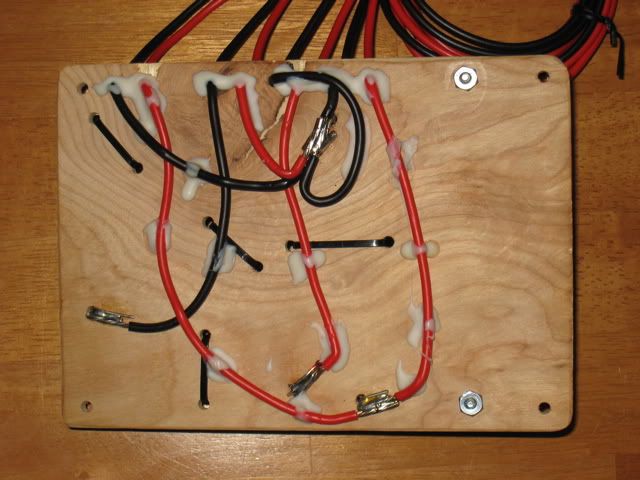 I assembled the high-pass filter for the HF driver on a separate board. The input is supplied by pigtails coming from the low/mid board. The P1 and P3 go to the l-pad mounted on the rear input plate. Overall size is 2" x 6". The Eminence PX-LPAD comes with a wiring diagram. Position 1 and 3 on that diagram correspond to 3 and 1 on the high-pass design. I originally had it wired 1 to 1 and 3 to 3 and HF driver was off with the L-Pad at 10 and full on at 0.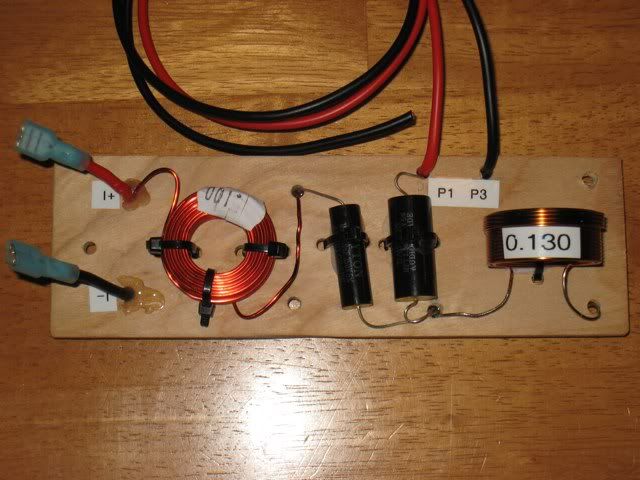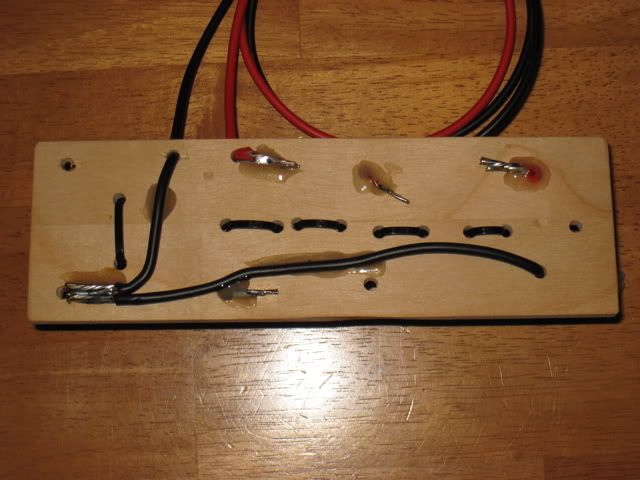 [edit]
WormtownBass
fEARful 1515/66 crossover built to spec for 18 Sound 6NM410 update. Built on 1/4" ply for light weight. 1/2" ply risers used for resistors to allow airflow.
[edit]
ronaldpdbrandt

Leland's 12/6 crossover for 6nd410, assembled by me.
[edit]
Dekker
This is the "design/layout" and final implementation of the 1515/66/1 crossover I built. When installed, more wire tie-downs were used, but this is pretty close to final.
[edit]
your username here
[edit]
your username here
back to fEARful